From AbundantHope.net


Political Information
US Pushes G-7 Coordination To Counter China's Economic Bullying, Including "Friends Of Hong Kong" Initiative
By Tyler Durden
May 5, 2021 - 11:52:25 PM



https://www.zerohedge.com/political/us-pushes-g-7-coordination-counter-chinas-economic-bullying-including-friends-hong-kong

May 5th 2021

 

As the Group of Seven (G7) summit is now wrapping up in London, it's been clear that a 'united front' for confronting China has been a controversial topic high on the discussion list. For starters it appears that an entire lengthy Tuesday night meeting was spent among G7 representatives exploring the ways China coerces "partner" countries into submission to Beijing's will via Xi's Belt and Road initiative as well as direct economic threats. The current meetings are geared toward laying the groundwork for the major June 11 summit, which President Joe Biden and other heads of state are expected to attend in person - an important first since the coronavirus pandemic.

Bloomberg revealed the details of US representatives' urging G7 allies to create a mechanism for "coordinated response" against China's expanding influence, which has been particularly felt of late in places like the Balkans, central Asia, and Africa: "A paper was circulated before a two-day meeting of G-7 foreign ministers in London, according to officials, who were granted anonymity to discuss private talks... The U.S. wants a consultation mechanism that would involve the G-7 - as well as other stakeholders - to ensure a coordinated response to China's moves and with the aim of bolstering the resilience of G-7 nations, according to another diplomat."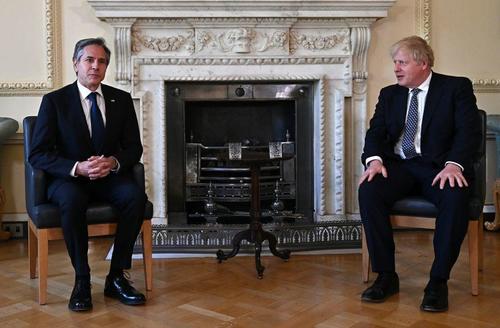 On the eve of the two-day summit Secretary of State Antony Blinken had told CBS' 60 Minutes that "Our purpose is not to contain China, to hold it back, to keep it down," but instead the Biden administration hopes to "uphold this rules-based order that China is posing a challenge to." He additionally vowed that "Anyone who poses a challenge to that order, we're going to stand up and defend it" - and that confronting China will be a focus of President Biden at the upcoming major G7 summit in early summer.
Boris Johnson and US Secretary of State Antony Blinken were also said to have focused on "close alignment" of US and UK foreign policies during their face-to-face meeting. And UK Foreign Secretary Dominic Raab notably said that the in-person gathering of foreign ministers and top officials from allied economies "demonstrates that diplomacy is back" (perhaps also a swipe at Trump?) and that countries are once again "getting together" after the ravages and disruption of Covid.
A G7 statement is expected to say that the group is "deeply concerned" about China's human rights abuses, and is likely to call for a neutral rights team's access to Xinjiang province to investigate, while also calling Beijing to account over prior promises to preserve Hong Kong autonomy.
BBC summarized that a wide range of foreign policy issues were discussed, even including Syria and the continuing crisis in war-torn Libya, as well as the ongoing violence in Myanmar as a result of the military-led coup:
The spokeswoman added that foreign policy issues, including Afghanistan, Iran and China, were also discussed, and Mr Johnson "looked forward to welcoming" US President Joe Biden to the UK when he attends the leaders' summit in June - his first overseas trip since his election victory.
Also notable is that a "Friends of Hong Kong" initiative was proposed and discussed, described as a mechanism to "to share information and concerns about the former British colony," one unnamed diplomat told BBC.
The G7 group, which includes many of the world's largest economies - the UK, Canada, France, Germany, Italy, Japan and the United States - for the London meeting also involved representatives of Australia, South Korea, India, and South Africa as guests, given the UK is currently attempting to deepen trade ties with friendly Indo-Pacific nations.
All writings by members of AbundantHope are copyrighted by
©2005-2017 AbundantHope - All rights reserved