Last Updated:

May 17, 2021 - 1:13:40 AM
---
https://www.sott.net/article/452808-Palestinians-residents-now-face-far-right-mob-violence-backed-by-the-Israeli-government

Jonathan Cook
Middle East Eye
Fri, 14 May 2021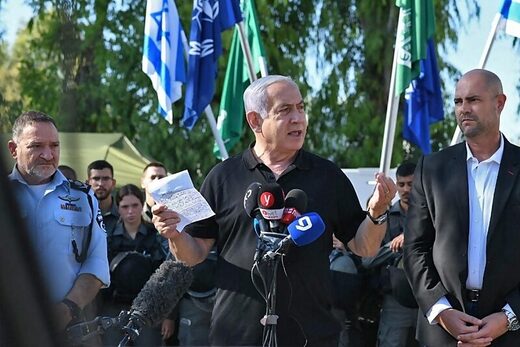 © Agence France-Presse
Israeli Prime Minister Benjamin Netanyahu speaks during a meeting with Israeli border police in Lod on 13 May 2021
Protests by Palestinian citizens are being greeted with a mix of police violence and vigilante-style attacks from Jewish fascists

With Jerusalem ablaze and Gaza on the brink of another major Israeli onslaught, it has been easy to overlook the rapidly escalating ethnic violence inside Israel, where one in five of the population is Palestinian.

These 1.8 million Palestinians - Israeli citizens in little more than name - have spent the past week venting their frustration and anger at decades of Israeli oppression directed at their own communities inside Israel, as well as at Palestinians under more visible occupation.

Already the protests, which have been sweeping Palestinian communities inside Israel, have been greeted with a savage backlash - a combination of official violence from Israeli police and vigilante-style violence from far-right Jewish gangs.

Israeli politicians have been warning noisily of "Arab pogroms" against the Jewish population. But with the rising influence of the openly fascist far-right in Israel - many of them armed settlers, some with ties to military units - there is a much greater danger of pogroms against the Palestinian minority.


Israel's Palestinian citizens have been at the heart of the wave of protests in occupied East Jerusalem that began a month ago, at the start of Ramadan. With the aid of their Israeli ID cards and relative freedom of movement, many travelled to East Jerusalem in organised bus convoys. They bolstered numbers in the demonstrations at Sheikh Jarrah, where many Palestinian families are facing expulsion from their homes by Jewish settlers, backed by the Israeli state. They also participated in the defence of al-Aqsa Mosque.

But last weekend, as social media was flooded with clips of police storming al-Aqsa and of Jewish extremists excitedly cheering a fire near the mosque, protests erupted inside Israel too. There have been nightly demonstrations in larger Palestinian towns, including Nazareth, Kafr Kanna, Kafr Manda, Umm al-Fahm, Shefa-Amr and Beersheva. Police have responded in familiar fashion, firing stun grenades into the crowds and smothering them with tear gas. There have been large numbers of arrests.

Boiling point

Some of the most violent clashes, however, have been taking place elsewhere, in communities misleadingly described by Israel as "mixed cities". Israel has traditionally presented these cities - Lod (Lydd), Ramle, Jaffa, Haifa and Acre (Akka) - as examples of "Jewish-Arab coexistence". The reality is very different.

In each, Palestinian citizens live on the margins of a former Palestinian city that was ethnically cleansed upon Israel's founding in 1948 and has been aggressively "Judaised" ever since.

Palestinian residents of these cities have to deal daily with the racism of many of their Jewish neighbours, and they face glaring institutional discrimination in planning rules designed to push them out and help Jews - often members of the settler movement or extremist religious students - take their place. All of this occurs as they are tightly policed to protect Jewish residents' rights at their expense.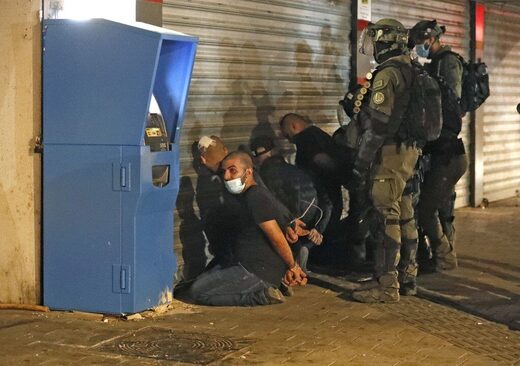 © AFP
Israeli forces detain a group of Palestinian citizens of Israel in Lod on 13 May, during a rampage by Israeli far-right extremists and protests by Palestinians
Resentment and anger have been building steadily for years, and now seem to have reached a boiling point. And because the "mixed cities" are among the few places in Israel where Jewish and Palestinian citizens live in relatively close proximity - most other communities have been strictly segregated by Israel - the potential for inter-communal violence is especially high.

The roots of what some still view as a potential new intifada, or Palestinian uprising, risk being smothered in areas of Israel. The more the Palestinian minority protests against the structural discrimination it faces, the more it risks inflaming the passions of the Jewish far-right.


These Jewish fascists are riding high after their parties won six parliamentary seats in Israel's March election. They are seen as integral to any coalition government that caretaker Prime Minister Benjamin Netanyahu may put together.

Driving Palestinians out

For years, the settler right has been trying to drive remaining Palestinian families out of the "mixed cities", especially those in the centre of the country, next to Tel Aviv. They have received state help to set up extremist religious seminaries in the midst of Palestinian neighbourhoods.

Now under cover of protests, the far-right has the chance to up the stakes. Its newest legislator, Itamar Ben Gvir, has claimed, fancifully, that police are being prevented from dealing with the protests firmly enough. The barely coded message is that the far right needs to take the law into its own hands.

More surprisingly, Ben Gvir was echoed by the government's police minister, Amir Ohana, who called on "citizens carrying weapons" to work on the authorities' behalf by "immediately neutralising threats and danger". Social media has also been awash with calls from activists to arm themselves and attack Palestinian communities in Israel.

On Wednesday, the results of the incitement were all too evident. Jewish gangs, many of them masked, smashed and looted Arab-owned shops and food stalls south of Tel Aviv. Hundreds of onlookers were filmed by an Israeli TV crew watching as a driver was dragged from his car and severely beaten. Though the rampage had been going on for much of the evening, police were nowhere in sight.

Palestinian residents of mixed cities have been hurriedly organising defence patrols in their neighbourhoods. But with many members of the Jewish far right licensed to carry firearms, the reality is that Palestinian communities have few ways to protect themselves effectively.

Some of the worst scenes have emerged from Lod, where local Palestinians live in a few ghettoised neighbourhoods stranded in the midst of what is now effectively a Jewish city next to Tel Aviv.

'Iron fist'

Confrontations on Monday led to an armed Jewish resident fatally shooting a Palestinian father-of-three, Musa Hasuna. The next day, his funeral escalated into a riot after police tried to block the mourners' route, with the torching of cars and visible symbols of the Jewish takeover of central Lod, including a synagogue.

On a visit to the city, Netanyahu denounced the events as "anarchy" and warned that Israel would use an "iron fist if necessary"

On Wednesday night, a curfew was imposed on the city, and under a state of emergency, control passed from the local council to police. Netanyahu said he had been working to overcome legal obstacles to give police even greater powers.

Echoing Netanyahu and the Jewish fascist parties, Israeli Police Commissioner Yaakov Shabtai argued that the explosion of Palestinian unrest had been caused by police being "too soft".

Over the past few days, there have been tit-for-tat violent attacks on both Jewish and Palestinian citizens, with beatings, stabbings and shootings that have left many dozens injured. But claims of an imminent "civil war" in places such as Lod, as its Jewish mayor characterised the situation this week, fundamentally misrepresent the dynamics at play and the balance of power.

Even if they wanted to, Palestinian communities have no hope of taking on heavily armed security forces and Jewish militias.

Eruption of anger

What the state is doing in Lod and other communities - through the police and proxy settler allies - is teaching a new generation of Palestinian citizens a lesson in Jewish-state civics: you will pay a deeply painful price for demanding the rights we pretend to the world you already have.

Certainly, Netanyahu seems to have no real commitment to calming the situation, especially as violence between Jewish and Palestinian citizens takes his corruption trial off the front pages. It also feeds a right-wing narrative that is likely to serve him well if, as expected, Israel heads back to yet another general election in a few months' time.

But other Israeli officials are stoking the flames, too - including President Reuven Rivlin, who unlike Netanyahu, is supposed to be a unifying figure. He denounced Palestinian citizens as a "bloodthirsty Arab mob" and, in an inversion of the rapidly emerging reality, accused them of conducting what he called a "pogrom" in Lod.

© AFP
Palestinian mourners attend the funeral of Musa Hasuna on 11 May 2021
For decades, Israel has tried to cultivate the improbable notion for western audiences that its Palestinian citizens - restyled as "Israeli Arabs" - live happily as equals with Jews in "the only democracy in the Middle East".

Israel has carefully obscured the minority's history as Palestinians - clinging on to their lands during Israel's mass ethnic cleansing operations in 1948 - as it has the systematic discrimination they face in a self-declared Jewish state.

As a consequence, the eruption of anger in Palestinian communities inside Israel is always difficult for Israel to manage narratively.

Treated as an 'enemy'

Since the grip of a military government was loosened in the late 1960s, the Palestinian minority has staged constant protests. But massive, nationwide street demonstrations have erupted only once every generation - and they are always brutally crushed by Israeli forces.

Badly bloodied, Palestinian citizens have been forced to retreat into unhappy, and temporary, quiescence.

That was what happened in the 1970s during Land Day, when Palestinian communities launched their first one-day general strike to protest the state's mass theft of their historic farming lands so that Jewish-only communities could be established on them. Israeli officials, including then-Prime Minister Yitzhak Rabin, were so incensed by the strike that they sent in tanks. Six Palestinian citizens were killed as a result.

The protests returned in October 2000, at the start of the Second Intifada, when the Palestinian minority took to the streets in solidarity with Palestinians under occupation who were being killed in large numbers in the West Bank, East Jerusalem and Gaza.

Within days, 13 demonstrators had been gunned down, and hundreds more were seriously wounded as Israeli police used live ammunition and rubber-coated metal bullets as their first-line of crowd control.

A subsequent judicial inquiry, the Or Commission, concluded that police viewed the minority as an "enemy".

Double discrimination

The new generation protesting this week knows of the October 2000 protests chiefly as stories told by their parents. They are finding out first-hand how much has changed in Israel's racist policing in the intervening two decades.

In fact, questions about the role of Israeli police and their relationship to Palestinian communities inside Israel have been at the forefront of political debates raging among Palestinian citizens over the past two years.

The Palestinian minority has long suffered a doubly discriminatory approach from Israeli security forces. On one hand, police have shirked a normal civilian policing role in Palestinian communities in Israel. That has allowed criminal elements to flourish in the vacuum created by this neglect. Murders and shootings are at an all-time high.

On the other hand, police are quick to crack down when Palestinian citizens engage in political dissent. The current arrests and police violence are part of a familiar pattern.

Many of the factors that brought Palestinians out into the streets in 2000 have not gone away. Violent, politically repressive policing has continued. House demolitions and racist planning policies still mean that Palestinian communities are chronically overcrowded and suffocated. Incitement from Jewish politicians is still the norm. And Palestinian leaders in Israel continue to be excluded from the government and Israel's main institutions.

Permanent underclass

But in recent years, matters have deteriorated even further. The passage of the 2018 nation-state law means the minority's legal position is formally worse. The law has explicitly relegated Palestinian citizens to a permanent underclass - not really citizens at all, but unwelcome guest workers in a Jewish state.

Further, the ascendant Jewish far-right has a mounting grievance against the Palestinian minority for standing in the way of its securing a solid electoral majority in a run of elections over the past two years. The success of Palestinian parties is seen as effectively blocking Netanyahu from heading a stable coalition of the ultra-nationalist right.

And, with a two-state solution firmly off the table for all of Israel's Jewish parties, Palestinian citizens are staring at a political and diplomatic cul-de-sac. They have no hope of emerging from under the shadow of an Israeli security paradigm that readily views them as a fifth column, or a Palestinian Trojan horse inside a Jewish state.

It is that very paradigm that is currently being used against them - and justifying police and settler violence in places such as Lod, Jaffa and Acre.
Comment: The threat of violence from far-right groups in the 'mixed' cities is ongoing :
"Bring everything, knives, gasoline," read one message in a group chat named "The Underground Unit" - seemingly on Signal - with several hundred members. "Don't be scared, we are the chosen ones."

"Good job at Bat Yam yesterday," another message read, referring to a spate of violence in the Tel Aviv suburb which saw a Palestinian man violently attacked live on Israeli television. "Today we'll go back to make some mess at 6pm. Let's meet at the seafront."

Far-right groups such as Lehava and La Familia have also been planning attacks in Jerusalem, according to Haaretz.

On Thursday afternoon, Israeli police called on parents to "take responsibility" for their children and keep them from participating in the country-wide violence, the paper reported.

In another message, which appeared to be posted to WhatsApp, on a group called Israel People Alive Haifa, a forwarded message gave the location of a Palestinian march in Tel Aviv. "Any Arab you see - you stab," it read. "Please come equipped with flags, bats, knives, guns, brass knuckles, wooden boards, pepper spray, anything that would hurt them. We will restore the honor of the Jewish people."

Videos posted on Thursday evening appeared to confirm far-right Israelis were marching in the Tel Aviv areas mentioned in the group.


Haaretz reported on Thursday that the Shin Bet intelligence service had intelligence on far-right plans to attack Arabs in Israel's mixed cities.

In another group chat, also on WhatsApp, one user wrote: "We need Molotov cocktails. To the mosque. To make them shake. We'll burn their houses, their cars, everything."

Someone in the group suggested meeting in Halisa, an area in the northern city of Haifa.

"Empty glass bottles, T-shirts, a few litres of gasoline," one person wrote, the ingredients to make a Molotov cocktail.

After a host of screenshots of similar messages were shared online, Amnesty International Israel sent a letter to Israeli authorities on Thursday urging them to "take action against platforms that allow incitement to hate crimes, such as groups on social networks and messaging applications".


"The commission of violent and even deadly hate crimes justified seeing them as platforms of incitement to be monitored and closed," Amnesty wrote in its letter, saying this could reduce "the horrific lynchings of Arabs against Jews and Jews against Arabs".

"We turned to the police several times already on Tuesday," the letter continued, "and we reported on the plentiful and concrete evidence of organisation of retaliatory actions against Arabs across the country."

Amnesty's letter also urged authorities to class the far-right Lehava group - whose followers have instigated recent violence - as a terrorist organisation.

The head of Lehava, Benzi Gopstein, called on his supporters to come to East Jerusalem's Sheikh Jarrah neighbourhood to "help" Jewish residents defend themselves against Palestinian attackers, Haaretz reported on Thursday. Israeli settlers attacked Palestinians in the area on Wednesday night - 51 people were hospitalised.

Fake Reporter, an Israeli disinformation watchdog, also published screenshots on Thursday of far-right groups coordinating attacks on Palestinians.

In a thread on Twitter, the group wrote: "The information here was given to Israeli police before the violent outbursts on the 12/5. No one was arrested in advance. Last night's violence could have been stopped.

"We saw a ticking time bomb - groups specifically targeting Arab civilians of Israel, including incitement, weapon-hoarding, information on specific Arab-owned businesses and more.

"Groups began organising to go to Ramla, Lod, Bat Yam, Afula, Haifa, Tiberias, Jerusalem, Beersheba, and others - in the stated goal of attacking Arabs," they wrote.

Screenshots of various far-right groups chats included someone writing: "Today we are Nazis," and another writing, "today we are shahids", using the Arabic term for "martyr".

Another night of violence

The worst scenes on Wednesday night were in Arab-minority towns in Israel, where the senders of text messages seen by MEE appear to be based. Numerous videos made the rounds online showing attacks described as "lynchings", and police brutality amid Palestinian protests.

In scenes repeated across several cities, gangs of youths threw stones and stormed shops belonging to Palestinians.


Israeli police have arrested 374 people so far.

In one example, video footage shared widely on social media appeared to show a group of Israelis attempting to break into a Palestinian home in Haifa.

While the family manages to repel the initial attack, police then burst into the home and arrest and beat a number of the residents.

While MEE cannot independently verify the footage, there have been numerous reports of violence between Palestinians and Israeli Jews in Haifa over the past few days

Elsewhere, a video seen by Middle East Eye showed a large group of Israelis - some carrying national flags - throwing rocks at a Palestinian car. Another shows a group of Israelis attacking an Israeli ambulance, reportedly carrying a Palestinian.

Footage from Acre, meanwhile, showed a group of Israelis chanting "death to Arabs" in Hebrew.

Another video, reportedly also from Acre, shows Israeli security forces walking away from a Palestinian man lying motionless, eyes staring at the ceiling, on the floor of an apartment building.

Warning: the following video contains disturbing images.


Israeli paper Haaretz reported that five Palestinians in the city seriously wounded a 30-year-old Jewish man, after police told Palestinian shop owners to shutter stores because of expected attacks by far-right Israelis.

In Bat Yam, a suburb of Tel Aviv, a Palestinian was pulled from his car and lynched during a live broadcast on an Israeli television channel. The 33-year-old man was treated overnight and his condition has improved, according to Haaretz.

Photos of him, which are too explicit to publish without his consent, show a deep puncture wound and major swelling on one side of his face.

Fake Reporter wrote in its tweet thread on Wednesday that the Bat Yam attacks were organised on one of the Facebook groups it was monitoring. "One of its members wrote: 'get brass knuckles, clubs, knives, come prepared'; 'kill them one by one'," according to the watchdog.


Far-right Israelis had previously roamed the city, attacking Arab-owned businesses and chanting racist slogans, according to Haaretz.

In Lod, called Lydd by Palestinians, where yesterday a night curfew was announced, a video showed a group of Israelis waving flags walking towards the town centre - accompanied by security forces.

Jewish-Israelis provoked Palestinians by approaching the mourning tent for Moussa Hassuna, a Palestinian protester who was shot dead on Monday evening. The three Israeli suspects arrested after his murder were released on Thursday after prominent Israeli politicians decried their arrests.

Also in Lod, a Jewish man was shot and two others suffered stab wounds, Haaretz reported, while 20 people were taken to the Shamir Medical Centre. More than 20 people were reportedly arrested.

Police said they had responded to violent incidents in multiple towns, including Lod, Acre and Haifa, according to AFP.

MEE correspondent Lubna Masarwa reported that groups of Israelis tried to attack Palestinians in villages in the "northern triangle" area, where around a third of Israel's population of Palestinian citizens live.

Unrest was also reported in southern Israel. Nineteen Jews were detained for disorderly conduct, according to Haaretz, along with three Arabs, after hundreds of Israeli Jews marched through the city of Beersheba, also chanting "death to Arabs".

Israeli Defence Minister Benny Gantz ordered a "massive reinforcement" of border police across the territory on Thursday, saying, "we're in an emergency", according to Haaretz.
---
All writings by members of AbundantHope are copyrighted by
©2005-2021 AbundantHope - All rights reserved
Detailed explanation of AbundantHope's Copyrights are found here
Top of Page