DAVID CRAYFORD --------   THIS IS A DOUBLE ARTICLE, WITH BOTH ARTICLES BEING SEPARATE BUT INTER-RELATED TO EACH OTHER ....................
............ ARTICLE - 1 --------  RUMOUR HAS IT THAT IMEE MARCOS AND BONG BONG MARCOS BOTH INTEND TO RUN FOR PRESIDENT OF THE PHILIPPINES AT THE NEXT ELECTIONS. BOTH WILL RUN ON DIFFERENT TICKETS BUT EFFECTIVELY THEY WILL BE ON THE SAME SIDE OF THE COIN  ............
We have had our people in the Philippines, some of them working within the present government, check out these rumours so that we can be prepared for what happens next.
All have come back and stated that the Government is "Buzzing" with this information which appears to have an 80 - 85% legitimacy to it. One person, a Government Commissioner noted that there is a small team listing names of like minded individuals who would fully support either of the Marcos Candidates. He is not aware of who this small team is actually working for, whether Imee or Bong Bong.
I just hope that the Filipino people have the common sense to vote for a far better person who has a lot of genuineness, sincerity, Integrity, honesty, and tenacity about them, for the country and it's people and not for self interest, rather than 2 well known family members who have completely different aptitudes and characteristics from Ferdinand Marcos, who they claim is their Father, which couldn't be further from the truth. Ferdinand Marcos was nobody's fool whereby he recorded everything in written form, some of the more important documents we have on record.
Herein below are Two particular documents. The first part document below is Page 10, Section 6 of the Global Settlements Agreement / Treaty executed on 10th January 1980 at the United Nations Headquarters, New York, USA. The Primary Signatories were 5 in Number, and were :- ..... Ferdinand E. Marcos, Queen Elizabeth II, Robert McNamara - World Bank Group, Kurt Waldheim - United Nations Group, Humphrey Waldock -International Court of Justice.
Refer to Lines 7 - onwards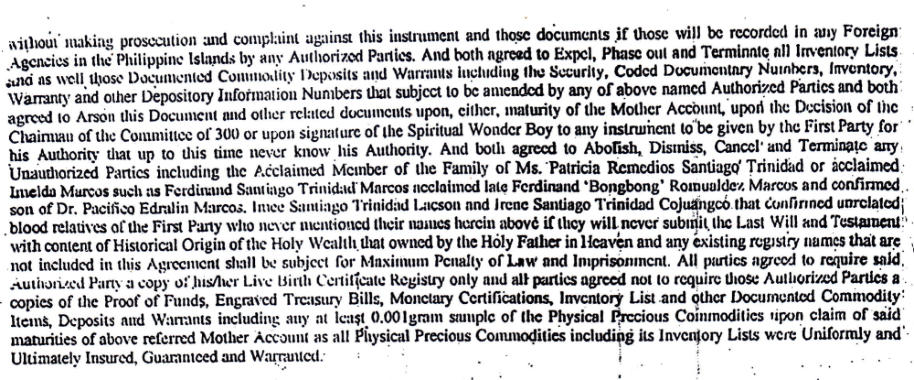 DEED OF ABOLITION EXECUTED BY FERDINAND MARCOS, 21st DECEMBER 1988 PREVENTING THOSE WHO UNLAWFULLY CLAIMED TO BE FAMILY HOLDING GIVEN RIGHTS, POWERS AND AUTHORITIES, FROM ACCESSING ANY ACCOUNTS OR ASSETS.
Refer Section 1, 2, and 3 below.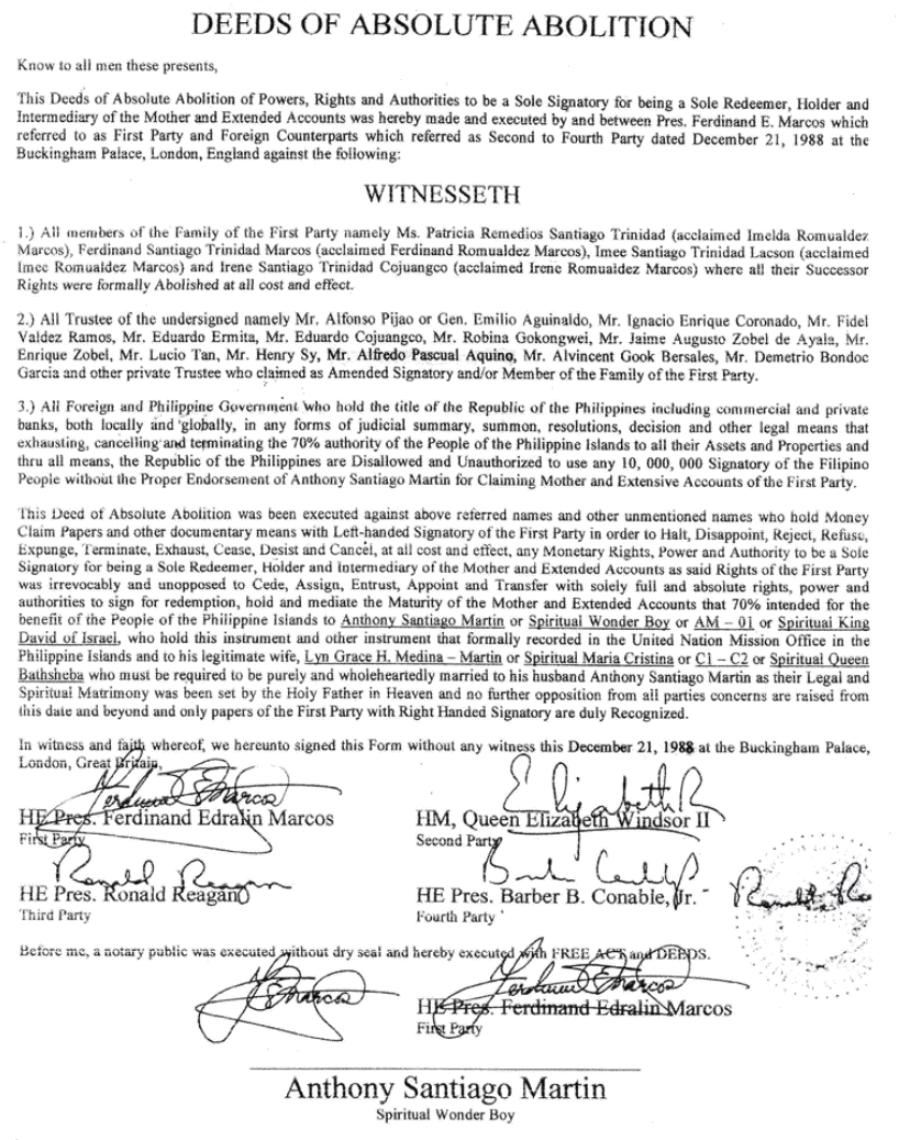 The above documents, or part thereof, are self explanatory which shows how disloyal and devious the claimed Imelda Marcos was, and how the rest of Imelda's siblings are Disloyal, Devious, Liars, who cry "crocodile tears" at Ferdinand Marcos funeral.
So FILIPINOS choose carefully or face a further increase in the Poverty numbers in the Philippines, and a lot lower living standard throughout.
............ Article 2 ............ LEADERS AND LEADERSHIP
It has been a number of decades ago that I can openly state that I have not seen and experienced a "real National Leader" of any country. A person who works vigorously and effortlessly for his country and the people, without question or hesitation. Politicians are Politicians, devious, lying cheats most of the time, only interested in their own self interest and careers. Most of them could not survive in the commercial world, and go into politics because although university educated and / or with a well known Family Name, it is the only career in which they can earn a decent living, even if it is only for 5 years or so - 10 years or so if they get re-elected.
Yet, all around us there are decent honest people of integrity, who have the character and attributes to be a Leader. So why is mankind losing out and why is the world in such a mess, a terrific mess that today's Politicians have gotten this world of ours, into.
When I was a Lecturer at a university, I made it part of my job to analyse my post-graduate students. This is what teaching is all about. Analysing all of them to establish the characteristics and attributes of each student. That needed to be done so that I could help nurture them. To mix them into different groups with others so that they could help each other and gain knowledge from each other. It worked successfully whereby a few of my former post-graduate students, who are now in their late 50's, still write to me today, some 40 years after my days with them, thanking me for the effort that I gave to them allowing them to make the right choices and decisions in, and for, their lives.
After a short while I could see the potential of each student, and in plain sight you could see the "Leaders" within the various groups of students, so you would encourage them to "Lead". Those really are the sort of young adults that every country needs, to "Lead" it to prosperity and an eventual improved standard of living for everyone, not just a few, coupled with a declining standard of living that rarely seems to improve (The Philippines is a prime example of what I refer to).
My method of teaching worked and I personally congratulate all my Post Graduate students on their success in life, and there have been many successes.
No one can make a "Leader"  in a Classroom / Lecture Theatre. What you can do is to build, with education, on the foundations of their own attributes and characteristics  inside them and what they were born with. Just like making a car or any other product. Without the right equipment and materials as a base starting point, you can't do anything, but with the right equipment and materials, one can produce something special. Education is just a small part of that system whereby it is not the "B all and END all" of the system.
No one can ever make a good leader in a Classroom / Lecture Theatre, and those who think you can, think again and just look around you at the mess, confusion, corruption that surrounds  your everyday life. Then look at the effects the mess, confusion, corruption, has on your everyday life, and ask yourself honestly "Is this what life should really be like".
Unfortunately the days of real quality education are long gone. Education is now completely different to what it was. Teachers / Lecturers are no longer what they should be, instead they are effectively "Child Minders" with very little professionalism except for a few specialised educational books required by the curriculum and a strict attitude to time so they can go home and relax with their Spouses and / or children.
It really does sicken me to see today's successive Governments all cutting back on Government expenditure for Health and Education, but at the same time spending massive amounts of revenue (Largely Tax Payers contributions) on their expenses, salary increases, advisers, pet projects, NGO contributions, new  and expansive Government Offices with every facility possible for their enjoyment, non-essential services, security services, meetings abroad taking with them substantial teams of Advisors, Interpreters, Secretaries, Security Guards, and in some cases a physician and nurse etc, etc, etc.
The People and the country don't appear to matter much any longer. The politicians will do what they need to do and if they make a mess of it all, so what, they can always leave it to the next Government to clear up, if they can, and so the political saga goes on year after year because politicians are not held liable or accountable, whereby these people elected to manage and administer our country on our behalf are NOT the type of leaders any country wants, and that applies to the Philippines, which is branded as one of the most corrupt countries of the world; along with many other countries around the world.
Even "Family Names" only push imbecile siblings into positions of trust, whereby the saying "I AM NOT MY FATHER / MOTHER" comes into play , and rightly so because the siblings are completely different, with different attributes and characteristics from their parents.
It is time to start seeking out "The Right People to do the Right Job." Forget Party Politics, that is just an association of "YES" men and women who do exactly as they are told.
The enormous amount of correspondence we write to Presidents, Prime Ministers, Ministers, and Government Departments, every single year, is unbelievable, whereby these so-called "Leaders" do not even have the decency, courtesy, or respect towards another "Sovereign" to officially respond. What an awful shame that we haven't the right people in Governments managing and administering our countries for and on behalf of the people of the world. Furthermore, those  persons in Government are all placed in little boxes, each with its limitations that does not allow for positive and constructive thought or thinking. It only allows for a "Do your Job and nothing more. Do not get out of your Box".
Enough of my rantings for the moment. Time for me to get on and do my job. As a last word, "Just be very careful where you place your cross on the ballot paper, otherwise you may get more of what you don't want." "The Hawks are just waiting for you to show your naivety and ignorance".
Regards
David Crayford
© and Copyright Holder  in favour of David Crayford in conjunction with the copyright laws governing abundanthope.net.