DAVID CRAYFORD ---------- A SHORT UPDATE TO MY LAST ARTICLE REFERENCE TO A. PARAMONOV,  A RUSSIAN NATIONAL ..................
................. DOCUMENTS RECEIVED IN THE LAST 24 HOURS WHICH ENLARGE THE DOTS AND BRINGS MORE STRENGHT TO MY "INTUITION / SUSPICION OF THE INVOLVEMENT OF KEITH SCOTT.
I must thank the person who sent these documents to me which also shows that professional members of society are becoming far more aware of the ongoing fraud against The Global Debt Facility. Hopefully this strong awareness will continue to grow well into the future.
Below are the two documents received by me:-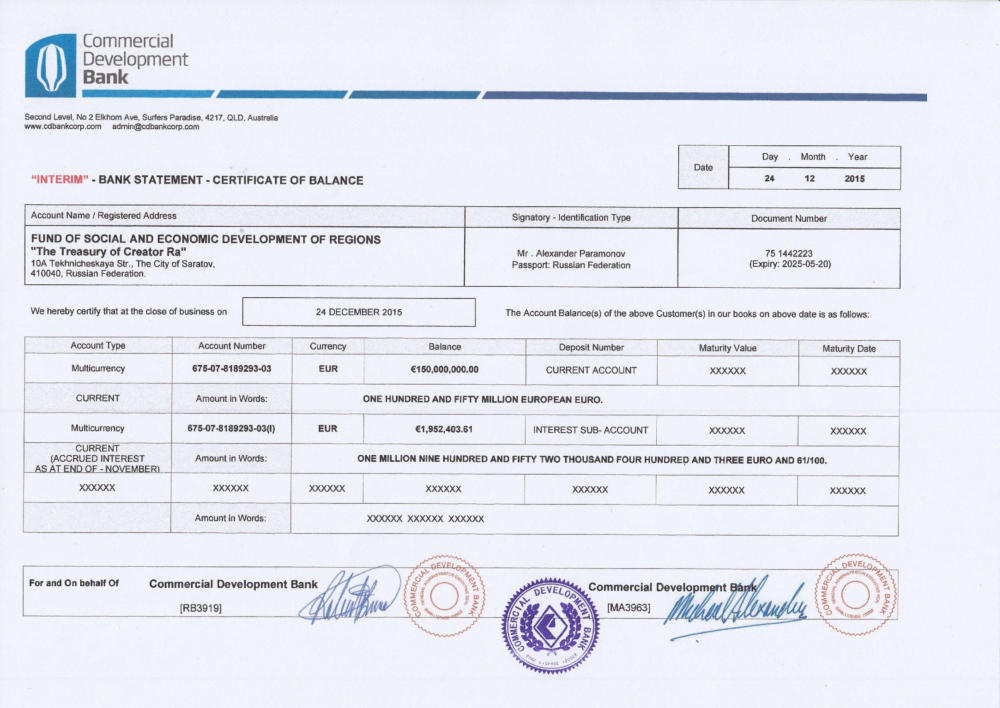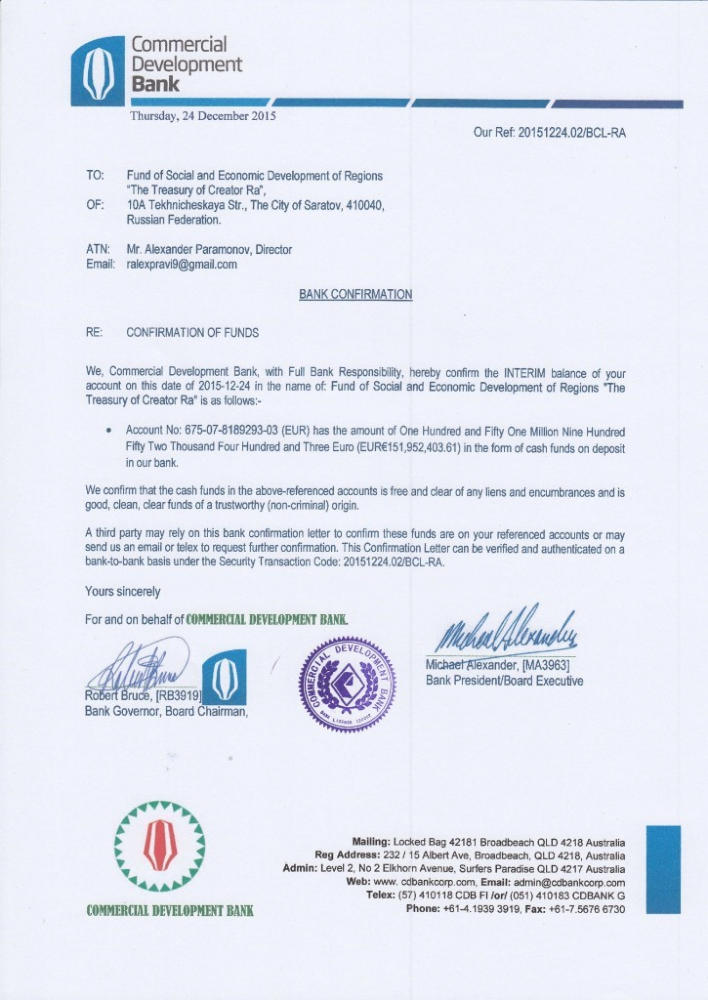 The Bank is in Broadbeach, Queensland, Australia, which is located on Australia's Gold Coast, South of Brisbane. It's Website, when trying to contact, records "Site Unavailable", but that may be because we use a "Tunnel" when connecting to any website.
The Bank also has an office in Berkeley Square, London, England.
Again, the suspicious issue here is that the area around Brisbane is like Keith Scott's second home, because his son lives in that area. Scott sometimes stays with his son in that area when visiting Australia. Other times Scott stays with his Sister and Brother in law and Nephew Matthew on their farm in Canberra, Australia.
Queensland is also home to another known crook with a highly arrogant attitude as well as being a "Know it all individual" by the name of "Eliahi Priest", for which my article published on Abundanthope. Net dated 16th April 2019 refers. The provided link below is relevant to "Eliahi Priest" .......
http://abundanthope.net/pages/Whistleblower_and_OITC_114/DAVID-CRAYFORD-NO-MATTER-HOW-HARD-ONE-TRYS-TO-EDUCATE-PEOPLE-THEY-DON-T-OR-WON-T-BELIEVE-WHAT-YOU-SAY-UNLESS-YOU-CAN-GIVE-THEM-PROOF.shtml
The next question to be asked is, "How has a person like Alexander Paramonov amassed such wealth" when all reports from our high level FSB contacts in Russia clearly indicate that Alexander Paramonov has had no known employment and as of
15th September 2020 is still registered / recorded on FSB records as having no known employment. So I ask the question again, ""How has a person like Alexander Paramonov amassed such wealth".
Readers should be fully aware that if a person is an employee, or even an employer, and was totally honest in all dealings and paying all relevant taxes, no one, and I really mean NO ONE can amass such a fortune in this day and age. It is almost an impossibility, and although an odd one or two may just make it using constructive accounting methods, Alexander Paramonov is definitely not in that league.
That is all for this update. I will keep readers posted if additional information / come to hand.
Regards
David Crayford
© and Copyright Holder in favour of David Crayford in conjunction with the copyright laws which abundanthope.net apply.