From AbundantHope.net


David Crayford and the ITC
DAVID CRAYFORD ------------ NO SOONER THAN WE ELIMINATE ONE CROOKED PERSON / PARTY ACTING UNLAWFULLY AGAINST THE GLOBAL DEBT FACILITY -------------
By DAVID CRAYFORD
Oct 4, 2020 - 4:49:09 AM



DAVID CRAYFORD  ------------  NO SOONER THAN WE ELIMINATE ONE CROOKED PERSON / PARTY ACTING UNLAWFULLY AGAINST THE GLOBAL DEBT FACILITY -------------

ANOTHER ONE COMES CRAWLING OUT OF THE WOODWORK. THIS NEW ONE HOWEVER IS A LITTLE BIT MORE THAN JUST THE USUAL "RUN OF THE MILL" JOKERS.




This one is a Russian Citizen by the name of ALEXANDER NICOLAEVICH PARAMONOV, who refers himself as (Refer the two documents below) :-

1.           INTERNATIONAL TREASURY M1, CHIEF TREASURER

2.           PRESIDENT, INTERNATIONAL FINANCE CORPORATION

3.           COMMANDER, THE PATRIMONY GRAND INTENDANT, THE CHIEF TREASURER OF THE GRAND MAGISTERIUM, THE GRAND COMMANDER SOVEREIGN AND MILITARY ORDER OF ST JOHN OF JERUSALEM, ORDER OF THE HOSPITALIERS.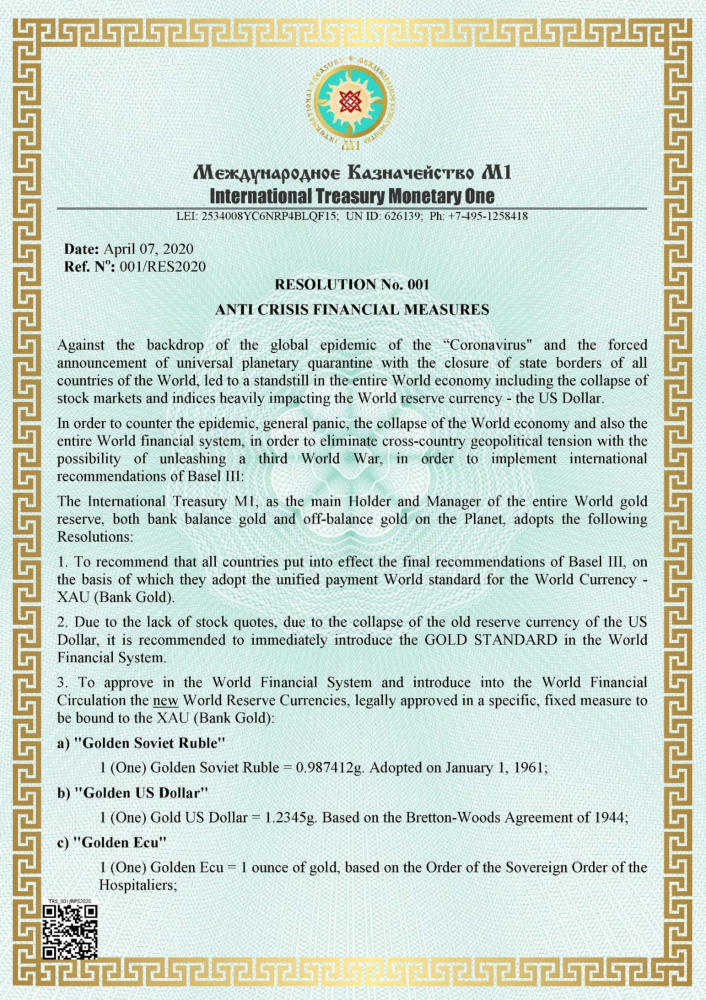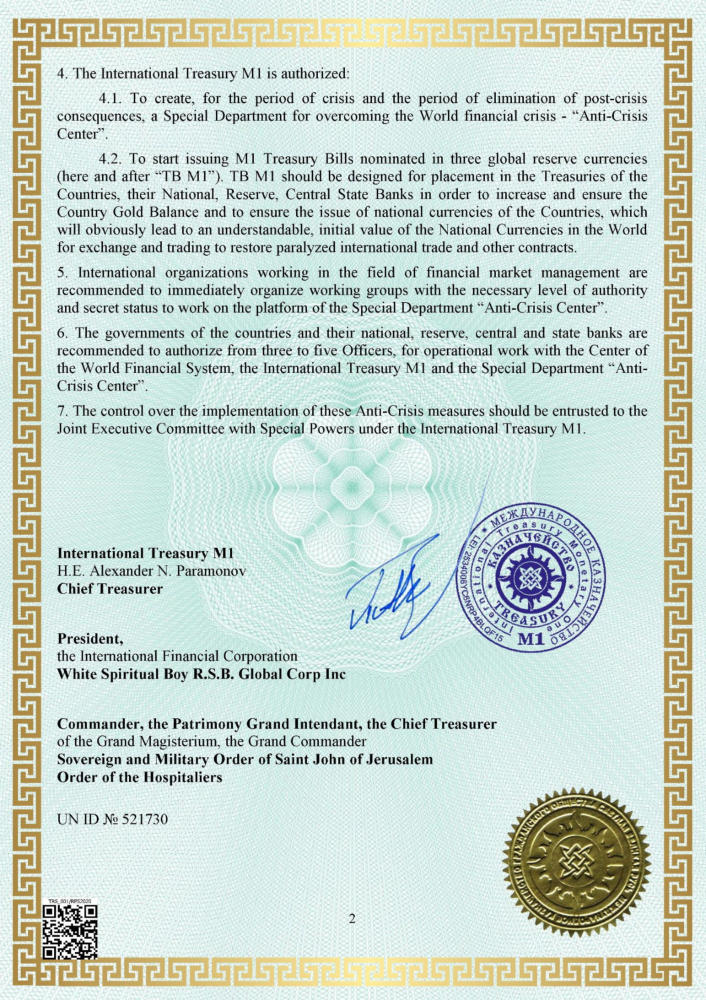 Quite an array of Status positions A.N. Paramonov claims to hold, and yet none of them valid and are totally fictional in this man's mind.
Allow me to advise readers, by way of correction of A.N.Paramonov's eccentric claims. Paramonov is nothing, not even in the minutest of forms, of what he claims.
There is no such position as Chief Treasurer of The International Treasury, and Paaramonov definitely does not hold the position of M1.
As I have stated numerous times perviously, that honour belongs solely to THE INTERNATIONAL TREASURY CONTROLLER who is the Legal Successor Heir and owner of THE GLOBAL DEBT FACILITY, and who holds the International position of M1. Appointed under International Treaty, executed by The Royal Families and G7 Nations of the World both in 1995 and subsequently in 2012 upon the medical retirement of Dr. Ray C. Dam, a descendant of the Cambodian Royal Family. The exclusive title of M1 is an historic and exclusive part of the position of the appointed INTERNATIONAL TREASURY CONTOLLER. There can only be one person holding that position at any one time and that person must always be a member / descendant of any Royal Family of the World (London Treaty 1920).
At the same time His Excellency is fully aware of the GRAND MASTER of ORDER OF THE HOSPITALIERS, which is actually the KNIGHTS OF MALTA, so a copy of the above documents were sent to him. Below is his response:-
Dear Dave,
Sounds like someone is trying to steal our clothes and our lunch, the "Sovereign and Military Order of the Hospitallers" is clearly another attempt to impersonated, as previous in 1798 the Order was fractured by Napoleon's invasion of Malta. This has given all individuals options for claiming an historic connection like 'St. Johns Ambulance'  but also a lot of individuals bent on their own enrichment or kudos assuming the historic lineage. Tsar Paul assumed the role of protector of the Order 1799 but Catherine clearly had more time for her grandson who was being groomed in Paul's sted.
This attempt at emulation appears to be Russian although Patriarch Ciril knows the Russian aristocracy departed at the start of the 20th century for New York who were all part of the true order. This is why we have such strong connections to Russia.
There is only one Order recognised by the Patriarch, the Vatican and increasingly all countries as the original. Even the Vatican has striped the Sovereign Military Order of Malta (SMOM) of it's sovereignty, when PF assumed control and renamed it simply 'Order of Malta'
This attempt at usurping is as obvious as trying to usurp the position of M1, it has no merit and is designed to seek worthless paper to the unwashed masses.
Regards
So Mr. Paramonov, take your eccentric games, lies, deviousness, and fraudulent activities / claims somewhere else because no one wants you, or anyone else, clouding the waters. If you don't you can expect a visit from some very serious men at any time.
What we know about Paramonov, which is information passed to us from the high levels of Russian FSB, is that Paramonov is associated with the Russian Mafia and, once again  falsely using Religion to give his eccentric games some credibility, which is no different to many others in the past. The problem here is that he has apparently never committed a crime in Russia, so he has never been arrested, nor can he be, so we will need to issue an International Arrest Warrant and work through Interpol who will then work with the Russian Law Enforcement Agencies to implement an arrest of Paramonov.
The big question is, "Who is financing Paramonov". Is it the Russian Mafia, or, is it The International Finance Corporation. Doubtful it is the Russian Mafia because that is one group you do not mess around with at any time. They are more brutal than the Scilian / Italian Mafia. It is therefore more likely to be The International Finance Corporation which is a subsidiary of The World Bank Group.
Now, where have we heard of the involvement of The World Bank Group before? Ah Yes, Karen Hudes and her previous associate in the Philippines ..... Wolfgang Struck ....  Karen Hudes claimed she use to work as Legal Counsel for THE WORLD BANK. THE WORLD BANK stated that they had dismissed her, some time ago, for professional misconduct and that her claims were completely false. Then Karen Hudes openly stated she was working for THE INTERNATIONAL BANK OF RECONSTRUCTION AND DEVELOPMENT, a subsidiary of THE WORLD BANK GROUP, which was never denied or confirmed. It therefore appears that The World Bank are clearly involved with persons / parties stealing assets / accounts of The Global Debt Facility.
At least now, Karen Hudes now appears to be "out of the picture" because of her apparent medical situation, which according to the Doctors, is Cancer.
Let's now look at her former associate, Wolfgang Struck residing in the Philippines. He claims that he was working with others on the connection of J. Rizal to THE GLOBAL DEBT FACILITY, which is actually wrongly and misleadingly referred to by many people as the Ferdinand Marcos Wealth ....... A complete myth orchestrated by the American CIA, which allowed the Government and the Central Bank of the Philippines to introduce the "Treasure Hunting Act" which in turn allowed the successive Governments, since 1986, in conjunction with the Americans, to steal whatever assets they could of THE GLOBAL DEBT FACILITY, secreted away under the terms of The London Treaty 1920; under the guise of none existent lost treasures of the Ferdinand Marcos wealth, of which the legal wealth of The Global Debt Facility, these very persons / parties hold no legal title to whatsoever.
There may be a possible link here to what Wolfgang Struck has been working with. That is a person known as ....... Mr. B. Salamin Rizal, Chairman, President and CEO, of the WHITE SRIRITUAL BOY RSM GLOBAL CORP INC ........ Who claims he has transferred the WHITE SPIRITUAL BOY Account / Accounts held in the WORLD BANK to the TREASURY OF TGR under an act of transfer dated 17th September 2019. Hmmmm, another Joker who thinks he / she holds such power to undertake such a transfer, together with the transfer of 11,000 mt of Gold; who, absolutely, holds no more power or authority over any Account / Asset of THE GLOBAL DEBT FACILITY than what can be found in a 0.5 volt battery. Such a transfer is illegal and completely unenforceable in law. Note: We believe we know the real name of Rizal B. Salamin, which is F & J SALAMAT, but we will say no more on that point until we have absolute proof in hand, other than having searched all known Government records we can find no records of a person in the Philippines holding the family name of SALAMIN. That being the case, this is one family you do not desire to ever meet or become involved with at any time or for any purpose, if you value your life.
I refer here to the inserted document below, specifically the bottom of page 1 and the top of page 2:-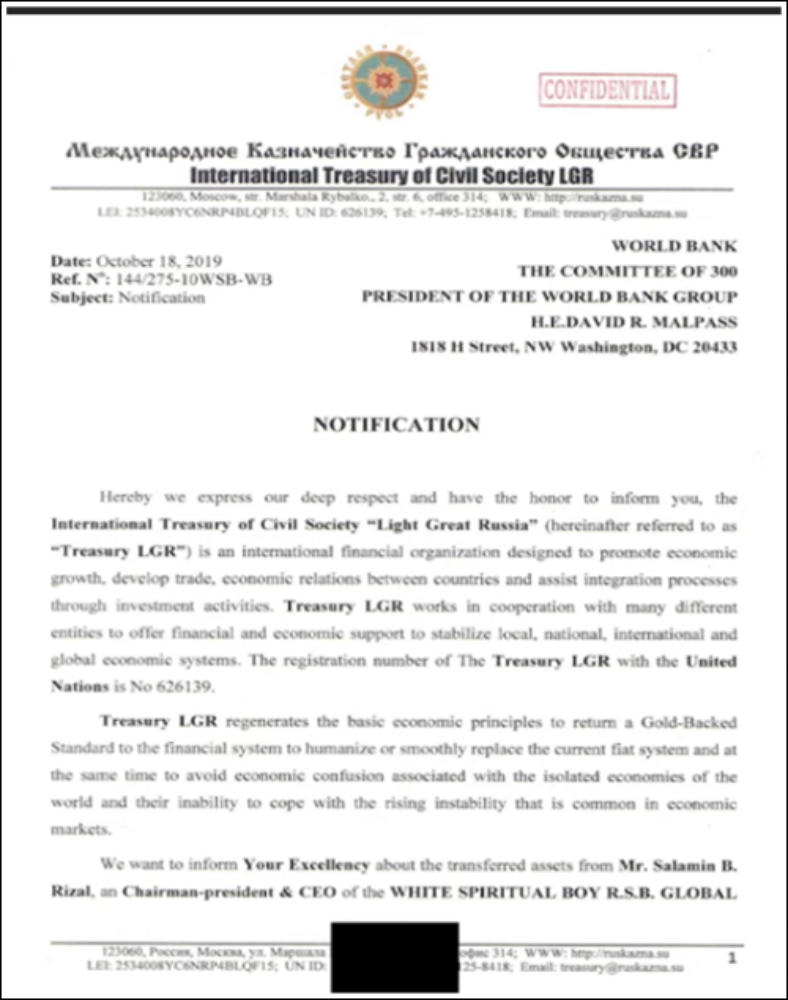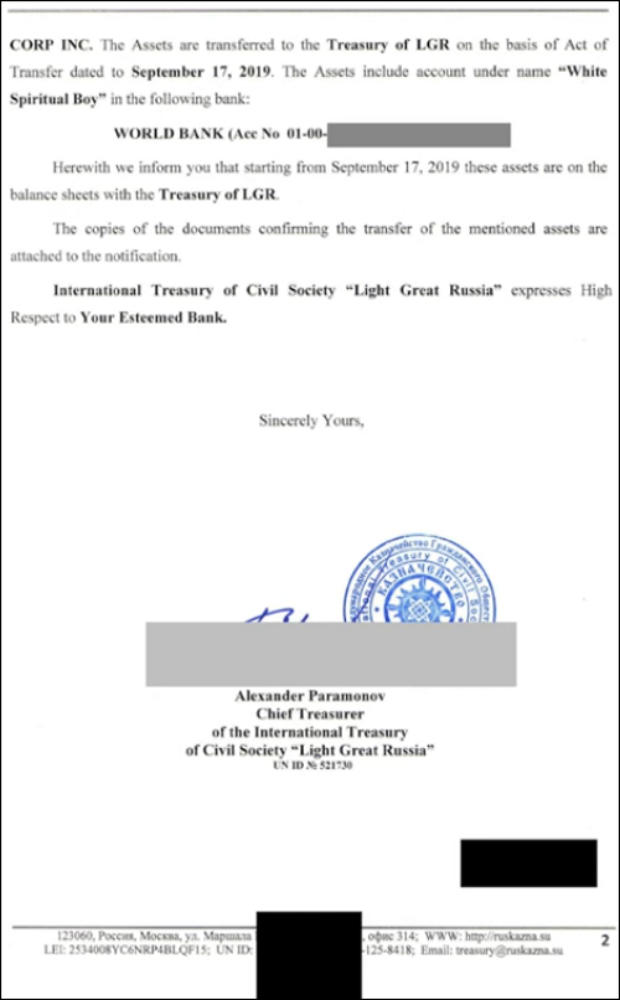 It will also be noticed at the top of page 1, the names of:-
The World Bank
The Committee of 300
President of The World Bank Group, H.E. David R. Malpass, 1818, H.Street, NW Washington, DC 20433.
Why should Paramonov be including the names of the above parties when he actually knows the truth. Yes he really does know the truth of The Global Debt Facility and The International Treasury Controller because His Excellency, the real and appointed International Treasury Controller, met with Paramonov in Thailand in 2011 and explained everything to him and that The International Treasury Controller would never pass any funds into the hands of others to control, nor would he ever give any form of power or authority over the assets / accounts of The Global Debt Facilityto anyone, not even any Government.
I spoke to His Excellency re: Paramonov who stated that Paramonov's negative attributes, including the Religious charade, were very evident at that meeting and that Paramonov was obviously a conman attempting to procure funds for his own purpose, and that of his claimed associates in Germany. Not one person at that meeting were in the least bit interested in submitting formal proposals for thr procurement of funds from The Global Debt Facility. They believed that The International Treasury Controller was just going to write a cheque, there and then, to satisfy their requirements. They soon found out that The International Treasury Controller was not a stupid individual, and that he was far more professional than they had probably believed.
For some reason that I cannot explain, I have a suspicious feeling that Keith Scott,former Global Envoy under Dr. Ray C. Dam, may be behind all of this with Paramonov because that meeting in 2011 was just a few short months after Dr. Ray C. Dam was admitted to hospital after being poisoned. Other than that the dots to Paramonov's latest eccentricity, all surprisingly connect, and it is structured in a manner that holds a lot of characteristics of Scott's normal Modus Operandi. Both I and His Excellency could be wrong on this point, but "Gut Feeling / instinct" tells me that there is more to this than meets the eye, and Paramonov is the type of person that Scott is comfortable working along side such a person.
Whatever, this is yet another criminal and fraudulent attempt to steal, utilise, and abuse the assets / accounts of The Global Debt Facility to the detriment of the Nations and People of the World.
It should also be noticed in the initial documents inserted above, that reference is made by Paramonov of a Gold Backed US Dollar new currency. Now isn't that a little surprising, a Russian conman and associate of the Russian Mafia, claiming to assist  the USA with Gold in the issuance of the new USA Gold Backed currency. Isn't that like asking the fox to guard the Hen House, or attempting to feed a hungry Grisly Bear.
There is only one fully Gold Backed currency and that is the GLOBEC. Whether the Gold is stolen and either locked up in some warehouse vault somewhere, or has been re-blocked and sold into the commercial markets is neither here or there because legal title / legal ownership is, and always will be, with The Global Debt Facility.
Just because somebody else may be in possession of stolen Gold, or other assets, does not change the legal title to that Gold, or other assets,, whereby in legal terms the stolen asset(s) are still legally owned by the registered owner. So for anyone who cares to listen and / or take note, we do have in our possession a full accurate registry document of all the Gold owned by The Global Debt Facility, and which depositary it should be in. SO FOR ALL YOU CROOKS AND THIEVES OUT THERE, TAKE NOTE BECAUSE IT IS ALL COMING BACK TO THE GLOBAL DEBT FACILITY, NO MATTER HOW LONG IT TAKES OR WHATEVER YOU TRY TO DO TO COVER UP THE FACT THAT YOU ARE IN POSSESSION OF STOLEN GOLD, AND THAT IS A 100% SURE PROMISE.
DO YOU HEAR THAT PARAMONOV, SCOTT AND ALL YOU OTHER CROOKS WHO HAVE BEEN IN THE PHILIPPINES, INDONESIA, PAPUA NEW GUINEA, OR ANY OTHER COUNTRY   ....................  IT IS ALL COMING BACK TO THE LEGAL OWNER SO BE PREPARED TO HAVE SOME MEN WITH SERIOUS INTENT, KNOCKING ON YOUR DOOR
Regards
David Crayford
© and Copyright Holder in favour of David Crayford in conjunction with the copyright laws of Abundanthope.net
All writings by members of AbundantHope are copyrighted by
©2005-2017 AbundantHope - All rights reserved