From AbundantHope.net


True US History
Why Are US Taxpayers Providing Public Pensions To Millionaire Members Of Congress
By Adam Andrzejewski with comments by Ron
Jul 15, 2020 - 12:59:55 AM



https://www.zerohedge.com/political/why-are-us-taxpayers-providing-public-pensions-millionaire-members-congress

July 14th 2020

 

Authored by Adam Andrzejewski, first published in Forbes

Membership in the U.S. Congress is an exclusive club that comes with lucrative, taxpayer-funded privileges. Retirement perks include a lifetime pension and a taxpayer-matched savings plan with taxpayer-paid contributions of up to five percent of salary.

As the longest-serving member of Congress, Sen. Patrick Leahy (D-VT) would qualify for a yearly pension of $167,040 if he retired today. Former speaker Paul Ryan (R-WI) was eligible to draw a $84,930 pension when he turned 50 in January after serving for twenty years and retiring at age 48.

Critics question the necessity of such a system. Why are U.S. taxpayers providing public pensions to millionaire members of Congress on top of a 401(k)-style plan? (The median net worth for a member recently exceeded $1.1 million.)

Our auditors at OpenTheBooks.com broke down benefits received by leaders from both parties: House Speaker Nancy Pelosi (D-CA) and Senate Leader Mitch McConnell (R-KY).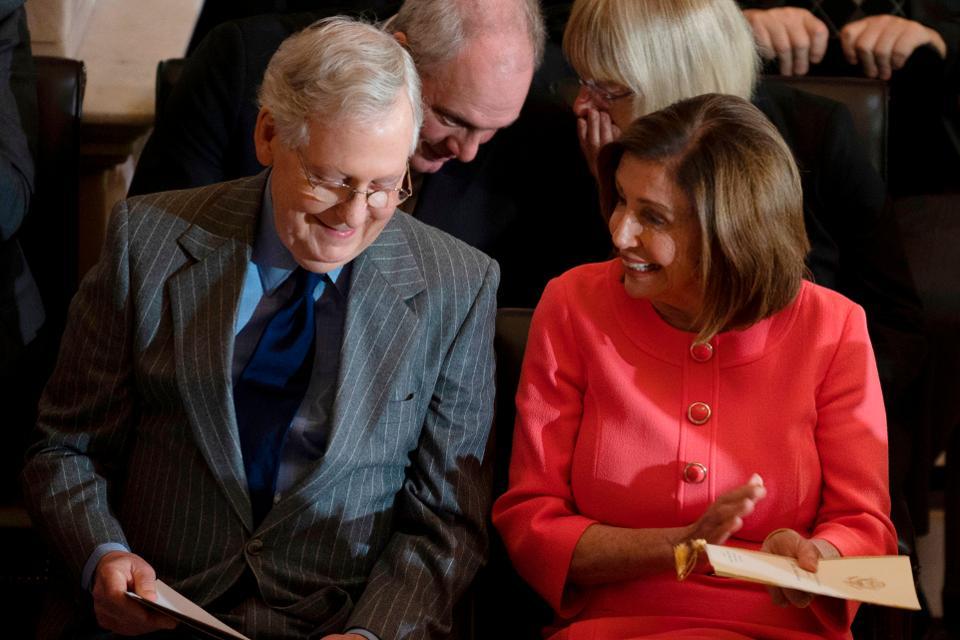 House Speaker Nancy Pelosi (net worth est. $50 million to $72 million): She'll reap $153,967 a year in public pension and social security benefits at retirement. In addition, Pelosi could cash out an estimated $1 million lump sum through her federal saving account - and that's just the portion of the account that was taxpayer-funded.
Our auditors calculated that Speaker Nancy Pelosi earned $5.7 million in salary to date during her 34-year congressional career. Pelosi's salary ranged from $77,400 (1987) to today's $223,500, as the most highly compensated member of Congress.
Taxpayers also invested $282,965 into Pelosi's federal Thrift Savings Plans - an amount that equals five percent of salary as long as members also contribute five percent of earnings. We estimate that those taxpayer dollars grew to $1.03 million if invested in an S&P 500 index fund, as of 12/31/2019.
On top of all this, if Pelosi retired after the November elections, we pegged her pension and annuity package at $153,967 annually. According to formulas, Pelosi (age 80) qualifies for $106,363 pension, and she's also eligible for social security. Assuming a maximum benefit, she'll receive an additional $47,604 each year.
Our estimates are in good faith based on the published rules. Complicating matters, Pelosi doesn't disclose her congressional benefits on her financial disclosures, nor did she respond to our request for comment.
Senate Leader Mitch McConnell (net worth est. $22 million): During his 36 years of public service in Congress, our auditors calculated that McConnell earned $5.5 million in salary. McConnell's salary ranged from $75,100 (1985) to today's $193,400 - as the second highest paid member of Congress.
Taxpayers also invested $273,700 into Mitch McConnell's federal Thrift Savings Plans. We estimate that the taxpayer dollars alone grew to $1.1 million if invested in an S&P 500 index fund (as of 12/31/19).
In retirement, McConnell can cash out the estimated $1.1 million - as a one-time lump sum or as he wishes.
Then, there is his lifetime pension payout. The researchers at the National Taxpayers Union pegged McConnell's pension and annuity package at $142,902 annually, if he retired after the November election. McConnell (age 78) qualifies for a $96,738 pension, and he's also eligible for social security amounting to an additional $46,164 each year.
Critics say members of Congress shouldn't be able to double-dip in taxpayer-funded retirement plans. Since representatives can already take advantage of the lucrative 401(k)-style plan with the five percent match, why can't members have the option to opt-out of the public pension plan ?
In 1994, then-elected representative Dr. Tom Coburn (R-OK) was able to opt-out of his federal pension by using a little-known loophole. But Congress eliminated that option by changing the law in the 2004 Appropriations Act.
Today, U.S. Senator Mike Braun (R-IN) feels it is imperative that members have the choice to forego the generous public pension. His bill (S. 439) makes it possible for members to opt-out.
Braun responded to our request for comment:
"It's time we make Washington WRE +0.5% more like the private sector and the best place to start is to end taxpayer-funded pensions - like Nancy Pelosi's six-figure annual pension - that Senators and Congressmen are entitled to in retirement.
If we remove the luxurious perks from Congress, we'll get better leaders: that's why I'll never accept my Senate pension and, if forced to, I pledge to donate every penny to Hoosier charities."
Braun's bill passed the Senate in December 2019 - to Leader McConnell's credit. However, the legislation is stuck in Speaker Pelosi's House awaiting a markup in the Committee on House Administration led by Rep. Zoe Lofgren (D-CA).
All writings by members of AbundantHope are copyrighted by
©2005-2017 AbundantHope - All rights reserved