From AbundantHope.net


True US History
Wendy Rogers Reads 'New Declaration Of Independence' Letter Demanding Nationwide Audits Amid Massive Calls To Decertify 2020 Election
By Andrew White
Sep 25, 2021 - 3:36:32 AM



https://nationalfile.com/wendy-rogers-reads-new-declaration-of-independence-letter-demanding-nationwide-audits-amid-massive-calls-to-decertify-2020-election/
"This is our new Declaration of Independence. This is our manifesto of freedom."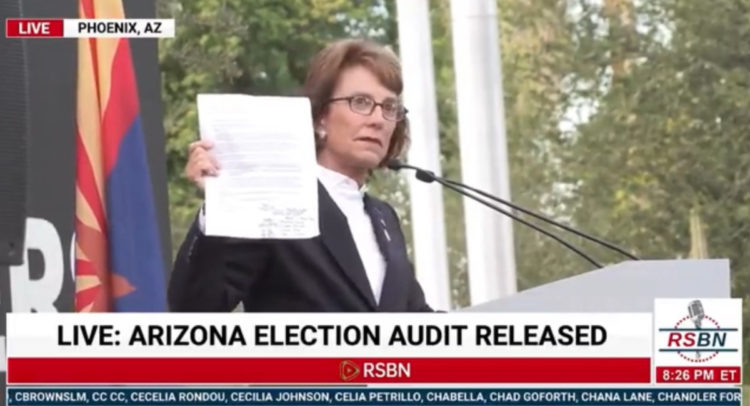 Share on FacebookShare on Twitter
At the conclusion of the Arizona Senate hearing examining the forensic audit of Maricopa County, state Sen. Wendy Rogers unveiled a letter signed by 41 legislators from multiple states calling for a 50-state-wide audit and, should these audits suggest a flawed election, mass decertification of the 2020 election, calling it the "new Declaration of Independence."
Following damning and explosive revelations of a corrupted 2020 election in Arizona, Senator Wendy Rogers unveiled a letter signed by 41 state legislators calling for nationwide audits in all 50 states, signifying a massive push to decertify the 2020 Presidential Election.
"This is a situation of state's rights. We are states of the United States, who gave the federal government their power," Rogers said. "The US Constitution gives us the plenary power to oversee the US Presidential Election, and so today, you got the truth."
"No matter what the left says, we will keep this in the narrative. We will stay focused. We will persevere. We will hold those criminally accountable," she continued, unveiling a letter signed by 41 state legislators calling for nationwide audits and decertification of the 2020 election.
"This is our new Declaration of Independence. This is our manifesto of freedom," Rogers declared, with emphasis added by National File.
This comes after the forensic audit of Arizona's Maricopa County revealed thousands of discrepancies and issues with EV32 and EV33 ballot forms, along with a number of other serious election integrity problems, as National File reported.
The results of the Arizona audit have brought the legitimacy of Joe Biden's 2020 victory in the state into serious doubt, as voices across the country are calling for the state to decertify the results of the election. Should the state chose to act on the revelations revealed in the groundbreaking audit, Biden's electoral vote count would be subtracted by 11, bringing his administration's total count down to 295 electoral votes. (READ MORE: Trump Joins Call To Decertify Arizona's 2020 Election Results)
"Massive fraud was found in the Arizona Forensic Audit," said President Donald Trump in a September 24 statement. "The numbers are Election Changing!"
Arizona GOP Chair Dr Kelli Ward and State Senator Warren Petersen have called on the state's Attorney General Mark Brnovich to take action following the release of the audit. "A failure to comply with the auditor, a brazen willingness to violate a legal subpoena, our Attorney General said that was against the law. That was truly alarming," said Petersen.
"Furthermore, their willingness to expend significant resources, human capital, you name it, to block and to stop this audit. As I recall it was $18,000 for one of their audits that they spent money on. How much money have they spent trying to stop our audit? It has to be in the hundreds of thousands of dollars. That would be an interesting number to see."
is a Northern Virginia native. His work here at National File has been previously featured on Alex Jones' Infowars and Revolver News. White is a constitutionalist Patriot, who focuses on social issues, election integrity, globalism, US politics, as well as general corporate and government corruption.
All writings by members of AbundantHope are copyrighted by
©2005-2017 AbundantHope - All rights reserved