https://www.columbiamissourian.com/news/state_news/ruling-in-shannon-robinson-et-al-vs-missouri-department-of-health-and-senior-services/pdf_339c103c-57be-5442-8d04-904ed5540391.html
Ruling in Shannon Robinson et al vs. Missouri Department of Health and Senior Services
Nov 23, 2021 Updated Nov 25, 2021
The Court concludes that the [state COVID] regulations
(1) violate separation of powers principles of...the Missouri Constitution;
(2) violate the Missouri Administrative Procedure Act...;
(3) are inconsistent with the public health law framework established by Missouri statutes; and
(4) violate the equal protection clause of the Missouri Constitution.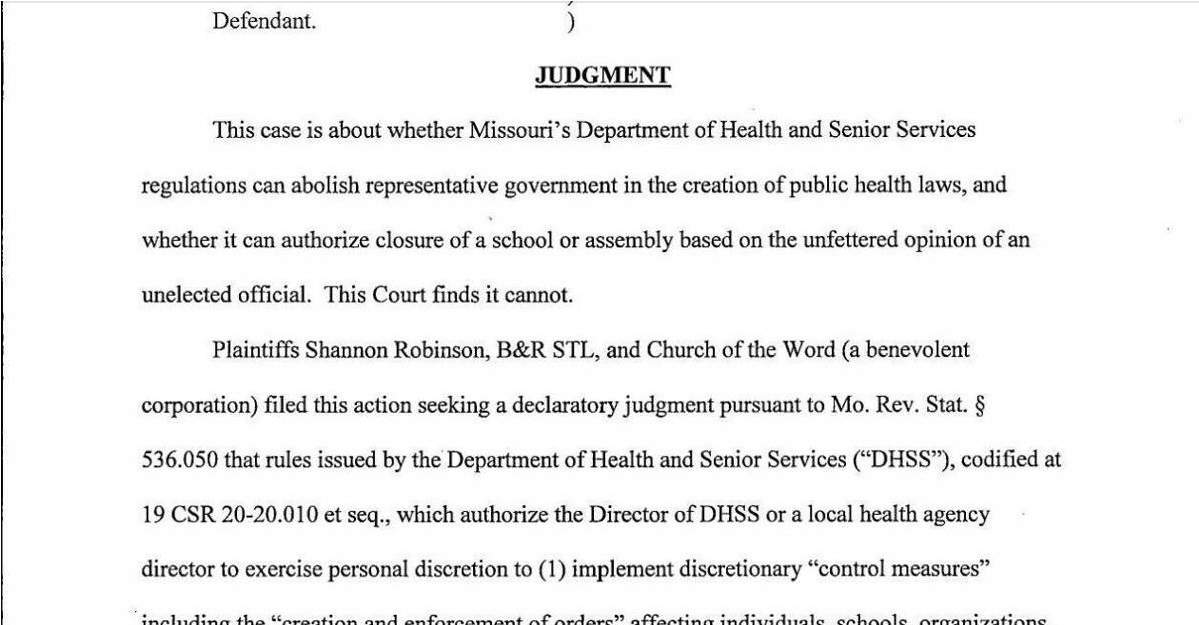 Ruling in Shannon Robinson et al vs. Missouri Department of Health and Senior Services @ https://www.columbiamissourian.com/news/state_news/ruling-in-shannon-robinson-et-al-vs-missouri-department-of-health-and-senior-services/pdf_339c103c-57be-5442-8d04-904ed5540391.html
Separation of powers among the three branches of government-legislative, administrative, judicial-is fundamental to the preservation of liberty. DHSS regulations break our three-branch system of government in ways that a middle school civics student would recognize....
"When the legislative and executive powers are united in the same person, or in the same body of magistrates, there can be no liberty; because apprehensions may arise, lest the same monarch or senate should enact tyrannical laws, to execute them in a tyrannical manner." Baron de Montesquieu, The Spirit of the Laws (London: J. Nourse and P. Vaillant, 1758), Book XI, ch. 6, p. 16.
"One of the settled maxims in constitutional law is that the power conferred upon the legislature to make laws cannot be delegated by that department to any other body or authority." Cooley, Constitutional Limitations (1886), pp. 116-117.
"It is incumbent on the courts to ensure decisions are made according to the rule of law, not hysteria.... One hopes that this great principle essential to any free society, including ours-will not itself become yet another casualty of COVID-19." Dept. of Health and Human Services v. Manke (Mich. 2020, Justice Viviano, concurring).