https://www.rt.com/news/463799-israeli-minister-diaspora-holocaust/

10 Jul, 2019 09:21Get short URL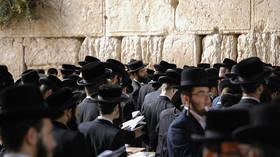 © Pixabay / MoneyForCoffee
Intermarriage among diaspora Jews - particularly those in North America - is "like a second Holocaust," Israeli Education Minister Rafi Peretz declared in a cabinet meeting, uniting much of that diaspora in shocked offense.
[Ron: How can there be a second Holocaust when a FIRST Holocaust didn't happen?! See eg: HOLOCAUST DEPROGRAMMING COURSE II -  http://abundanthope.net/pages/Political_Information_43/HOLOCAUST-DEPROGRAMMING-COURSE-II.shtml
It's 75 years since the Holocaust DIDN'T HAPPEN!  When are these snivelling, kvetching Talmudists gonna stop lying about WWII and repeating their perfidious Blood Libel of the entire German nation - the greatest Blood Libel of all time?! And WHY does humanity continue to put up with this crap?! Presidents Trump, Putin, Xi and every other world leader with an IQ above room temperature must  KNOW that the Holocaust is bullshit since there were only ever three million Jews in German occupied Europe during WWIi and more than 2.7 millon of them survived to claim reparations from Germany, France, Holland, Poland and others. What's the point of taxing citizens to maintain huge military forces for the purposes of national security IF governments then let a gaggle of Jewish banksters and corporate con men hold their populations to ransom?! WHY must the ignorant citizens of nations be kept in the dark and fed bullshit to enable Jews to control the money supply and charge interest on it in order to destroy citizens lives and their countries? WHO benefits?!].

The Jewish community "lost 6 million people" over the last 70 years because of intermarriage and assimilation, Peretz told a cabinet meeting on trends in Jewish communities around the world, particularly in the US. His spokesman confirmed the statement to Israeli Channel 13.
[Ron: The statement that over the last 70 years the "Jewish community" has lost six million people in the US and nations other than the Jewish apartheid entity, implies that Jewish communities in foreign host nations are a FIFTH COLUMN in those nations and that their primary loyalties lie with a foreign power, namely Israel. IF that is the case people who proclaim their Jewishness (ie their TALMUDISM) should be regarded as traitors if they hold citizenship in a gentile host nation.  And if they don't hold citizenship, they should be asked to leave or be interned to prevent them harming their hosts. That is what would happen if they were proclaiming that they are a WAFFEN SS COMMUNITY. Why are Talmudists any different? At least the Waffen SS were Christians...
The US, UK, EU and many other nations have been covertly controlled by Jews (however described) for more than a century and the results are not pretty. Nor is the situation improving.  If the leaders of gentile countries do not get up off their knees and reject Jewish bankster cum corporate criminal control of their nation(s) our world will very soon disappear up its own fundamental orifice. As most of the the populations of gentile nations have been mind controlled into a state of zombidom, their leaders need to STAND UP and reject Talmudism and all its works, NOW! Tomorrow may be too late for many people. It is beyond pointless for citizens to pay taxes to maintain huge military forces for national security purposes if their leaders are mere puppets for Jewish banksters.].
ALSO ON RT.COM'Whirlwind of politics not for women': Prominent Israeli rabbi reacts to talk of female party leader
American Jews, unsurprisingly, were outraged. Anti-Defamation League CEO Jonathan Greenblatt called the remarks "inconceivable" in a tweet, adding that "This kind of baseless comparison does little other than inflame and offend." The ADL tweeted an additional response in Hebrew, blaming Peretz's statement for "add[ing] to the already existing tension between Israel and US Jewry" and pleading with him to "engage in respectful dialogue."
"Israel's government has a moral responsibility to maintain and improve the country's relationship with diaspora Jews in general, and with the American Jewish community in particular,"
[Ron: WHY? Why should Israel's relationship with disapora Jews in the US be any different from its relationship to other USans?!].
Jay Ruderman, president of the Ruderman Family Foundation, a Jewish organization that advocates for people with disabilities.
And Peretz's fellow ministers - some of them, anyway - took a dim view of the comment. "First we need to stop disregarding and looking down on Jews in America that see themselves as Jews not only religiously but even more culturally and historically," argued Minister of Energy Yuval Steinitz.
But PM Benjamin Netanyahu shared Peretz's alarm over demographic trends, claiming US Jews are abandoning Jewish traditions in a trend that is not easily reversed.
[Ron: Being a Jew implies giving allegiance to an ethno-centric, collectivist political ideology.  It is NOT a genetic condition. Accordingly abandoning Jewish traditions it is NOT a demographic trend it is a sign of individual independence. Claiming that 'US Jews' are abandoning Jewish traditions is code for saying they are ceasing to adhere to their Talmudic political ideology which means they are losing their socially engineered, mind controlling, ethno-centric mental attitudes.].

ALSO ON RT.COMIsraeli minister's diaries reveal Mossad involvement in anti-BDS push abroad
Support for Israel among American Jews has been declining for years, and Peretz's comments - far from the first to compare assimilation to the Holocaust - are unlikely to heal the rift.
Think your friends would be interested ? Share this story !
RELATED ARTICLES:
HOLOCAUST DEPROGRAMMING COURSE II -  http://abundanthope.net/pages/Political_Information_43/HOLOCAUST-DEPROGRAMMING-COURSE-II.shtml
OFFICIAL RECORDS FROM INTERNATIONAL RED CROSS PROVE "HOLOCAUST" WAS A FRAUD - Repost - http://abundanthope.net/pages/Political_Information_43/OFFICIAL-RECORDS-FROM-INTERNATIONAL-RED-CROSS-PROVE-HOLOCAUST-WAS-A-FRAUD---Repost.shtml
WORLD WAR II The JEWS Declared War - AGAINST Germany! NOT the Other Way Around! See: http://abundanthope.net/pages/Political_Information_43/WORLD-WAR-II-The-JEWS-Declared-War---AGAINST-Germany-NOT-the-Other-Way-Around.shtml
Germany Deems Holocaust Survivor Spouses Worthy of Compensation - http://abundanthope.net/pages/Political_Information_43/Germany-Deems-Holocaust-Survivor-Spouses-Worthy-of-Compensation.shtml