Exposed! Public Education is Indoctrination
July 4, 2011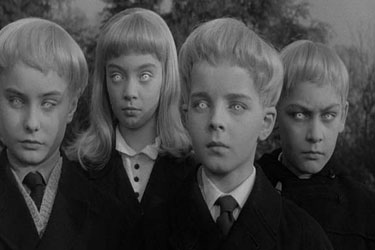 left, scene from "Village of the Damned"



"Education that prepares students to accept a cog-like existence in our military-industrial-social-welfare-regulation complex is ideal."


Excerpt from "The Occult Technology of Power," which purports to be a manual used to instruct an Illuminati heir, published in 1974. Internal references suggest that it was a work of imagination based on extensive study. Most of it is consistent with my conclusions.

In order to maintain our system of power, the institution of universal public education is indispensable...

The primary purpose of public education is to inculcate the idea that our crucial institutions of coercion and monopoly were created for the public good by popular national heroes to blunt the past power of the malefactors of great wealth. Crucial is to create the impression that, although the people have been exploited in the past, today the wealthy are at the mercy of an all-powerful government which is firmly in the hands of the people or do-good liberals...

Centralization of control [of education] at the state, or preferably national level, assists in building the climate of opinion we require in public education. Failing to obliterate local control, other methods nearly as effective are available.

Our overwhelming financial clout in the publishing industry can induce relatively uniform textbook selection. Further leverage can be created by promoting teacher colleges and teaching machines. National teacher's associations and unions are also an excellent power base from which to foster our programs of indoctrination.

With our great influence in publishing and publicity we are able to, selectively popularize educational theorists whose views are incidentally beneficial, compatible, or at least not in conflict with our own goals.

This way we obtain sincere, energetic activists [Ron: "useful idiots"] to propagate our desires without having to reveal our motives or even existence. We do not want an educational system that produces hard-driving individuals bent on amassing great wealth and power.

Therefore, we discourage education that would develop the potential powers of students to their fullest. "Liberal" education that stresses knowledge for its own sake or even sophistry and sterile mental gymnastics is of no danger to us.

"Relevant," vocational, or career-oriented education also poses no danger to our power.

Education that prepares students to accept a cog-like existence in our military-industrial-social-welfare-regulation complex is ideal. Progressive education with its stress on "social adjustment" also produces the conformity we require of our subjects.

Emphasis on competitive sports may produce a certain amount of disruptive competitiveness among the participants, but primarily has the effect of creating life-long voyeuristic spectators who will enthusiastically sublimate their competitiveness into endless hours of following college and professional sports on the boob tube. Space spectaculars and dramatic political infighting are also marvelous diversions with which to occupy the masses.

Anyone seeking social change will gravitate to the field of education. Our strategy is simple: Let only those succeed whose influence would be compatible with our power. Encourage all who would develop the passive or receptive mode of existence. Discourage all who promote the aggressive or active capacities.

Build a great cult of salvation through endless education, touting it as the "democratic" path to success Deride the frontal approach to success of the "outmoded' rugged individualist.

Before yielding the floor ... I would like to comment on the demise of religious education as a vehicle for social control. Religion, in its time, was a remarkable weapon for inculcating subservience, altruism, and self-abnegation among our subjects. We did not give up this weapon voluntarily.

Your grandfather, for one, supported the Baptist faith well after most finance capitalists had turned wholly to secular ideologies. However, a trend toward rationality in human affairs plods along inexorably quite outside the reach of our power.

Only in our totalitarian dictatorships can this trend be quashed entirely. In the semi-open societies in which our money power is based, the forces of reason can only be impeded and diverted. Some have theorized that, eventually, widespread rational egoism will overturn our order. I am confident that secular faiths and just plain confusion will suffice to sustain our power for many centuries to come.
http://www.henrymakow.com/education.html
[Colour fonts and bolding added.].
RELATED ARTICLES:
Dumbing Down US Education: Part I – Background. See: http://abundanthope.net/pages/Ron_71/Dumbing_Down_US_Education_Part_I_Background_3842.shtml
Dumbing Down US Education: Part II – Wundtian Psychology & Rockefeller Finance. See http://abundanthope.net/pages/Ron_71/Dumbing_Down_US_Education_Part_II_Wundtian_Psychol_3877.shtml