I expected to see this curious accident, Seven US Navy Sailors Unaccounted for in Crash off Japanese Coast , top of the news heap this morning. Instead, I had to search for it.
(Hubby told me as I was finishing up this has now made it to google news as one of the top stories- Most likely because it's been all over social media since yesterday when I put up the first post)

The missing sailors are presumed dead. The US is tight lipped on what happened.
It seems sensible to me that it is already known, with enough certainty, how this occurred,
The Phillipino crew is awaiting questioning. Or debriefing aka getting your story straight?
The US is going to want to manage the narrative around this incident in a specific self serving manner. There is no way the US wants the Navy looking inept, incompetent or grossly negligent. Especially when one considers the loss of life.
In a statement released on social media, US Navy operations chief Adm John Richardson said: "As more information is learnt we will be sure to share it with the Fitzgerald families and when appropriate the public. [...]


Below is the ACX Crystal- and the damage to it caused by the collision with the Fitzgerald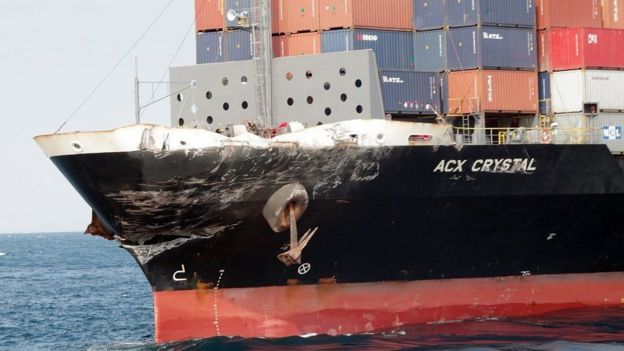 I cannot comprehend how it is that these two ships made this type of contact or any physical contact- Carelessness. Playing 'chicken'. US arrogance. Over dependence on technology.
I don't know!


The Japanese coastguard said the ACX Crystal weighed just under 30,000 tonnes, about three times that of the USS Fitzgerald.
I

t sustained lighter damage to its port bow

, and has now reached Tokyo.
The Associated Press agency said there were

no injuries reported among the 20 Filipino crew members on board the container ship.
The area where the collision took place is extremely busy, with shipping heading in and out of Tokyo bay.
However, the USS Fitzgerald is one of the most advanced warships in the world - with highly sophisticated radars systems.
At the moment the focus is on the search for the missing sailors. Later will come the investigation into how one of the world's

most sophisticated warships

failed to 

avoid colliding

with a 30,000-tonne cargo ship on a 

calm, clear night.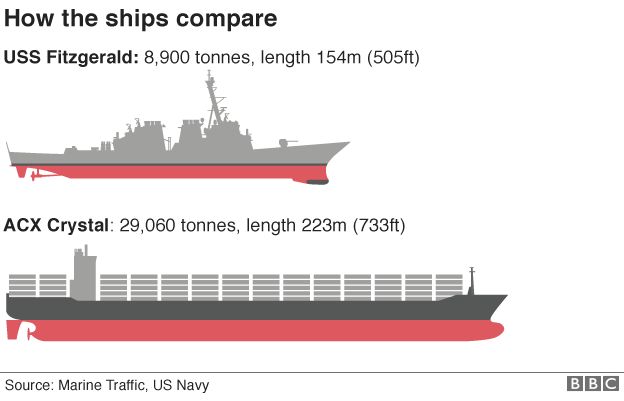 The USS Fitzgerald crew should have been able to see this ship, visually, without technological assistance and maneuver away- Why didn't that happen?

Marine Route of the ACX Crystal



I think the routing map is pretty useless, but, I'm putting it here. It's like a news story with no context.
Where was the Fitzgerald? What was it's route? We don't get to know at this time.

hattip Gordon McPhail :)

Gordon McPhailJune 17, 2017 at 1:17 AMHi Penny
This is the detail travel graph for the ACX Crystal
http://www.marinetraffic.com/en/ais/details/ships/shipid:722169/mmsi:548789000/imo:9360611/vessel:ACX_CRYSTAL
Gordon McPhailJune 17, 2017 at 1:32 AMHere is the ACX Crystal as well. 

https://theconservativetreehouse.com/2017/06/16/collision-at-sea-u-s-s-fitzgerald-collides-with-cargo-container-ship-acx-crystal-off-coast-of-japan/
Gordon McPhailJune 17, 2017 at 1:49 AMPenny There is something very wrong with the accident damage profile. ACX Crystal damage on Port Side front Bow
Damage to Fitzgerald on STARBOARD side well behind the Bow in fact near the Bridge. The ships traveling towards each other would have the damage on the SAME side. Ships traveling in the smae direction would have the damage on opposite sides, however the damage pattern would be pushed FORWARD on the Destroyer, yet it looks to be pushed back. This I am having trouble explaining to myself. (I am an ex seaman from the '60's) Perhaps someone is able to explain it to me so I am able to understand how it is possible to happen. Cheers Penny
Link

ACX Crystal is owned by Japan's Dainichi- Invest Corporation

I've been trying to figure out how this occurred and can't- So if anyone can help that would be great!
Related
https://www.rt.com/usa/392810-uss-fitzgerald-sailors-found-dead/

http://pennyforyourthoughts2.blogspot.com.au/2017/06/uss-fitzgeraldacx-crystal-collision.html