https://www.sott.net/article/418281-Sabotage-campaign-underway-in-Russia-Two-Russian-rocket-test-sites-hit-by-explosions-on-two-subsequent-days-7-nuclear-specialists-killed

RELATED    https://www.rt.com/russia/466194-rosatom-killed-arkhangelsk-blast/
RT
Thu, 08 Aug 2019 21:45 UTC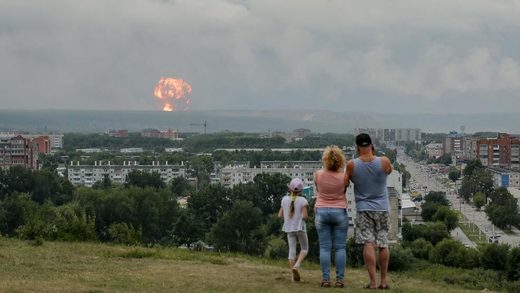 © AP/Dmitry Dub

In this photo taken on Monday, Aug. 5, 2019, a family watches explosions at a military ammunition depot near the city of Achinsk in eastern Siberia's Krasnoyarsk region, in Achinsk, Russia.A blast has rocked a Russian Navy firing range during trials, the Ministry of Defense has said. At least two service members were killed in the explosion.

A "liquid-fueled jet engine" went off at the testing cite close to the city of Severodvinsk. The latter is home to a major base of the Russian Navy's Northern Fleet.

As well as the two "specialists" who succumbed to their injuries, six more people were injured and were being treated in hospital. 

Radiation levels briefly increased then returned to normal, local authorities said; the military reported that no radioactive substances were released. Rescue services were, nonetheless, put on high alert. The type of device in question has not been disclosed, nor has a possible reason for the explosion been suggested.

The tragedy came just two days after an army ammunition depot was devastated in a powerful explosion in Siberia. That blast left one dead and led to a massive evacuation of nearby villages and towns. 


Comment: That was the first incident, yesterday, 8 August. Today, 9 August, this happened: 


5 killed, 3 injured in blast during rocket engine test, Russia's Rosatom confirms

Five staff of Russia's nuclear corporation Rosatom were killed and three suffered serious burns in the accident during a test of a liquid-propellant engine in Arkhangelsk region on Thursday. 

"As a result of the accident at the military firing range in Arkhangelsk during liquid reactive propulsion system tests, five employees of the state corporation Rosatom were killed," the company said.
Comment: Between this series of deaths of its nuclear and rocket specialists, the deaths of its military-intelligence submarine experts last month, and the ongoing massive explosions at multiple military ordinance sites, some hefty sabotage (and possibly deliberate assassination) efforts appear to be underway against key military-scientific targets across Russia.