https://www.breitbart.com/faith/2019/12/05/pope-francis-compares-trump-to-herod-who-tried-to-kill-jesus/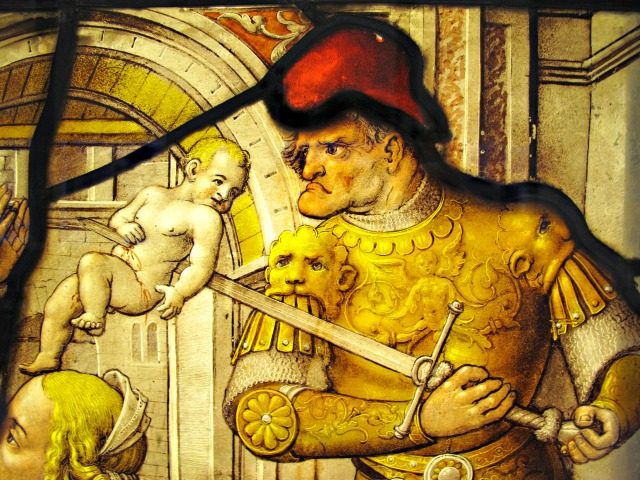 ROME - Pope Francis has compared U.S. President Donald Trump to the murderous King Herod who massacred innocent children in ancient Palestine while trying to kill the baby Jesus, a Jesuit journal revealed Thursday.
Speaking with his brother Jesuits during his recent visit to Thailand, the Argentinian pope minced no words in his thinly veiled condemnation of the U.S. president and his administration, suggesting that like a modern-day Herod, Mr. Trump separates families at the border while allowing drugs to freely flow into the country.
"In other parts there are walls that even separate children from parents. Herod comes to mind," Francis said. "Yet for drugs, there's no wall to keep them out."
[Ron: The Pope is not an idiot and he has the resources of the Vatican and the Catholic Church to inform his thinking. His ad hominem attack and demonisation of President Trump is therefore deliberate and culpably false. The Pope's words are typically Talmudic and echo the LIES of his cultural Marxist US Democratic fellow travellers and the US Deep State. Herod ordered the murder of infants whereas Trump is attempting to prevent abortion and infanticide. The Pope's condemnation is typical Talmudic (Bolshevik) projection. For instance Lenin is reported to have said: 'always accuse your opponents of what you are doing.
The Pope's lies add insult to injury by blaming Trump and his Administration for the US system of seperation of children from their illegal immigrant parents in border detention facilities established by the Democratic Obama Administration. Moreover, had the Democrats allowed funding for a border wall the number of illegal immigrants and their children would have been drastically reduced. Also, another reason for seperating children in US border facilities is that many illegal immigrants are using (ie trafficking) children in their attempts to illegally enter the US. Trump is strongly opposing child trafficking across the border and within the US. The Pope MUST know this and his smearing of Trump in this way is despicable.
The Pope's final lying insult is his charge that Trump is allowing drugs to freely flow into the US! Again, Blind Freddie would know that Trump is strenuously resisting drug trafficking both into and within the US. THAT, and his interdiction of child trafficking, is a major reason why the Deep State in the US and globally is seeking to remove him by impeachment or asassination.].
"The phenomenon of migration is compounded by war, hunger and a 'defensive mindset,' which makes us in a state of fear believe that you can defend yourself only by strengthening borders.
[Ron: Which is it?! Either Trump's attempt to strengthen US borders to limit drug and child trafficking is valid OR it is not.].

At the same time, there is exploitation."
[Ron: Yabba, yabba, what does this mean?!].
In this Q&A session, the pontiff also proposed that the rise of populism is at the root of migrants' problems in Europe.
[Populism means that people seek to protect the laws, customs, traditions and ways of life that define their community. WHAT IS WRONG WTH THAT?! ].
"I must admit that I am shocked by some of the narratives I hear in Europe about borders," the pope said. "Populism is gaining strength." [Ron: And...?!].

"The phenomenon of refugees has always existed, but today it is better known because of social differences, hunger, political tensions and especially war. For these reasons, migratory movements are intensifying," he said.
[Ron: Actually the main reason that refugee flows are intensifying is that George Soros and global Jewry and its paid shabbos NGO enablers are funding and assisting hordes of economic migrants to invade the EU, UK and US and othe ranglo nations.].
"What is the answer the world gives? The policy of waste," he continued. "Refugees are waste material. The Mediterranean has been turned into a cemetery. The notorious cruelty of some detention centers in Libya touches my heart."
[Ron: REALLY?! Sooo WHY didn't the Pope and the Catholic Church oppose NATO's bombing, invasion and destruction of Libya, the richest nation in Africa back in 2011?! And WHY didn't the Pope speak out against the murder of President Muammar Gaddifi, the enlightened and Christed leader of Libya??? Gaddifi's Libya was Europe's  bulwark against terrorist incursions into the EU from North Africa. The detention centres and slave markets in Libya today are the direct result of NATO's invasion and total destruction of Libya including the Eigth Wonder of our world namely the Great Man Made River irrigation system that NATO bombed! See eg: Libya Touts Great Man-Made River as 8th Wonder of the World - http://abundanthope.net/pages/Environment_Science_69/Libya-Touts-Great-Man-Made-River-as-8th-Wonder-of-the-World.shtml].
"The Christian tradition has a rich evangelical experience in dealing with the problem of refugees. We also remember the importance of welcoming the foreigner as the Old Testament teaches us," he said.
[Ron: Actually Jesus' Sermon on the Mount and his parables and exhortation that we need to learn to love our neighbour (everyone and everything) AS ourselves FOR the love of God, is the truly relevant teaching in this context. The Old Testament is the Torah which is a Pharisaic political ideology concocted by Levites and rabbis who plagiarised earlier Sumarian spiritual stories in order to exploit and enslave Judahites. The Torah should not be incorporated into the Bible which is supposed to be (but in many respects isn't) the teachings of Jesus the Christ. Jesus came to teach divine truths lost over millenia and corrupted by Pharisees and others. Jesus did not intend to establish a religion and didn't. The Christian religion was concocted by Pharisees who influenced Roman emperors to create it as a means to corrupt and destroy Jesus' teachings. See eg: Judaism and Christianity - Two Thousand Years of Lies - 60 Years of State Terrorism - http://abundanthope.net/pages/Political_Information_43/Judaism-and-Christianity---Two-Thousand-Years-of-Lies---60-Years-of-State-Terrorism.shtml
Clearly the Pope is corrupting Jesus' teachings.].

[Colour fonts, bolding and comments in square brackets added.].
RELATED ARTICLES:
Judaism and Christianity - Two Thousand Years of Lies - 60 Years of State Terrorism - http://abundanthope.net/pages/Political_Information_43/Judaism-and-Christianity---Two-Thousand-Years-of-Lies---60-Years-of-State-Terrorism.shtml
Libya Touts Great Man-Made River as 8th Wonder of the World - http://abundanthope.net/pages/Environment_Science_69/Libya-Touts-Great-Man-Made-River-as-8th-Wonder-of-the-World.shtml]