https://www.breitbart.com/big-government/2018/08/28/pennsylvania-attorney-general-evidence-vatican-knew-of-sex-abuse/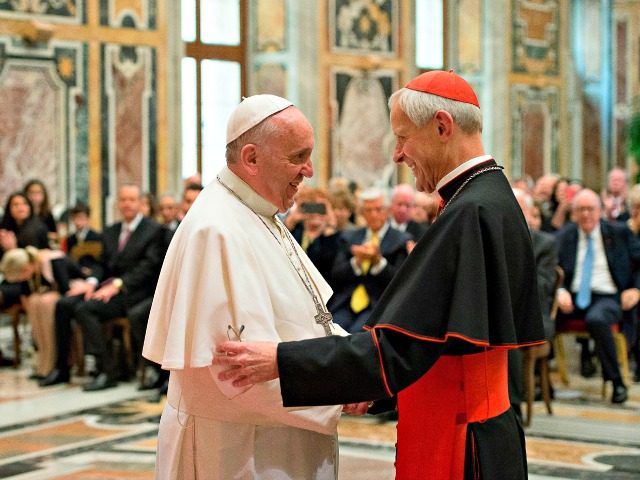 Pennsylvania Attorney General Josh Shapiro told NBC'sToday on Tuesday that they have evidence in hand suggesting the Vatican knew of both the sexual abuses committed by priests in Pennsylvania and the ensuing cover-up by Church officials.
"Church leaders would lie to parishioners on Sunday," Shapiro told Today. "They would lie to the public, they would shield these predators from the public, but they would document all of it and place it in these secret archives, feet away from the bishops."
I think broader issues here with the Vatican knowing about this... With church leaders knowing about it, and the reaction you've seen - not just from Catholics, but from people from across the globe - is a fundamental disappointment and anger in institutions.

We're seeing institutions, whether it's Hollywood, universities, government centers, and certainly the church, putting their institutional reputation above the welfare of children. We will not tolerate that in Pennsylvania, and should not tolerate it anywhere.
The Attorney General asserted that investigators had uncovered documents, including handwritten notes, in the Pennsylvania church archives which detailed cases of sexual abuse spanning over 70 years and involving 301 priests and over 1,000 of their victims. Since the publication of the Pennsylvania grand jury report, more than 700 people have contacted the clergy abuse hotline created by his office. He suspects that the victim counts will continue to rise.
"It's horrifying to think what these men of God did to these children, and then to have the cover-up that was quite literally purposeful to shield priests from law enforcement," he said.
Shapiro stated that he "can't speak specifically to Pope Francis['s]" knowledge of the Pennsylvania abuse cases. However, allegations continue to surface that Pope Francis not only knew about Washington, DC's archbishop Cardinal Theodore McCarrick's sexual abuses, but reinstated him into ministry with that knowledge.
Thus far, the pope has refused to comment.
The Pennsylvania grand jury report also accuses Cardinal Donald Wuerl, the current archbishop of Washington, DC, of protecting sexual predator priests while he was bishop of Pittsburgh from 1988 to 2006. One of the most disturbing cases in the report details how Wuerl increased the stipend paid to a priest who abused minors and engaged in child pornography in exchange for the priest's silence about other sexual predator priests.
Wuerl has also been criticized for claiming that he had no knowledge of his D.C. predecessor Cardinal McCarrick's decades of alleged sexual abuse of seminarians, priests, and laypeople. This despite a report that Wuerl was informed by a high-ranking Vatican official that Pope Benedict imposed sanctions on McCarrick for sexual abuse. Shortly after this alleged discussion, Wuerl cancelled an event McCarrick was scheduled to host for young men contemplating a vocation to the priesthood.
[Ron: Tell me again why you think that the Catholic Church is not a social control mechanism created and maintained by Talmudists and psychopaths. Esu Immanuel (aka Jesus the Christ) was NOT a Pharisee, an Israelite, a Judahite or a Jew and he DID NOT incarnate to create a religion, and didn't.
Jesus's incarnation was also overshadowed by Christ Michael Aton as well as Esu. Jesus' mother was of Sumarian stock and his father's seed was supplied by Arch Angel Gabriel. See eg: ESU IMMANUEL, THE CHRIST, WAS NOT A JEW. See: http://abundanthope.net/pages/Phoenix_Journals_61/ESU_IMMANUEL_THE_CHRIST_WAS_NOT_A_JEW_4237.shtml
And: Esu Immanuel (Jesus Christ) was NOT a Jew - The facts about KHAZARS (the so-called Jews) - http://abundanthope.net/pages/Political_Information_43/Esu-Immanuel-Jesus-Christ-was-NOT-a-Jew---The-facts-about-KHAZARS-the-so-called-Jews.shtml
Be aware that the Christian religion was established by Roman Emperors advised by Pharisees who used it to conceal and subvert the teaching of Jesus. Thereafter Pharisees and neo-Pharisees who now call themselves Jews have covertly continued to subvert Catholicism to the point where puppet Pope Francis is now revealing its Talmudic underbelly. ].
RELATED ARTICLES:
'He Beareth Not the Sword in Vain' - http://abundanthope.net/pages/Political_Information_43/He-Beareth-Not-the-Sword-in-Vain.shtml

Former Vatican Official Accuses Pope Francis of Knowingly Reinstating Abusive Cardinal - http://abundanthope.net/pages/Political_Information_43/Former-Vatican-Official-Accuses-Pope-Francis-of-Knowingly-Reinstating-Abusive-Cardinal.shtml

McCarrick is 'tip of the iceberg': Polish Priest Who Warned of Gay Bishops 5 Years Ago - http://abundanthope.net/pages/Political_Information_43/McCarrick-is-tip-of-the-iceberg-Polish-Priest-Who-Warned-of-Gay-Bishops-5-Years-Ago.shtml
Culture Warrior Morse: Weinstein and Archbishop McCarrick Both Believed They Were 'Entitled' to Sex - http://abundanthope.net/pages/Political_Information_43/Culture-Warrior-Morse-Weinstein-and-Archbishop-McCarrick-Both-Believed-They-Were-Entitled-to-Sex.shtml
LGBT 'Catholic' Groups: If Pope can reverse Church Teaching on Death Penalty, Why Not Homosexuality? - http://abundanthope.net/pages/Human_Animal_Rights_104/LGBT-Catholic-groups-If-Pope-can-reverse-Church-Teaching-on-Death-Penalty-Why-Not-Homosexuality.shtml
Pope Francis and Church Doctrine - http://abundanthope.net/pages/Political_Information_43/Pope-Francis-and-Church-Doctrine.shtml
Raise The Rainbow Flag : We Surrender - http://abundanthope.net/pages/Political_Information_43/Raise-The-Rainbow-Flag-We-Surrender.shtml
Pope Francis Addresses Sex Abuse, Sidesteps Root Causes and Accountability - http://abundanthope.net/pages/Human_Animal_Rights_104/Pope-Francis-Addresses-Sex-Abuse-Sidesteps-Root-Causes-and-Accountability.shtml

Newark Archbishop Joseph Tobin Denies 'Gay Subculture,' Bans Priests from Speaking to Media About Sex Scandal - http://abundanthope.net/pages/True_US_History_108/Newark-Archbishop-Joseph-Tobin-Denies-Gay-Subculture-Bans-Priests-from-Speaking-to-Media-About-Sex-Scandal.shtml
Priest: 'Evil' Gay Bishops 'persecute, blackmail' Faithful Priests Who Might Expose Their Secret - http://abundanthope.net/pages/True_US_History_108/Priest-Evil-gay-bishops-persecute-blackmail-Faithful-Priests-Who-Might-Expose-Their-Secret.shtml
Pennsylvania Grand Jury Report Exposes Decades of Clerical Sex Abuse and Church Cover-up - http://abundanthope.net/pages/Political_Information_43/Pennsylvania-grand-jury-report-exposes-decades-of-Clerical-Sex-Abuse-and-Church-Cover-up.shtml

Catholics tell Cdl. Cupich: Clerical Sex Abuse 'has everything to do with homosexuality' - http://abundanthope.net/pages/Human_Animal_Rights_104/Catholics-tell-Cdl-Cupich-Clerical-sex-Abuse-has-everything-to-do-with-homosexuality.shtml
The Catholic Church Historic Responsibility For Child Sexual Abuse - http://abundanthope.net/pages/True_US_History_108/The-Catholic-Church-Historic-Responsibility-For-Child-Sexual-Abuse.shtml
Nolte: Vatican 'No Comment' About Hundreds of Predator Priests Abusing 1,000 Children - http://abundanthope.net/pages/True_US_History_108/Nolte-Vatican-No-Comment-About-Hundreds-of-Predator-Priests-Abusing-1-000-Children.shtml

Marxism And Marriage - http://abundanthope.net/pages/Political_Information_43/Marxism-And-Marriage.shtml

Chile Catholic Episcopal Conference Raided In Pedophile Priest Probe - http://abundanthope.net/pages/Political_Information_43/Chile-Catholic-Episcopal-Conference-Raided-In-Pedophile-Priest-Probe.shtml
Founder of Largest Christian Music Festival Gets 18 Years Imprisonment For Child Sexual Abuse - http://abundanthope.net/pages/Human_Animal_Rights_104/Founder-of-Largest-Christian-Music-Festival-Gets-18-Years-Imprisonment-For-Child-Sexual-Abuse.shtml

Vatican Sentences Former Diplomat to Prison for Possessing and Distributing Child Porn - http://abundanthope.net/pages/Political_Information_43/Vatican-sentences-former-diplomat-to-Prison-for-Possessing-and-Distributing-Child-Porn.shtml
Uncle Ted & The Grand Inquisitor - http://abundanthope.net/pages/Political_Information_43/Uncle-Ted-The-Grand-Inquisitor.shtml

Ireland's Dwindling Catholic Masses - http://abundanthope.net/pages/Political_Information_43/Ireland-s-Dwindling-Catholic-Masses.shtml
Pope Francis ranked among this year's 50 most prominent Jews. See: http://abundanthope.net/pages/Political_Information_43/Pope-Francis-ranked-among-this-year-s-50-most-prominent-Jews.shtml
Jews are 'our big brothers,' Pope says at Kristallnacht commemoration. See: http://abundanthope.net/pages/Political_Information_43/Jews-are-our-big-brothers-Pope-says-at-Kristallnacht-commemoration.shtml
Francis pledges to further Jewish-Catholic dialogue. See: http://abundanthope.net/pages/Political_Information_43/Francis-pledges-to-further-Jewish-Catholic-dialogue.shtml
The Vatican Scandals: A Never-ending Story. see: http://abundanthope.net/pages/Political_Information_43/The-Vatican-Scandals-A-Never-ending-Story.shtml
Trans-sexualism: America's Latest Advertising Coup - http://abundanthope.net/pages/Human_Animal_Rights_104/Trans-sexualism-America-s-Latest-Advertising-Coup.shtml
ESU IMMANUEL, THE CHRIST, WAS NOT A JEW. See: http://abundanthope.net/pages/Phoenix_Journals_61/ESU_IMMANUEL_THE_CHRIST_WAS_NOT_A_JEW_4237.shtml
And: Esu Immanuel (Jesus Christ) was NOT a Jew - The facts about KHAZARS (the so-called Jews) - http://abundanthope.net/pages/Political_Information_43/Esu-Immanuel-Jesus-Christ-was-NOT-a-Jew---The-facts-about-KHAZARS-the-so-called-Jews.shtml