https://www.rt.com/op-ed/491673-sociologist-got-canceled-darwin-purge/

13 Jun, 2020 Get short URL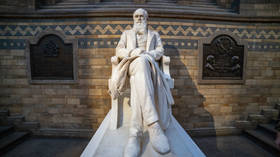 Charles Darwin statue in the main hall of the Natural History Museum in South Kensington in London, UK © NurPhoto via Getty Images / Nicolas Economou
By Noah Carl, an independent researcher based in the UK. In 2019, he was fired from St Edmund's College, Cambridge, after a campaign by student and academic activists. Follow him on Twitter @NoahCarl90
The Western world appears to be in the midst of a "woke" Cultural Revolution. Historical monuments are being toppled, popular authors are being denounced for saying "sex is real," and corporations are rushing to pledge fealty.
A question that naturally arises at the beginning of any such period of upheaval is, "Who will survive the purge, and who won't?" I fear that even Charles Darwin might not be safe.
Activists with a penchant for iconoclasm have set their sights not only on monarchs, imperialists and slave traders, but on scientists too. Earlier this year, University College London published the final report of its "Inquiry into the History of Eugenics at UCL." Among the report's recommendations were that the Pearson Building, the Galton Chair and the Galton Lecture Theatre "should lose their current names as soon as possible (de-named)."
The Pearson building is named after Karl Pearson, a statistician who invented many tools that are still in use today, such as Pearson's correlation coefficient. The other two items are named after Sir Francis Galton, a polymath who did pioneering work in statistics, psychometrics, geography and anthropology. In support of its recommendation to "de-name" Pearson and Galton, the UCL report cites various statements of theirs advocating eugenics, referring to "higher" and "lower" races, and describing other ethnic groups in extremely crude terms.
READ MORE: Harry Potter author JK Rowling gets burned by own fans as she steams into latest UK gender scandal on the wrong side
Another British scientist who has recently been targeted for defenestration is Sir Ronald Fisher, who made foundational contributions to both statistics and genetics. Like Pearson and Galton, he stands accused of supporting eugenics, and also of asserting that "groups of mankind differ in their innate capacity for intellectual and emotional development." Fisher, who died in 1962, is currently the subject of two separate petitions: one calling for a window commemorating him in a Cambridge College to be removed; and one calling for a prestigious lectureship named after him to be renamed.
Which brings me to the subject of this article. Will Darwin survive the purge? Few if any British scientists have been commemorated as extensively as Charles Darwin. He is buried in Westminster Abbey, which is perhaps the highest honour that can be bestowed on a British subject. In a 2002 poll to find the greatest Briton of all time (which garnered more than a million votes) Darwin finished fourth. There is a College in Cambridge named after him. There is a university in Australia named after him. There are two mountains, two islands and more than 200 animal species named after him. There is even an international Darwin Day, held on 12 February (the man's birthday).
Up until now, Darwin has been considered something of a hero on the political left, due to the religious right's opposition to the teaching of evolution in schools (or at least, their insistence that one should"teach the controversy" that supposedly surrounds evolution and creationism).
[Ron: Darwin's false and misleading theories about 'Natural Selection' and 'The Origin of Species' have always been untenable but they have been given credence and wide acceptance by Talmudists who have used them to undermine Christian spiritual teaching. As Talmudists have controlled global finance and trade and hence almost everything else in our world since well before Darwin published his theory about Natural Selection, his faux theory about evolution has been rammed down the throats of almost everyone for more than 150 years. Throughout that time it has been used to distort scientific thinking and debate; and to undermine the Christian religion and human spiritual life. That is presumably why this author dismissively refers to:
"the religious right's opposition to the teaching of evolution in schools (or at least, their insistence that one should"teach the controversy" that supposedly surrounds evolution and creationism."
Darwin and his Talmudist publicists have introduced into our Western world the physicalist paradigm, a paradigm that holds that nothing exists except stuff, that is, so-called material reality. According to physicalism, there is no spirit, no God, no eternal spiritual afterlife. By extension of that paradigm, human beings are nothing more than stuff, that is, allegedly unconscious atoms that make up our physical bodies. If that is accepted as true, it follows that humans have no inherent right to be treated as anything more than protoplasm, nothing more than a species of supposedly unconscious animal.
This paradigm denies the existence of the Creator of the cosmos that indwells ensouled beings (HUmans) and endows such individuals with life, mind and personality, and the unalienable right to life and liberty.
This materialist viewpoint has become a core tenet of Western civilization. It inculcates the idea that HUman rights come from the governments, NOT from God. This demonic idea implies that Governments consisting of groups of human animals supposedly composed of conglomerations of unconscious atoms, have ultimate moral life and death authority over HUmans including the creation, alteration and abrogation of HUman rights. THEY DON'T.
If we are considered to be nothing more than allegedly inanimate atoms, anything is allowable and nothing matters. This is the paradigm upon which Talmudism and its pernicious offspring like Bolshevism and cultural Marxism, rest. It is the intellectual basis upon which authoritarians establish totalitarian dictatorships. It justifies genocide and defines HUmans as livestock; and morality becomes whatever is convenient for the ruling demonically controlled Talmudic class. For an explication of these ideas read the Talmud.

However, rational modern scientists not beholden to Talmudic money or the institutions they control have eliminated any taint of "controversy" about this subject. See eg: Science Needs a New Paradigm - http://abundanthope.net/pages/Environment_Science_69/Science-Needs-a-New-Paradigm.shtml
Rupert Sheldrake – The Science of Delusion. See: http://www.youtube.com/watch?v=KP-HkM3T9xk
Darwin's Vigilantes, Reichard Sternberg, and Conventional Pseudoscience - http://abundanthope.net/pages/Political_Information_43/Darwin-s-Vigilantes-Reichard-Sternberg-and-Conventional-Pseudoscience.shtml

Complex Integration : The Fatal Flaw of "Evolution". See: http://abundanthope.net/pages/Environment_Science_69/Complex-Integration.shtml
A LOGICAL DEBUNKING OF ATHEISM - http://abundanthope.net/pages/Political_Information_43/A-LOGICAL-DEBUNKING-OF-ATHEISM.shtml
DARWINIAN EVOLUTION FAILS THE SCIENTIFIC METHOD - http://abundanthope.net/pages/Environment_Science_69/DARWINIAN-EVOLUTION-FAILS-THE-SCIENTIFIC-METHOD.shtml
E DARWINIAN MYTH OF THE 'SIMPLE SINGLE CELL' See: http://abundanthope.net/pages/Environment_Science_69/E-DARWINIAN-MYTH-OF-THE-SIMPLE-SINGLE-CELL.shtml
3 Reasons Why Darwinism Fails to Define Human Nature. See: http://abundanthope.net/pages/Political_Information_43/3-Reasons-Why-Darwinism-Fails-to-Define-Human-Nature.shtml].
However, it is quite possible there will soon be a reckoning. For Darwin's writings contain ample statements that would put him far beyond the pale of what is now considered acceptable.
First, differences between the sexes. In The Descent of Man, Darwin states that "the average of mental power in man must be above that of woman." And in an 1882 letter, he states that "women though generally superior to men to moral qualities are inferior intellectually," and that "there seems to me to be a great difficulty from the laws of inheritance... in their becoming the intellectual equals of man." He also observes in The Descent of Man that "the male sex is more variable in structure than the female." This observation has since become known as the greater male variability hypothesis, and has been applied to a variety of human traits including, most controversially, intelligence.
Second, differences between the races. Referring to some natives he encountered in South America during the voyage of the Beagle, Darwin observes, "one can hardly make oneself believe that they are fellow creatures." He dedicates a whole chapter of The Descent of Man, to his study of "the races of man." In that chapter he states, "There is, however, no doubt that the various races, when carefully compared and measured, differ much from each other... Their mental characteristics are likewise very distinct; chiefly as it would appear in their emotional, but partly in their intellectual faculties." And in an earlier chapter of the book, he contrasts the "civilised races of man" with "the savage races," noting that the former will "almost certainly exterminate, and replace" the latter.
READ MORE: HBO Max has pulled 'Gone With the Wind' from its service in order to fight racism and, frankly my dear, I DO give a damn!
Third, eugenics. In The Descent of Man, Darwin states, "We civilised men, on the other hand, do our utmost to check the process of elimination... Thus the weak members of civilised societies propagate their kind." He then observes, "It is surprising how soon a want of care, or care wrongly directed, leads to the degeneration of a domestic race; but excepting in the case of man himself, hardly any one is so ignorant as to allow his worst animals to breed." However, he also notes, "Nor could we check our sympathy, even at the urging of hard reason, without deterioration in the noblest part of our nature... We must therefore bear the undoubtedly bad effects of the weak surviving and propagating their kind."
In summary, Darwin believed that men were on average more intelligent than women, and that some races were "civilised" whereas others were "savage." His views on eugenics are not entirely clear (the term was coined one year after Darwin died), but it is obvious from his remarks in The Descent of Man that he believed industrial society could have dysgenic effects. Over the years, many scientists who have expressed views less invidious than these have been defenestrated, and one wonders whether Darwin will now suffer the same fate.
It is sometimes argued that Darwin's stalwart abolitionism will protect him. And one hopes that his enormous contributions to science will be given due consideration too. But based on the zeal of today's iconoclasts, I wouldn't be so sure.
[Colour fonts, bolding and comments in square brackets added.].
Think your friends would be interested ? Share this story !
The statements, views and opinions expressed in this column are solely those of the author and do not necessarily represent those of RT.
RELATED ARTICLES:
Science Needs a New Paradigm - http://abundanthope.net/pages/Environment_Science_69/Science-Needs-a-New-Paradigm.shtml
Rupert Sheldrake – The Science of Delusion. See: http://www.youtube.com/watch?v=KP-HkM3T9xk
Rupert Sheldrake at EU 2013—"Science Set Free" (Parts 1 & 2). See: http://abundanthope.net/pages/Environment_Science_69/Rupert-Sheldrake-at-EU-2013-Science-Set-Free-Parts-1-2.shtml
chapter 9 Animal psi Rupert Sheldrake. See: http://books.google.com.au/books?id=EaIhapm-4UgC&pg=PA114&lpg=PA114&dq=rupert+sheldrake&source=web&ots=tRaYIQbhOh&sig=wa1RBrk6b0Yc-nA7SX8OIwbHefA&hl=en#v=onepage&q=rupert%20sheldrake&f=false
Change the Morphic Field…Change the World! See: http://abundanthope.net/pages/Environment_Science_69/Change-the-Morphic-Field-Change-the-World.shtml
The Ten Dogmas Of Modern Science. See: http://abundanthope.net/pages/Environment_Science_69/The-Ten-Dogmas-Of-Modern-Science.shtml
Why Mainstream Science is a Religion. See: http://abundanthope.net/pages/Environment_Science_69/Why-Mainstream-Science-is-a-Religion.shtml
Darwin's Vigilantes, Reichard Sternberg, and Conventional Pseudoscience - http://abundanthope.net/pages/Political_Information_43/Darwin-s-Vigilantes-Reichard-Sternberg-and-Conventional-Pseudoscience.shtml

Complex Integration : The Fatal Flaw of "Evolution". See: http://abundanthope.net/pages/Environment_Science_69/Complex-Integration.shtml
A LOGICAL DEBUNKING OF ATHEISM - http://abundanthope.net/pages/Political_Information_43/A-LOGICAL-DEBUNKING-OF-ATHEISM.shtml
DARWINIAN EVOLUTION FAILS THE SCIENTIFIC METHOD - http://abundanthope.net/pages/Environment_Science_69/DARWINIAN-EVOLUTION-FAILS-THE-SCIENTIFIC-METHOD.shtml
E DARWINIAN MYTH OF THE 'SIMPLE SINGLE CELL' See: http://abundanthope.net/pages/Environment_Science_69/E-DARWINIAN-MYTH-OF-THE-SIMPLE-SINGLE-CELL.shtml
3 Reasons Why Darwinism Fails to Define Human Nature. See: http://abundanthope.net/pages/Political_Information_43/3-Reasons-Why-Darwinism-Fails-to-Define-Human-Nature.shtml

Evolutionist Mad Man Says he Found "Luca"- http://abundanthope.net/pages/Environment_Science_69/Evolutionist-Mad-Man-Says-he-Found-Luca.shtml
EPIC! Mike King Takes Chuckie Darwin to the Woodshed! - http://abundanthope.net/pages/Political_Information_43/EPIC-Mike-King-Takes-Chuckie-Darwin-to-the-Woodshed.shtml
3 Reasons Why Darwinism Fails to Define Human Nature. See: http://abundanthope.net/pages/Political_Information_43/3-Reasons-Why-Darwinism-Fails-to-Define-Human-Nature.shtml
THE DARWINIAN FALLACY OF THE 'SUPER-RAT' (Repost) - http://abundanthope.net/pages/Environment_Science_69/THE-DARWINIAN-FALLACY-OF-THE-SUPER-RAT-Repost.shtml
Over 1,000 Scientists Sign Statement Expressing Skepticism Over Darwinism, - http://abundanthope.net/pages/Environment_Science_69/Over-1-000-scientists-sign-statement-Expressing-Skepticism-Over-Darwinism.shtml

44 Reasons Why Evolution Is Just A Fairy Tale For Adults. See: http://abundanthope.net/pages/Environment_Science_69/44-Reasons-Why-Evolution-Is-Just-A-Fairy-Tale-For-Adults.shtml
THE SCIENTIFIC CASE FOR GOD (Part One) - http://abundanthope.net/pages/Other_Spiritual_Pieces_68/THE-SCIENTIFIC-CASE-FOR-GOD-Part-One.shtml

Genetics Is Giving Way to a New Science of Life See: http://abundanthope.net/pages/Environment_Science_69/Genetics-Is-Giving-Way-to-a-New-Science-of-Life.shtml
A LOGICAL DEBUNKING OF ATHEISM - http://abundanthope.net/pages/Political_Information_43/A-LOGICAL-DEBUNKING-OF-ATHEISM.shtml
Life After Death: A Debate -
http://abundanthope.net/pages/Other_Spiritual_Pieces_68/Life-After-Death-A-Debate.shtml
Russian DNA Discoveries: http://abundanthope.net/pages/Health_and_Nutrition_37/Russian_DNA_Discoveries_4097.shtml
Human Genome Is Much More Than Just Genes. See: http://abundanthope.net/pages/Environment_Science_69/Human-Genome-Is-Much-More-Than-Just-Genes.shtml
Ascending Into a Regenerative Biological System. See: http://abundanthope.net/pages/Others_28/Ascending-Into-a-Regenerative-Biological-System.shtml

The Physical Universe is an Information System. See:http://abundanthope.net/pages/Spiritual_64/Spiritless_Humans_3973.shtml
Change the Morphic Field…Change the World! See: http://abundanthope.net/pages/Environment_Science_69/Change-the-Morphic-Field-Change-the-World.shtml
Bruce Lipton - Biology of Perception Parts 1-7 - http://abundanthope.net/pages/Environment_Science_69/Bruce-Lipton---Biology-of-Perception-Parts-1-7.shtml
Rob Williams - Psychology of Change (In 8 Parts). See: http://abundanthope.net/pages/Environment_Science_69/Rob-Williams---Psychology-of-Change-In-8-Parts.shtml
Brief discussion of Consciousness, Left & Right Brain functions & MUCH more. See: http://abundanthope.net/pages/Other_Spiritual_Pieces_68/Brief-discussion-of-Consciousness-Left-Right-Brain-functions-MUCH-more.shtml
Projecting Your Consciousness into the Future and Dealing with "Future Grief" - http://abundanthope.net/pages/Daniel_Raphael_amp_Monjoronson_59/Projecting_Your_Consciousness_into_the_Future_and__1615.shtml

Groundbreaking Russian DNA Discoveries. See: http://abundanthope.net/pages/Environment_Science_69/Groundbreaking-Russian-DNA-Discoveries.shtml
Russian DNA Discoveries: http://abundanthope.net/pages/Health_and_Nutrition_37/Russian_DNA_Discoveries_4097.shtml
Human Genome Is Much More Than Just Genes. See: http://abundanthope.net/pages/Environment_Science_69/Human-Genome-Is-Much-More-Than-Just-Genes.shtml
Ascending Into a Regenerative Biological System. See: http://abundanthope.net/pages/Others_28/Ascending-Into-a-Regenerative-Biological-System.shtml

The Physical Universe is an Information System. See:http://abundanthope.net/pages/Spiritual_64/Spiritless_Humans_3973.shtml
Raising Your Frequency- http://abundanthope.net/pages/Spiritual_Nuggets_by_the_Masters_62/Raising_Your_Frequency_357.shtml