https://www.sott.net/article/449106-Next-up-Central-bank-created-global-depression


Charles Hugh Smith
of two minds.com
Fri, 19 Feb 2021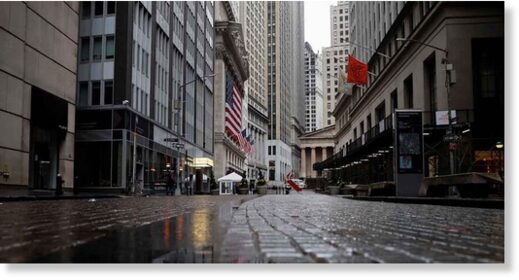 This madness is now global, so next up: global depression.

A few days after the Covid pandemic was officially announced last year on 1/23/20, I prepared a chart projecting the course of the pandemic. In my view it still stands, with two updates: "vaccines months away" has been updated to "mass vaccinations months away" and "Wave 2" has been updated to "Wave 4." (see chart below)

The end-point--global depression--is up next. Very few are prepared for this eventuality because they put their faith in 1) central banks pursuing an insane folly and 2) a fragile, brittle global economy that was already teetering on the edge of destabilization before the pandemic.

Here's the central banks' insane folly in a nutshell: to create new enterprises and jobs, we'll blow the world's greatest speculative bubble into an even greater speculative bubble. So in other words, we'll further enrich the top layer of the Financial Aristocracy who own the vast majority of the assets we're pushing to the moon, and by some inexplicable magic, adding trillions of dollars, yuan, yen and euros to the wealth of this elite will somehow launch a thousand new thriving enterprises which will magically hire 500,000 new workers every month.

Can we be honest for a split second and admit that the Tooth Fairy and Santa Claus look plausible compared to this insane proposition? Since there's a tiny window of honesty open, let's also admit that adding a booster rocket to the wealth-income inequality that is undermining democracy, society and the economy is exactly what we'd choose to do if our goal was destroying America. Yet this is precisely what the entire Federal Reserve policy sets out to do: boost wealth-income inequality to new extremes.

What Poisoned America? (2/18/21)

Meanwhile, global supply chains that were optimized for Globalization Heaven are incredibly brittle and fragile as a result of the optimization. Optimizing for maximizing profit means getting rid of redundancies, buffers, quality control and ramping dependence on offshore suppliers to 100%.

If you set out to design a global supply system that would fail catastrophically, creating self-reinforcing shortages of essentials and key components, you'd choose the system now teetering on the edge of implosion. Optimization is wonderful for boosting profits when everything is priced to perfection and functioning to perfection, but when reality intrudes, you find you've stripped out all those costly, unnecessary bits that enabled the supply chain to deal with a spot of bother.

Unfortunately for the central bankers, their policy of giving trillions in free money for financiers and speculators is suffering from diminishing returns: where $100 billion once had a significant effect on financial markets, now $1 trillion no longer has any effect at all, and so the only dose that causes the patient's eyelids to flicker briefly is $3 trillion--no wait a minute, make that $5 trillion, nope, not enough, make it $10 trillion, yikes, still not enough, pump in $20 trillion!

I prepared a chart (below) which depicts how diminishing returns on inflating speculative asset bubbles leads the global financial system to a cliff from which there is no return.

Though few seem to be aware of it, we're tottering on that cliff edge. The final manifestation of central bankers' insane folly is the promise that endless wealth can be yours if only you join the speculative extremes racing over the cliff. Maybe the immense herd of speculators will all magically grow wings once they're in free-fall; that's no more insane than counting on speculative asset bubbles to magically create real enterprises and jobs.

This madness is now global, so next up: global depression. The story of the past year hasn't changed: blowing an even bigger speculative asset bubble is the sure cure; the latest "fix" to the pandemic will make it go away forever and ever, and everything that was broken before the pandemic will magically be restored by the magic of ever larger and more precarious speculative asset bubbles.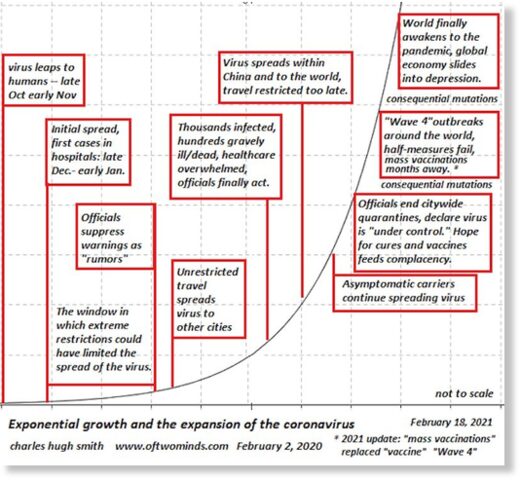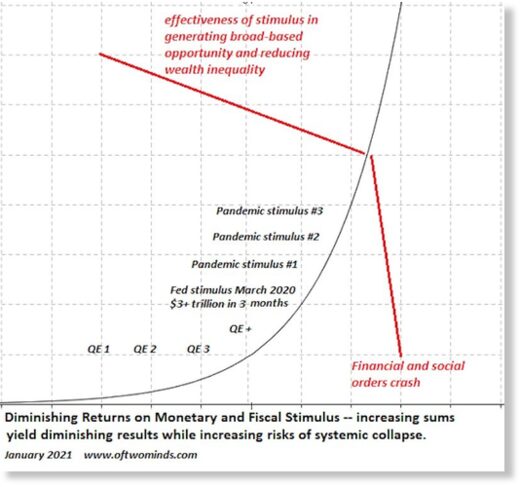 If you found value in this content, please join me in seeking solutions by becoming a $1/month patron of my work via patreon.com.

My new book is available! A Hacker's Teleology: Sharing the Wealth of Our Shrinking Planet 20% and 15% discounts (Kindle $7, print $17, audiobook now available $17.46)

Read excerpts of the book for free (PDF).

Comment: The financialization and bubble-creation of an array of markets will be corrected sooner or later. One would do well to prepare as much as possible for what seems like an eventual super-crash:
[Ron: Inflation is always a problem under fiat currency creation and usurious distribution systems. Inflation actually means that the currency is being DEVALUED. That process steals the value of monetary savings and wage rates, little by little so that the population doesn't realised what is happenning and blames employers for failing to provide wage increases to compensate for it. Similarly, providers of goods and services have to regularly increase the price of their goods and services because the value of the currency is deteriorating.
Arguably the fundamental problem for societies on this planet is the general acceptance of the monetary meme which generates ego-centricity, separation, isolation, alienation and greedy competition throughout every community. THAT general alienation has been greatly exacerbated by governments everywhere granting corporations owned by private individuals an exclusive FREE LICENCE to create currency (debt tokens) fraudulently called money, out of thin air using key strokes on computers; AND to distribute that currency to whoever they choose at varying rates of interest (usury). To compound the felony, private corporations are then exclusively licenced to fraudulently loan that currency at interest (usury) using the so-called fractional reserve system which allows those licensed banking corporations to pretend to lend NINE TIMES as much currency as they purport to hold WITHOUT ISSUING ANY CURRENCY ('money') to cover the interest payments they demand from borrowers of that fictional currency. BLIND Freddy can SEE that such systems cannot last very long without collapsing and destroying society.
The solution is for the US and all nations to terminate the criminal privately owned and controlled global Central Banking system and the Trump administration is doing this by moving the privately owned Federal Reserve System corporation  (the Fed) within the US Treasury and then getting the Fed to own US debt.
Economic prosperity FOR ALL requires the elimination of private corporate creation of fiat currency, fraudulently called money, and the unfettered and unaudited usurioua distribution of that currency to whoever the private corporate currency creators choose, whenever they choose. Money and currency MUST be properly created and its distribution duly audited by each sovereign nation based on the resources and productivity of the nation. The appropriate value of money or currency of each sovereign nation or community will then be assessed by the International Treasury Controller and given an appropriate rating against the Globec, the international trading money, for the purposes of facilitating international trade.
That situation is near at hand. The current fraudulent global monetary system is collapsing and as it does, the Trump administration has bankrupted the Fed thus eliminating debts owed to it. This eliminates the creation of currency (fiat debt tokens) by private banks using fractional reserve lending. This will presage a US monetary reset under which US currency for internal use will be issued by the US Treasury and it will be distinct from GLOBEC which will be used for external trading.
The monetary system reset in the US will be part of a global Quantum Financial Reset. That Reset is being organised by the International Treasury Controller who has begun the process of agreeing, with all countries in the world, the "Pegging" of their currency to a replacement for the Petro Dollar which will be the INTERNATIONAL GOLD BACKED GLOBEC CURRENCY. That process will establish the value of each national currency vis-a-vis the Globec which will bring them stability and away from the currency markets which will be abolished. This will involve the collection of numerous details and data so that a real and practical value can be assessed for each currency and agreed with the applicable country. See: DAVID CRAYFORD ---------- IT'S TIME THAT SOMEONE STARTED KICKING ASS SO THAT CHANGES TO THE CURRENT FINANCIAL SYSTEM CAN BE MADE TO BENEFIT EVERYONE, NOT THE MINORITY - http://abundanthope.net/pages/Whistleblower_and_OITC_114/DAVID-CRAYFORD------------IT-S-TIME-THAT-SOMEONE-STARTED-KICKING-ASS-SO-THAT-CHANGES-TO-THE-CURRENT-FINANCIAL-SYSTEM-CAN-BE-MADE-TO-BENEFIT-EVERYONE-NOT-THE-MINORITY.shtml
The Quantum Financial Reset may not be completed until after the coming Magnetic Reversal STAND STILL, and stasis period. It will transform social and economic life on this planet. Problems associated with commercial banking and usury as we know them will be gone. Sovereign National Treasuries will issue all local money and currency on a usury free basis. The elimination of usury will eliminate income taxation and pave the way for global prosperity and abundance. This planet and its remaining inhabitants will then be ensconced in CM's Millennial Reign which was declared on 5 February 2019.

See also: