https://www.sott.net/article/448854-Lord-Sumption-Liberal-democracy-will-be-the-biggest-casualty-of-this-pandemic

Jonathan Sumption
Telegraph, UK
Mon, 15 Feb 2021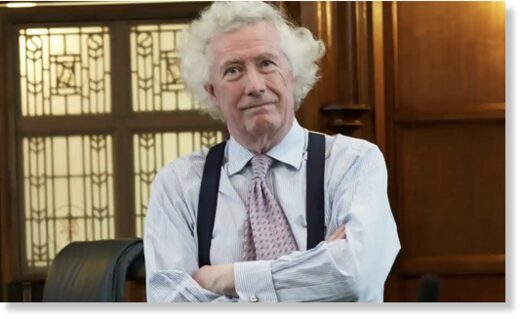 The biggest casualty of the lockdown will not be the closed pubs, restaurants and shops and the crippled airlines. It will not be our once-thriving musical, theatrical and sporting culture. It will not even be the wreckage of our economy. These are terrible things to behold. But the biggest casualty of all will be liberal democracy.

Liberal democracy is a remarkable but fragile achievement. It is an attempt to meet the challenge of making governments answerable to the people, while protecting personal freedom. This is hard to do. People crave security and look to the state to provide it. To do this, the state needs extensive powers over its citizens. This is why, in democracies across the world, the power of the state has continually increased. It is also why liberal democracy is the exception rather than the rule. Democracies are easily subverted and often fail.
[Ron: I disagree with the inference that "liberal democracy" has or can make 'governments answerable to the people'. Liberal democracy is a Talmudic construct designed to deceive general populations into thinking they have a "say" in their governance when they don't. Democracy is a fantastic vehicle for the peddling of slogans - democracy, freedom, liberty, equality, fraternity etc. Those who believe that they are free under democracy are the most deluded of all. Voters get to vote for someone a party has nominated, but most don't get to vote on WHO the "Parties" nominate. So voters get to vote for someone that has been already picked for them. That's hardly a democratic choice!  Parties, in secret, rewards some party member for loyalty to the cause, for contribution to the party and whom the party thinks have most chance of being marketed to the public. The parties groom those whom they think will fit their controller's wishes. Moreover an individual Party member has virtually no ability to change what the Party majority does.

Typically persons elected into office on all manner of promises, break those promises after getting elected. And the justification for that beach of contract is that they have been overruled by a majority in their Party. In effect all promises to electors made by individual candidates are meaningless since voters have NO power or authority to enforce compliance by candidates in respect of promises they have made.
Governments don't exist in a vacuum. The power behind the government is already in place and is there not by election but by deception. Unseen wealthy individuals and groups manipulate and control governments and use them and the MSM to deceive electorates into believing they control governments when they don't. Wealthy individuals and groups can buy advertising, electioneering staff and even votes directly. They can also buy influence and even bribe, blackmail and control individual politicians and Parties.

At best voters can hope to effect minor domestic policy issues which have really very little serious impact on anything. In effect, whether British citizens think they live in a Liberal democracy or not, and whether they believe they are free or not, THEY DO NOT AND ARE NOT!].
What makes us a free society is that, although the state has vast powers, there are conventional limits on what it can do with them. The limits are conventional because they do not depend on our laws but on our attitudes. There are islands of human life which are our own, a personal space into which the state should not intrude without some altogether exceptional justification. [Ron: So where do the Covid -19 Lockdowns fit into this euphoric scenario?].

Liberal democracy breaks down when frightened majorities demand mass coercion of their fellow citizens, and call for our personal spaces to be invaded. These demands are invariably based on what people conceive to be the public good. They all assert that despotism is in the public interest.
The problem is perfectly encapsulated in a recent interview with Professor Neil Ferguson, whose projections were used to justify the first lockdown last March. Before that, as Prof Ferguson related in that interview, Sage had concluded that the Chinese lockdown had worked but was out of the question in Europe. "It's a communist, one-party state, we said. We couldn't get away with it in Europe, we thought. And then Italy did it. And we realised we could ... If China had not done it, the year would have been very different."

China is not a liberal democracy. It is a totalitarian state. It treats human beings as so many tools of state policy. There is no personal space which the state cannot invade at will. Liberal democracies have good reasons of political morality for not wishing to be like China.
[Ron: Arguably, China under president Xi Jinping, is no longer a Communist totalitarian state. He and his supporters have eliminated the globalist cabal's Deep State CCP operatives and he, like President Trump, is establishing a proper Republican political governance structure. Arguably also, the Wuhan lockdown was done for reasons other that preventing the spread of a corona virus.].
Considering this issue only in terms of whether lockdowns are effective against pandemics, and whether governments can "get away with it", serves to reduce liberty from a major principle to a mere question of expediency.

We have to assume, since the Government took his advice, that ministers agreed with Prof Ferguson. Certainly that was the position of the senior minister who recently told me that liberal democracy was an unsuitable model for dealing with a pandemic. Something more "Napoleonic" was needed, said he.

Many people believe that it is OK to be like China for a time, because when the crisis ends we can go back to being like Britain again. These people are making a serious mistake. We cannot switch in and out of totalitarianism at will. Because a free society is a question of attitude, it is dead once the attitude changes.
[Ron: The much vaunted British 'free society' is a LIE. Britain has been covertly controlled by Talmudists who have manipulated and controlled UK governments to use and abuse Britons for centuries. The Brirish empire was built on the backs of Britons who, apart from being enslaved themselves by Talmudists, have been used to enslave much of the rest of the world FOR the Talmudically controlled British and Anglo-US empire. For instance the British have been used by International Jewry used as cannon fodder in WWI , WWII and many wars of aggression since then. The British people have been an expression of the Talmudic fist in the velvet glove since 1666. See eg: Democracy, Deception, Deceit - they're all the same - http://abundanthope.net/pages/Political_Information_43/Democracy-Deception-Deceit---they-re-all-the-same.shtml And: The Inverted Monarchy: Why Democracy is Only a Means to an End - http://abundanthope.net/pages/Political_Information_43/The-Inverted-Monarchy-Why-Democracy-is-Only-a-Means-to-an-End.shtml].

A society in which oppressive control of every detail of our lives is unthinkable except when it is thought to be a good idea, is not free. It is not free while the controls are in place. And it is not free after they are lifted, because the new attitude will allow the same thing to happen again whenever there is enough public support.
[Ron: Where does the Talmudic enslavement of the UK since 1666 and its usurious enslavement by the Bank of England fit into this scenario? (1) And what about the unlawful UK government imposition of income and property taxes, and its facilitation of the Great Depression and conscription for WWI and WWII etc? The UK government's capricious and oppressive COVID-19 lockdowns and social directives and Police State controls are merely a continuation of subtle but very real governmental enslavement of the British population that has existed for centuries under a veneer of propagnada dressed up as democracy. The most totally enslaved individuals are those who falsely think they are free.].

Covid-19 is not unique. There will be other epidemics. Some will be worse.
[Ron: Covid-19 is NOT a pandemic. It is a Hoax perpetrated by the Talmudic globalist controllers as part of their plan to cripple the global economy in order to enable them to institute a global monetary RESET which they intend to use to segue into their New World Order, One World Government.].
Other issues will pose similar dilemmas, from terrorism and climate change at one extreme to obesity and censorship of politically incorrect opinion at the other. A threshold has now been crossed. A big taboo has gone. Other governments will say that the only question that matters is whether it works and whether they can "get away with it". In a world ruled by the empire of fear, the answer will usually be "yes".

We already have a striking example. The vaccine, which was supposed to make the lockdown unnecessary, has become a reason for keeping it in force. Because there is now an exit route, we are told that it doesn't matter how far away it is.

Infections, hospitalisations and deaths are plunging, but millions who are at virtually no risk are being kept in house imprisonment. This is being done mainly because a selective regime of controls would be too difficult for the state to enforce. Coercion quickly becomes an object in itself.

Liberty is not an absolute value but it is a critically important one. Of all freedoms, the freedom to interact with other human beings is perhaps the most valuable. It is a basic human need, the essential condition of human happiness and creativity.

I do not doubt that there are extreme situations in which oppressive controls over our daily lives may be necessary and justified: an imminent threat of invasion, for example, or a violent general insurrection. Some health crises may qualify, such as a major epidemic of smallpox (case mortality about 30 per cent) or Ebola (about 50 per cent).
[Ron; I disagee.].

Covid-19 is serious, but it is not in that category or even close. It is well within the range of perils which we have always had to live with, and always will. According to government figures, more than 99 per cent of people who get Covid survive. The great majority will not even get seriously ill. The average age at which people die of Covid-19 is 82, which is close to the average age at which people die anyway.

The Prime Minister claims to believe in liberty and to find the current measures distasteful. Actions speak louder than words, and I am afraid that I do not believe him. He is too much of a populist to go against public sentiment. He lacks the moral and political stature to lead opinion rather than follow it.

I hope that I am wrong about this. But we shall soon know. In the next week Boris Johnson has an opportunity to show that he has some principles after all.
[Some colour fonts, bolding and comments in square brackets added.].
ENDNOTE 1

Under the covert influence of Talmudists Britain spawned the idea of democracy to fool the general population into thinking that getting to vote once every two, three, four  or five years for one potential memeber of Parliament constitutes a meaningful input into governance. It doesn't. How could it?
In 1657 Oliver Cromwell who appears to have been financially beholden to Talmudic banksters in the Netherlands*, invited those banksters to return to England. Cromwell had presided over the regicide of King Charles I which perhaps constitutes the first fruits of the Talmudists' attempts to eliminate Christian monarchies in Europe. in 1657, over 350 years after their banishment by Edward i, Cromwell, having become Lord Protector with monarch-like powers and panoply, adopted a pro-Talmudic policy and encouraged the return of the Talmudic bankster community to England. The fruits of his reinstallation of those banksters in the City of London soon became apparent. Arguably Cromwell was a military despot who crushed the beginnings of real involvement of the general population in British governance. For instance, when Parliament started to push for radical properly republican and constitutional reforms Cromwell dissolve Parliament on 22 January 1655.
*Wikepedia mentions that the Venetian ambassador wrote regular dispatches to the Doge of Venice in which he included details of Cromwell's final illness.
After Cromwell's death in 1658 the monarchy was restored under Charles II in 1660. But the Talmudists were already ensconsced in the City of London. In effect, from 1666 the UK Parliament was covertly controlled by Talmudists holed up in the INDEPENDANT, SOVEREIGN ENTITY known as the City of London. The "City" is said to have a permanent official in every Westminister Parliament ensuring that its interests are protected in much the same way as QEII does. This is not surprising since BOTH are part of the Talmudic globalist cabal that controlled this planet until president Trump was elected.
Apparently Talmudists controlled the Westminister Parliament and eliminated any possibility of genuine democratic governance by Britons as early as 1666. Jim Jones notes that:
'In perhaps one of the most daring false flag operations of early times - London had the Great Fire. And while a large part of London burned, Parliament sat for around 100 days and passed into law an Act which would change the world forever. The Cestui Que vie Act of 1666 [pronounced "set a kay"] was passed behind closed doors while all of London was pre-occupied. The Act subrogated the rights of man, meaning that all men were declared dead, lost at sea/beyond the sea. [At that stage old Admiralty Law was in operation - and Papal Law
See: Democracy, Deception, Deceit - they're all the same - http://abundanthope.net/pages
An Investigative Report Re the US Strawman UCC/Redemption Process By Barton A. Buhtz See: http://abundanthope.net/pages/True_US_History_108/An_Investigative_Report_Re_the_US_Strawman_UCC_Red_3358.shtml
Bankruptcy of The United States - http://abundanthope.net/pages/True_US_History_108/The_Bankruptcy_of_The_United_States_3135.shtml
Congressman Louis T. McFadden. - http://abundanthope.net/pages/Political_Information_43/Congressman_Louis_T_McFadden_1057.shtml And: A Modern Day Parable: The WIZARD OF OZ.http://abundanthope.net/pages/True_US_History_108/A-Modern-Day-Parable-The-WIZARD-OF-OZ.shtml
US Congress: House Joint Resolution 192 of June 5, 1933 -http://abundanthope.net/pages/True_US_History_108/US_Congress_House_Joint_Resolution_192_of_June_5_1_3312.shtml
Colonel Edward Mandell House Predicts the Creation of the STRAWMAN in the US- http://abundanthope.net/pages/True_US_History_108/Colonel_Edward_Mandell_House_Predicts_the_Creation_3153.shtml
Bankruptcy of the United States. - http://abundanthope.net/pages/True_US_History_108/Bankruptcy_of_the_United_States_1771.shtml
************
[Some colour fonts, bolding and comments in square brackets added.].
RELATED ARTICLES:
Democracy, Deception, Deceit - they're all the same - http://abundanthope.net/pages/Political_Information_43/Democracy-Deception-Deceit---they-re-all-the-same.shtml
The Inverted Monarchy: Why Democracy is Only a Means to an End - http://abundanthope.net/pages/Political_Information_43/The-Inverted-Monarchy-Why-Democracy-is-Only-a-Means-to-an-End.shtml
England's Jewish Aristocracy - http://abundanthope.net/pages/Political_Information_43/England-s-Jewish-Aristocracy.shtml
How Venice Rigged The First, and Worst, Global Financial Collapse - http://abundanthope.net/pages/Political_Information_43/How-Venice-Rigged-The-First-and-Worst-Global-Financial-Collapse.shtml
Venetian Black Nobility, Roots of Today's Ruling Oligarchy - http://abundanthope.net/pages/Political_Information_43/Venetian-Black-Nobility-Roots-of-Today-s-Ruling-Oligarchy.shtml
Black Guelph Evil Nobility by LaRouche - http://abundanthope.net/pages/Political_Information_43/Black-Guelph-Evil-Nobility-by-LaRouche.shtml
The Venetian Black Nobility – A History - http://abundanthope.net/pages/Political_Information_43/The-Venetian-Black-Nobility-A-History.shtml

Venetian Black Nobility, Roots of Today's Ruling Oligarchy - http://abundanthope.net/pages/Political_Information_43/Venetian-Black-Nobility-Roots-of-Today-s-Ruling-Oligarchy.shtml

London Mayor Appoints Woke Activist Brigade To "Review" Statues For "Diversity" - http://abundanthope.net/pages/Political_Information_43/London-Mayor-Appoints-Woke-Activist-Brigade-To-Review-Statues-For-Diversity.shtml