https://www.theepochtimes.com/interior-secretary-haaland-tells-wind-industry-wind-turbines-may-soon-line-u-s-coasts_4049747.html
Speaking at a wind industry conference held by the American Clean Power Association, Secretary of the Interior Deb Haaland announced plans by the Bureau of Ocean Energy Management (BOEM) to arrange seven offshore lease sales along the U.S.' coastlines by 2025, in line with the Biden administration's executive order, "Tackling the Climate Crisis at Home and Abroad," which directed the Secretary of the Interior to "[double] offshore wind by 2030."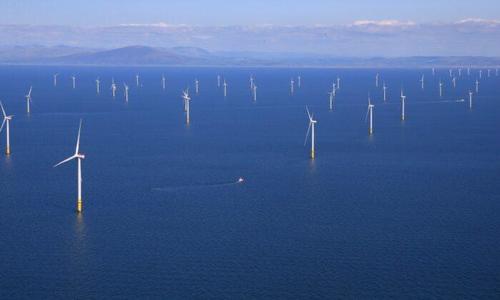 The proposed sites would include the coast of northern and central California, the coast of Oregon, the Gulf of Mexico, the Carolina Long Bay, the Central Atlantic, the New York Bight, and the Gulf of Maine.
The American Clean Power Conference at which Secretary Haaland spoke also featured remarks from Sen. Ed Markey (D.-Mass.) and various wind industry insiders, and was sponsored by GE Renewable Energy, Siemens Gamesa, Shell, Vineyard Wind, and other firms with a financial stake in wind power.
"The Interior Department is laying out an ambitious roadmap as we advance the Administration's plans to confront climate change, create good-paying jobs, and accelerate the nation's transition to a cleaner energy future," Secretary Haaland said.

"Together, we will meet our clean energy goals while addressing the needs of other ocean users and potentially impacted communities."
In their press release on the announcement, BOEM claimed it would use "the best available science as well as knowledge from ocean users and other stakeholders to minimize conflict with existing uses and marine life" while realizing the goal of adding another 30 gigawatts of offshore wind power by 2030.
Yet some people, including WindAction Group director Lisa Linowes, argue that BOEM and other government agencies have not done enough to address the potential environmental impacts of wind energy projects along the country's coasts.
In an email exchange with The Epoch Times, Linowes highlighted a lawsuit against Vineyard Wind's 800-megawatt wind energy project along Martha's Vineyard.
The lawsuit alleges that BOEM and the National Oceanic and Atmospheric Administration/National Marine Fisheries (NOAA/Fisheries) have not done enough to protect the endangered North Atlantic Right Whale from being harmed by the project.
Offshore wind projects can also hinder commercial fishing, potentially violating the U.S. Outer Continental Shelf Lands Act of 1953.
While the Trump administration's Interior Department released a memo in December 2020 asserting that the Act prevents offshore wind projects that unreasonably interfere with fishing, the Biden administration reversed that opinion in April 2021.
"The Secretary's obligations to provide for the 'protection of the environment,' the 'prevention of waste,' the 'protection of national security interests of the United States,' and the 'fair return to the United States' may weigh in favor of Secretarial actions to maximize low-emission and renewable electrical generation from offshore wind facilities, but, in some circumstances, the siting and operation of those facilities may not optimally provide for other 'reasonable uses' of the exclusive economic zone," writes Robert Anderson, principal deputy solicitor of the Department of the Interior, whose publications as a law professor include research aimed at "protecting offshore areas from oil and gas leasing."
Linowes said, "The Biden [administration] is playing fast and loose with our laws in order to ram through an offshore wind industry. This is certain to produce more lawsuits and ultimately turn the public against these projects. The number of people living along the east coast that oppose these projects is growing rapidly."
"The risks to birds and bats are real. Fifteen miles off shore is not very far," Linowes added.
Asked what it will do to ensure its turbine capacity is not harmful to ocean life, bird populations, and fishermen, a DOI spokesperson told The Epoch Times via email that "BOEM continues to work with the fishing community, other federal agencies, Tribes, industry, conservation organizations, and other key ocean users and stakeholders to ensure that offshore energy development and the BOEM regulatory review process is informed by the data and information they provide, as well as the best available science and knowledge."
But Linowes voiced skepticism about the agency and industry's commitment to working with fishermen and other stakeholders, stating that those groups "failed to achieve agreement with Vineyard Wind and other projects off the coasts of NJ and NY."
Asked about who would clean up old wind turbines and associated infrastructure, the DOI spokesperson responded that "lessees are responsible for the decommissioning of proposed projects at the end of their lease. This includes the removal or decommissioning of all facilities, projects, cables, and obstructions."
On Twitter, Haaland's remarks were met with enthusiasm by some.
"This has to be my favorite announcement to come out of #OffshoreWind21 so far! Many thanks to Secretary Deb Haaland for taking the trip. This has many implications for the #NewYork area, especially as regards #ports #infrastructure and electrical transmission," said David Brezler, who describes himself on LinkedIn as a data analytics and project management professional currently working on offshore wind and other renewable energy projects.
Others responded to the announcement by pointing out wind energy's reliability and cost issues.
While Biden's Department of Energy has claimed that 30 gigawatts of additional wind power would "power 10 million homes," intermittent power sources such as wind also require backup from natural gas or other reliable electricity sources when wind is not blowing, adding what are known as load balancing costs.
In Germany, where wind power has rapidly expanded, energy prices for household consumers have risen to the highest in the European Union (EU), and are expected to spike this winter, in line with projections for the United States.
Germany's dependence on foreign energy sources, including Russia and other geopolitical rivals, is also high; in 2019, Germany relied on imports for 71 percent of its energy supply according to the Energy Information Administration, a slight decline from 2000, according to Deutsche Bank.
"Wind farms can't 'combat' climate change. Only fraudsters claim, and idiots believe such nonsense. All wind farms do is rip off ratepayers with pointlessly expensive and unreliable electricity," said Steve Milloy, proprietor of JunkScience.com, who served on President Trump's Environmental Protection Agency (EPA) transition team.
[Ron: How much longer do we have to endure this avalanche of bullshit about global warming, Green Energy and almost everything else in our world?!
Humans on this planet are drowning in an ocean of lies. The Global Warming (Climate Change) hoax is just one of them. This situation will not change until Presidents Trump, Putin and Xi and their Alliance supporters drain the demonic Talmudic global swamp that has held humanity in thrall for centuries. Over a century ago Nikola Tesla discovered the means for generating electric power and to power vehicles WITHOUT use of fossil fuels, windmills or nuclear power plants. The demonic globalist controllers have suppressed use of Tesla technologies and similar inventions and kept them for covert use in their secret bases and space forces. THAT is about to change. And when it does all this devious rhetoric and fear porn about the need for green energy projects etc will cease.
For instance, in 1930 Tesla demonstrated an Electric Car that didn't require abiotic fuels or battery power. See eg:
Tesla's "1930 Pierce Arrow" Electric Automobile
(that could have been powered by a Tesla tower)
Nikola Tesla had an Electric Pierce Arrow back in 1930, the ICE engine was replaced with an Electric Motor. The power source was a black box of radio tubes, in the glove compartment. The box had an antenna sticking out. Tesla would fool with some tuners and tune in the right frequency and got 240 volts delivered through the air to his car. The car ran almost silent. He had the car stashed in a barn near Niagara Falls. He was sending the energy from the Power Plant, some how. He said this power could be made possible for everyone. J.P. Morgan did not like the idea, because where do you put the meter? Morgan stopped funding and Tesla's Wardencliffe Tower was destroyed & taken down. The tower would have made war obsolete. We were denied this FREE power and NO MORE WAR machine.
We were denied the privilege, instead we get wars over false flag operations with so called pilot terrorists with no weapons of MD. Now we pay for gas & get to breath un-natural SMOG from burning dirty hydro-carbons along with 13 bad to breathe chemicals, known to cause cancer. We could be driving our cars with water as the gas, and steam in the tail pipes. See: Nikola Tesla: Some reminders of his achievements - http://abundanthope.net/pages/Environment_Science_69/Nikola_Tesla_Some_reminders_of_his_achievements_3433.shtm Paul Driessen is senior policy advisor for CFACT and author of Cracking Big Green and Eco-Imperialism: Green Power - Black Death.
This article was sourced from CFACT.org
Some Related Articles:
Solar Panels Much More Wasteful and Toxic Than Widely Believed, warns environmental policy expert - http://abundanthope.net/pages/Environment_Science_69/Solar-Panels-Much-More-Wasteful-and-Toxic-Than-Widely-Believed-warns-environmental-policy-expert.shtml
The Myths Of Green Energy - http://abundanthope.net/pages/Environment_Science_69/The-Myths-Of-Green-Energy.shtml
The Renewable Green Energy MYTH: 50,000 Tons Of Non-Recyclable Wind
Turbine Blades Dumped In The Landfill -
https://www.zerohedge.com/news/2020-01-10/renewable-green-energy-myth-50000-tons-non-recyclable-wind-turbine-blades-dumped
Another Expensive Solar Scheme Bites the Dust - https://www.americanthinker.com/articles/2020/01/another_expensive_solar_scheme_bites_the_dust.html].
[Some colour font and bolding added.].
RELATED ARTICLES:
Solar Panels Much More Wasteful and Toxic Than Widely Believed, warns environmental policy expert - http://abundanthope.net/pages/Environment_Science_69/Solar-Panels-Much-More-Wasteful-and-Toxic-Than-Widely-Believed-warns-environmental-policy-expert.shtml
The Myths Of Green Energy - http://abundanthope.net/pages/Environment_Science_69/The-Myths-Of-Green-Energy.shtml
The Renewable Green Energy MYTH: 50,000 Tons Of Non-Recyclable Wind
Turbine Blades Dumped In The Landfill -
https://www.zerohedge.com/news/2020-01-10/renewable-green-energy-myth-50000-tons-non-recyclable-wind-turbine-blades-dumped
Another Expensive Solar Scheme Bites the Dust -
https://www.americanthinker.com/articles/2020/01/another_expensive_solar_scheme_bites_the_dust.html
Solar Panels Are Creating 50 Times More Waste Than Predicted, and Much Of It Is Toxic. Our Race To ˜net zero" is Madness http://abundanthope.net/pages/Environment_Science_69/Solar-Panels-Are-Creating-50-Times-More-Waste-Than-Predicted-and-Much-Of-It-Is-Toxic-Our-Race-To-net-zero-is-Madness.shtml
Electrical Power in Australia from success to failure http://abundanthope.net/pages/Environment_Science_69/Electrical-Power-in-Australia-from-success-to-failure.shtml
Green New Deal Frozen In Its Tracks http://abundanthope.net/pages/Environment_Science_69/Green-New-Deal-Frozen-In-Its-Tracks.shtml
Free Energy Device Released! ZPower Changed Everything! - http://abundanthope.net/pages/Environment_Science_69/Free-Energy-Device-Released-ZPower-Changed-Everything.shtml
Haton on Cold Fusion plus The History of MIT's Blatant Suppression of Cold Fusion http://abundanthope.net/pages/Environment_Science_69/Haton-on-Cold-Fusion-The-History-of-MIT-s-Blatant-Suppression-of-Cold-Fusion.shtml
WORLD SYSTEM OF WIRELESS TRANSMISSION OF ENERGY -http://abundanthope.net/pages/Environment_Science_69/WORLD-SYSTEM-OF-WIRELESS-TRANSMISSION-OF-ENERGY.shtml
Nikola Tesla: Some reminders of his achievements - http://abundanthope.net/pages/Environment_Science_69/Nikola_Tesla_Some_reminders_of_his_achievements_3433.shtml
TESLA and RADIANT ELECTRICITY. See: http://abundanthope.net/pages/Scientific_102/TESLA_and_RADIANT_ELECTRICITY_4198.shtml
TESLA'S RADIANT (Dark) ENERGY SYSTEM. See: http://abundanthope.net/pages/Environment_Science_69/TESLA_S_RADIANT_Dark_ENERGY_SYSTEM_4476.shtml
Practical Guide to Free-Energy Devices. See: http://abundanthope.net/pages/Environment_Science_69/Practical-Guide-to-Free-Energy-Devices.shtml
Free Energy Freedom - Our Power, Our Future. See: http://abundanthope.net/pages/Environment_Science_69/Free-Energy-Freedom-Our-Power-Our-Future.shtml
2009 - TIME FOR THE EMERGENCE OF FREE ENERGY SYSTEMS? See: http://abundanthope.net/pages/Environment_Science_69/2009_-_TIME_FOR_THE_EMERGENCE_OF_FREE_ENERGY_SYSTE_2554.shtml
An Inconvenient Truth For Al Gore: The Ice Is Still There - http://abundanthope.net/pages/Political_Information_43/An-Inconvenient-Truth-For-Al-Gore-The-Ice-Is-Still-There.shtml
The Dark Story Behind Global Warming aka Climate Change - http:// abundanthope.net/pages/Environment_Science_69/The-Dark-Story-Behind-Global-Warming-aka-Climate-Change.shtml
Global Warming: The Evolution of Hoax - http://abundanthope.net/pages/Environment_Science_69/Global-Warming-The-Evolution-of-Hoax.shtml
Despite Climate Alarmism, Global Sea Levels Fell Last Year - http://abundanthope.net/pages/Environment_Science_69/Despite-Climate-Alarmism-Global-Sea-Levels-Fell-Last-Year.shtml
Climate "Scientists" in Panic: Real Debate and Fact Checking Will Expose "Consensus" Fraud - http://abundanthope.net/pages/Environment_Science_69/Climate-Scientists-in-Panic-Real-Debate-and-Fact-Checking-Will-Expose-Consensus-Fraud.shtml
Progressive Eco-Group Admits It: Renewable Energy is a Hoax that Benefits its Greenie Elmer Gantries like Al Gore http://abundanthope.net/pages/Environment_Science_69/Progressive-Eco-Group-Admits-It-Renewable-Energy-is-a-Hoax-that-Benefits-its-Greenie-Elmer-Gantries-like-Al-Gore.shtml
The Collapse of Intellectual Standards in Science http://abundanthope.net/pages/Environment_Science_69/The-Collapse-of-Intellectual-Standards-in-Science.shtml
Progressive Eco-Group Admits It: Renewable Energy is a Hoax that
Benefits its Greenie Elmer Gantries like Al Gore -
http://abundanthope.net/pages/Environment_Science_69/Progressive-Eco-Group-Admits-It-Renewable-Energy-is-a-Hoax-that-Benefits-its-Greenie-Elmer-Gantries-like-Al-Gore.shtml
Climate crimes must be brought to justice http://abundanthope.net/pages/Environment_Science_69/Climate-crimes-must-be-brought-to-justice.shtml