https://www.henrymakow.com/2018/07/anthony-migchels-how-money-rules.html
July 29, 2018
The World is run by the Banking Cartel,
who is the real hegemon, not some Nation State.
When Banks rule, it is obvious that they rule through money.
Here is how they do it.
How we know the Banks rule
Let us first ascertain that the Banking Cartel is indeed the hegemon. And this can be proven by one simple statistic: the World is indebted to them to the tune of $247 Trillion Dollars. That is three times World GDP.
This debt costs about $12 Trillion per year to service, which is about one-sixth of World GDP. It is known that all this money ends up with the richest 10% of the people worldwide. Even much worse: about a third of this money (about 4 Trillion) ends up with the richest 0,0032%. These are the people that control the Banks.
Compare this to the income of the US Federal Government, which sits at a paltry $3 Trillion. US Government debt to the Bank is about $21 Trillion, and US total debt (including households and corporations) is perhaps as high as $70 Trillion.
Not only is the Government's income markedly lower than that of the Banking Cartel, it is dependent on them for money.
These numbers are self-evident. They expose the true nature of power, and they also show how ridiculous it is to speak of 'economic growth' and 'wealthy countries'. Obviously, the United States cannot be 'rich' when it has $70 Trillion (3,5 times GDP) in debt. There will be wealthy people in the US, yes, but the country itself is poor and broke, as is also proven by the fact that 80% of Americans own nothing, and live paycheck to paycheck.
Besides the obvious implications of the massive debt, it has been established that all the major Banks in the World (European, American, Chinese, Japanese) own each other. They ARE a cartel. It's not speculation, it's a fact.
CONTROLLING THE MONEY SUPPLY

To control means to be able to start, sustain, and stop something. Banks control the money supply. They create the money; they decide how much money there is, who gets it, and they destroy the money (when debts are repaid).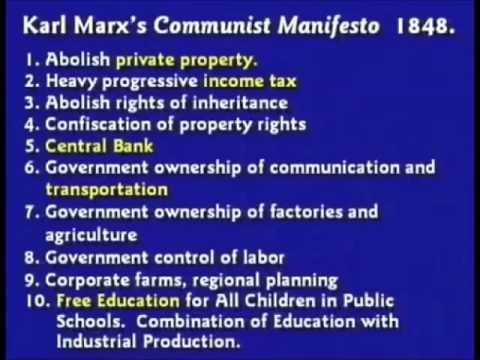 (#5 ROTHSCHILD BANK. "Government" is just a proxy for Rothschilds. Absurd that an ideology that seeks to destroy democracy and enslave society should have legal status.)
And they control all the money supplies in the World. Including that of Syria and Iran. And North Korea. Which is not surprising, as the Communist Manifesto demands ´the centralization of all credit in the State, by means of a national bank and an exclusive monopoly'.
Libya seems to have been the last country with monetary independence: Gaddafi ran an interest-free monetary system, with the issuing organization securely in his own hands. People got interest-free loans for business ventures and mortgages.
When the 'rebels' (Zio-Capitalist-Wahhab proxy goons) were still a bunch of startups in Benghazi, the first thing 'they' (in reality their sponsors in the State Department) produced was a charter for a Central Bank.
All 'national' currencies worldwide, are created in the same way: as an interest-bearing debt to the Bank. Which is noteworthy in itself, because there are many natural ways of creating currency, and this uniformity is a keytell-tale sign of centralized control.
It is sometimes hard for people to fathom why money is so incredibly crucial in the economy, but it's really very simple: money is half of all transactions. The seller provides goods and services, the buyer provides money.
[Ron: The "money" referred to is NOT money. The banksters only create FIAT DEBT TOKENS out of thin air and then LOAN that pretend money at interest (usury). The entire activity is fraudulent and sovereign humans sould reject it because it is blatant theft and enslaves them.].
So on the one hand, there are all the goods and services in the World, on the other hand, there is the money.
[Ron: This statement is misleading in that it implies that the banksters' "money" is real when it isn't. It is a fiction. The "financial system" is a "smoke and mirrors" creation of the Talmudists! "Money" is a fictional mental construct which has no substance. The banking and financial systems are a total scam foisted on humanity by Luciferians and their Judaic minions and shabbos goys. They have no substance and depend upon humanity accepting the fiction that electronic digits created using key strokes on computers that are electronically transmitted around the planet, somehow constitute REAL value. They don't. Sovereign human beings create value through their mental and physical efforts, acting where necessary, on the planet's God given resources. ALL human needs are provided for by human activity NOT by banksters and their "financial systems" which merely suck out of human society a huge percentage of the value created by human ingenuity and work, giving it to parasitic bankers and financial manipulators. Human ingenuity and labour produces food, shelter, clothing, transportation, entertainment, medical care and everything else that humanity creates and requires. Fiat debt tokens are NOT the equivalent of the goods and services for which they are ostensibly exchanged.
Fiat "money" is NOT  a store of value. It is  merely a method of facilitating the exchange of goods and services and bookkeeping, ie a means of accounting for those transactions. Banks are NOT NEEDED for those activities. Any stable basket of commodities or agreed value system will serve the purpose. For instance a suitable criterion would be an hour of human labour, since that is the same for every human individual. Eliminating usury and ensuring proper redistribution of human productivity would result in abundance for ALL humans on the planet within a few years. Be aware that prior to the financial collapse in 2008, usury was increasing the COSTS of all goods and services by 40% globally, even if purchasers had NO debt and paid no taxes.].
[Ron: Under our current fraudulent and unnecessary monetary system] Money is the gateway to everything else. Without money, most transactions would not take place. By controlling the volume of money, one controls price levels in the economy. By keeping money scarce, one creates artificial scarcity of everything.
By controlling money, one controls the entire economy. [Ron: Controlling the entire economy MEANS controlling everyone and everything IN society and determining who will be rich and who will be poor. Poverty, ie 'scarcity and want' is determined by the banksters' monetary policies as are issues of war and peace.].

HOW THEY TRANSLATE CONTROL OF MONEY INTO CONTROL OF EVERYTHING
Here are the three main Banker tools of exploiting control of money:

1) Usury, which is interest on loans of money.
2) Creating inflations and deflations, the boom and bust cycle.
3) Credit allocation: Bankers decide who gets money, and who doesn't. They control who can invest, and in what.
[Ron: Banksters automatically create inflation, ie the devaluation of "money" (fiat debt tokens) by charging interest on their so-called loans while NEVER creating ANY "money" that could be used to pay that interest. That means that there is, and can never be, enough "money" in circulation to enable payment of the interest the banksters charge on loans and so the banks always need to issue more and more loans in order for there to be enough money in circulation to cover payment of that interest. So when borrowers pay back their loans the money "created" for the loan ceases to exist because it was created out of thin air and is a book entry only. The inevitable result is that there is never enough money in circulation so a steady stream of borrowers must default on repayment of their loans and/or interest thereon. That results in bankruptcy or liquidation and the banksters recovering the assets used as collateral for pennies on the dollar. The so-called "boom" and "bust" cycle merely refers to the fact that the banksters determine WHEN they will issue sufficient loans to continue this PONZI scheme and WHEN they will restrict lending so that deflation results in mass bankruptcies and liquidations.].
We have already seen what damage Usury does: working people pay $12 Trillion per year to the idle classes, parasites who inherit billions and suck up billions more in interest, without ever producing anything that is of use to anybody.
Usury is the main driver of debt. The last 25 years or so, States, Corporations, and individuals have paid more interest than they currently have debts outstanding. Without Usury, there would hardly be any debt.
By controlling the volume of money, both in the general economy and in specific markets, they control all price levels. Yes, ALL price levels, in all markets. Even Oil (the biggest market) they can just increase prices tenfold in a matter of moments. They did this in 2006-2008. This is true of all assets and commodities.
By lending liberally, for instance for speculation on the Stock Exchange, or real estate, they create booms, inflations causing higher prices. Next, they cite 'lack of confidence', or 'bad fundamentals', and stop lending, which diminishes money in the market, and lowers prices, leading to busts.
During the busts, most people are forced into liquidation at depressed prices. Only the Plutocrats have enough money to pick up the pieces for pennies on the dollar.
The 2008 Credit Crunch alone has created about $50 Trillion in damages worldwide (bailouts plus missed economic growth). Unsurprisingly, the wealthy became much wealthier in the last ten years, while working people (the 90/99%) saw income and asset positions decline massively in real terms.
And last, but not least, the Banker privilege of deciding who gets credit: the implication of this is obvious: the absolute worst people in the World get to decide who gets money, who can invest, and in what. Therefore, Bankers decide in what direction society will develop. So obviously we have mass poverty, people working 50 hours per week, 50 weeks per year while having nothing. That is how the filthy rich like it.
When Bankers decide who gets money, then the Fed can just print $16 Trillion for Bank bailouts, while politicians will tell everybody we can't afford food stamps and social security.
CONCLUSION

Yes, the Bankers rule, and they rule through money. They prey on our ignorance. We don't understand they are a Cartel (a Monopoly), we don't understand how they create the money, how they set all prices, how Usury automatically concentrates all wealth with the very richest.
But once one does understand the problem, the solution is obvious: take control of the money supply; create usury-free credit; manage volume to allow stable prices (which is really not complicated), and allow local communities to allocate credit for their own needs.
Note that the problem is not fixed with some Gold Standard, while they own all the Gold, and will only lend it at interest to us. The problem is also not fixed by letting the State create the money, but leave all credit (at interest!) to Banking. Cryptocurrencies are bogus items who do not solve any of our monetary problems. Mindless speculation is not going to solve Banking.
Nationalizing the Fed is also far from sufficient, and at best a minute step in the right direction. The Fed only exists to facilitate Commercial and Merchant Banking and was created by the Banking Industry.
Keep this in mind: the essence of Banking is not 'money creation' as most of the Alternative Media will tell you. The quintessential nature of Banking is lending at interest. THAT is what a Bank does, and that is how they have conquered the entire World.
Only interest-free credit can solve Banking and the New World Order.
-------
[Colour fonts, bolding and comments in square brackets added.].
Anthony Migchels is the founder of a start-up interest-free currency in theNetherlands and has written extensively about monetary reform and usury-free economics.
RELATED ARTICLES:
Anthony Migchels -- Usury and the Rise of the Bankster... --The Plane Truth PTS3109 - http://abundanthope.net/pages/Political_Information_43/Anthony-Migchels----Usury-and-the-Rise-of-the-Bankster---The-Plane-Truth-PTS3109.shtml

Red Ice Radio - Anthony Migchels - 1 Hour 1 - Usury: the Problem with the Economic System ... See: http://abundanthope.net/pages/Political_Information_43/Red-Ice-Radio---Anthony-Migchels---1-Hour-1---Usury-the-Problem-with-the-Economic-System_printer.shtml
Getting Off Money II. See: http://abundanthope.net/pages/Political_Information_43/Getting-Off-Money-II.shtml

Getting Off Money. See:http://abundanthope.net/pages/Ron_71/Getting-Off-Money.shtml
Usury is the Root of All Evil: Free Money is Essential to Prosperity and Abundance. See: http://abundanthope.net/pages/Ron_71/Usury-Free-Money-is-essential-to-Prosperity-and-Abundance.shtml
Why is Usury the Root of All Evil and how will the OITC eliminate that Evil? See: http://abundanthope.net/pages/Ron_71/Why_is_Usury_the_Root_of_All_Evil_and_how_will_the_4042.shtml
Money isn't the Root of All Evil: USURY IS! That's why the OITC is Actively Opposed by Corrupt Governments and Banks Globally. See: http://abundanthope.net/pages/Ron_71/Money_isn_t_the_Root_of_All_Evil_USURY_IS_That_s_w_4029.shtml

MONEY NOW & LATER: PART IV (Money Supply in the UK & Australia). See: http://abundanthope.net/pages/Ron_71/MONEY_NOW_amp_LATER_PART_IV_Money_Supply_in_the_UK_2944.shtml

Money and its symbiotic capitalist economic system is 'broke' & the Fulford/Wilcock White Dragon FIX won't work. See: http://abundanthope.net/pages/Political_Information_43/Money-and-its-symbiotic-capitalist-economic-system-is-broke-the-Fulford-Wilcock-White-Dragon-FIX-won-t-work.shtml

Why humanity will live without money. See: http://abundanthope.net/pages/Ron_71/Why-humanity-will-live-without-money.shtml
Let Them Eat Cake: 10 Examples Of How The Elite Are Savagely Mocking The Poor. See: http://abundanthope.net/pages/True_US_History_108/Let-Them-Eat-Cake-10-Examples-Of-How-The-Elite-Are-Savagely-Mocking-The-Poor.shtml

The Plane Truth: Usury And The Rise Of The Bankster Dictatorship. See: http://abundanthope.net/pages/Political_Information_43/The-Plane-Truth-Usury-And-The-Rise-Of-The-Bankster-Dictatorship_printer.shtml
A Rebuttal of Wikipedia's Defamation of the OITC promulgated by Rumor Mill News. See: http://abundanthope.net/pages/Ron_71/A_Rebuttal_of_Wikipedia_s_Defamation_of_the_OITC_p_3991.shtml
MONEY: Now and Later - Part I. See: http://abundanthope.net/pages/Ron_71/MONEY_Now_and_Later_-_Part_I_2888.shtml

'MONEY: NOW and LATER ' Part II (The Rise of US Fractional Reserve Banking). See: http://abundanthope.net/pages/Ron_71/MONEY_NOW_and_LATER_Part_II_The_Rise_of_US_Fractio_2906.shtml

MONEY: NOW & LATER - Part III (Germany). See: http://abundanthope.net/pages/Ron_71/MONEY_NOW_amp_LATER_-_Part_III_Germany_2913.shtml

Musings on Money. See: http://abundanthope.net/pages/Ron_71/Musings_on_Money_2793.shtml
Fraud by 'banksters'. See: http://abundanthope.net/pages/Ron_71/Fraud_by_banksters_2188.shtml

Money & Alternatives for it: Community trading with the LETS system. See: http://abundanthope.net/pages/Ron_71/Money-Alternatives-for-it-Community-trading-with-the-LETS-system.shtml
Italian town Filettino declares independence. See: http://abundanthope.net/pages/Political_Information_43/Italian-town-Filettino-declares-independence.shtml

FREE LAKOTA BANK Opens as Non-Fractional Reserve Bank Accepting Only Gold and Silver Currencies. See: http://abundanthope.net/pages/Ron_71/FREE-LAKOTA-BANK-Opens-as-Non-Fractional-Reserve-Bank-Accepting-Only-Gold-and-Silver-Currencies.shtml

WHAT A PUBLIC BANK COULD MEAN FOR CALIFORNIA. See: http://abundanthope.net/pages/Ron_71/WHAT-A-PUBLIC-BANK-COULD-MEAN-FOR-CALIFORNIA.shtml

A Choice for States: Banks, Not Budget Crises: 7 ways state-owned banks could help states overcome budget deficits and boost their local economies.. See: http://abundanthope.net/pages/Ron_71/A-Choice-for-States-Banks-Not-Budget-Crises-7-ways-state-owned-banks-could-help-states-overcome-budget-deficits-and-boost-their-local-economies.shtml

THE CREATURE FROM JEKYLL ISLAND - G EDWARD GRIFFIN. See: http://abundanthope.net/pages/Ron_71/THE_CREATURE_FROM_JEKYLL_ISLAND_-_G_EDWARD_GRIFFIN_1970.shtml

PJ #29 " END OF THE MASQUERADE ", chapter 1 & 2. See: http://abundanthope.net/pages/Phoenix_Journals_61/PJ-29-END-OF-THE-MASQUERADE-chapter-1-2.shtml

Alternative Media Talks About The Banksters But Not The Economy - Anthony - Also Hitler's Economics

. This 5' 45" video was published by 108morris108 on Aug 15, 2014: https://www.youtube.com/watch?v=5j8L0Pt09IA