https://www.sott.net/article/429149-Flick-on-the-nose-to-Turkey-Syria-secures-entire-Aleppo-Damascus-highway


Southfront.org
Wed, 12 Feb 2020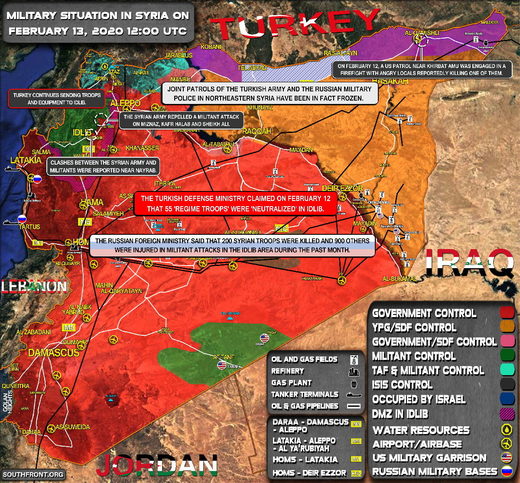 © Southfront.orgFor the first time in about 8 years of the war, Syrian government forces have established control of the entire M5 highway, which runs from the border with Jordan through Damascus, Homs and Hama to Aleppo.

During the first half of February 12th, the Syrian Army and Iranian-backed militias recaptured the Rashidin 4 district from Hayat Tahrir al-Sham and other foreign-backed al-Qaeda enthusiasts in western Aleppo. By the end of the day, pro-government troops had taken control of Khan Asal and entered the villages of Abu Shalim, Wadi Shuha andWadi Al-Kabeer. The Syrians also attacked "moderate beheaders" in Kafr Nuran, but were not able to break their defenses there. The interesting fact is that on February 10 army positions in the nearby area of Kafr Halab became a target of at least two suicide bombing attacks. Apparently regular suicide bombings conducted by members of Idlib groups are a strong signal of their democratic ideology.


Hayat Tahrir al-Sham and its comrades complain that the 'Assad regime' successes in western Aleppo were the result of dirty tricks, such as the massive usage of artillery, air power, heavy military equipment and unexpected manoeuvres.

Yet, Turkish artillery support and military equipment did not help them to regain the initiative near Saraqib, in eastern Idlib. Idlib groups announced a major advance there on February 11 and attacked the village of Naryab. A supposed MANPAD missile launched from the area of Turkish positions in Qaminas shot down a Syrian military helicopter killing all on board. The Turkish Defense Ministry even officially announced that Naryab had been cleared of 'Assad forces' and claimed that 51 'regime fighters' had been 'neutralized', and that 2 tanks, a gun position and a weapon depot belonging to the Syrian military had been destroyed in Idlib clashes. However, victorious tweets did not help and Turkish-led forces got clobbered by the evening. The Syrians restored full control over the town. According to pro-government sources, up to 40 militants were killed there. Several airstrikes also hit joint positions of Turkish troops and Idlib militants near Qaminas. The damage and casualties caused by these strikes remains unclear.


Comment: Turkey claimed it neutralized 55 Syrian soldiers on Feb. 12 2018.
On Tuesday, the Turkish Defence Ministry stated that 51 units belonging to the Syrian Army, including two tanks, an anti-aircraft installation site and a munitions depot, have been destroyed.

On Monday, the ministry reported that five Turkish soldiers had been killed and five others wounded in shelling of the Idlib observation post by the Syrian army. In response, it said, the Turkish Armed Forces fired on 115 targets of the Syrian army and neutralized 101 Syrian servicemen.

Tensions in Northern Syria started to escalate last week after eight Turkish nationals were killed in a shelling conducted by Syrian government forces on Turkey's observation post in Idlib.

At the same time, the city of Idlib itself appeared to be a target of several airstrikes. According to reports, 6 civilians were killed. Over the past years, Idlib rebels have successfully learned how to place their military positions, weapon depots and HQs in close proximity to civilian infrastructure.

The US and other NATO members that broke a few lances with Turkey over its operations against Kurdish groups in northern Syria, its participation in the Astana format, the S-400 deal and other cooperation projects with Iran and Russia, are now hurrying to show their 'decisive support' for the Erdogan government.

The NATO secretary general condemned 'Assad attacks' on Turkish troops. Mike Pompeo said that the US would stand by its "NATO ally Turkey" and announced that Jim Jeffrey was going to Ankara "to coordinate steps to respond to this destabilizing attack." In response, the Turkish Defense Minister Hulusi Akar asked NATO allies for "concrete" moves to stop the 'Assad aggression'. The only issue is that the most likely concrete move by the "allies" will be to slap Turkey on the back and advice to send more Turkish troops to die on behalf of al-Qaeda-linked Idlib groups.
Comment: The Turkish military has reportedly deployed multiple launch rocket artillery systems on the border with the Syria along with the special forces to Idlib. Syria condemned it.
Syria's Foreign Ministry has vowed to continue fighting terrorist groups in Idlib and elsewhere notwithstanding Turkish threats, and has accused Turkish President Recep Tayyip Erdogan of supporting, arming and training terrorist organizations operating in the region. Damascus also reiterated that Turkey's military presence on Syrian soil is illegal.
Trukey also deployed more military reinforcements to the Idlib. Russia supported Syria saying that it has the right to eliminate the terrorists from its territory.
"At the moment, we consider the most important thing is the implementation of... agreements (between Russia and Turkey)... and of course the suppression of any terrorist activity directed against the Syrian armed forces and Russian military facilities," Kremlin Spokesman Dmitry Peskov told reporters in Moscow.

"We consider such sorties from Idlib unacceptable," the senior Russian official noted.
On February 12th, one young person was killed during US-Syrian clashes in northern Syria, when US troops deviated from their route and clashed with civilians


The altercation between Syrian and US servicemen drew in a large group of local residents and at one point the American troops opened fire on them, killing a 22-year-old man and injuring another person.

Russian military police arrived at the scene and were able to quell the tensions before they could have spiraled into a major confrontation.



"Only thanks to the efforts of the Russian servicemen who arrived at the scene of the incident, it was possible to prevent a further escalation of the conflict with local residents," the Russian military said.