Environment/Science
Jul 15, 2020 - THE STORY OF INFLUENZA. AN IMPORTANT TALE TO TELL YOUR FRIENDS.
Ron: I understand that ths planet is being subjected to increased doses of gamma radiation from the Sun and/or the centre of the universe and probably from space Fleet sources as well. Such radiation constitutes higher vibrational information and is designed to lift consciousness levels on this planet.  Those vibrational  effects will have varying consequences depending on the state of mind and being of each individual. Negative effects of gamma radiation on human individuals can be exacerabated by the individual's mental state.  As with other negative psychic effects; eg having the Kurdaicha Man point the bone at an individual - FEAR can cause serious illness or death. Many in politics, medicine and the MSM appear to have ramped up fear of COVID-19 to produce such negative effects. Moreover, in some places those negative effects appear to have been exacerbated by political decisions to ISOLATE people and to confine seriously ill people with comobidities in care homes etc. Also inapproprriate medical treatment using ventalitors; and/or rejecting early usage of useful drugs like hydroxychloroquine plus azithromycin plus zinc etc may have increased fear and caused negative physical effects on individuals.
Health and Nutrition
Jul 12, 2020 - Breakthrough: Tuesday 4:20 PM, Vienna, America is given a COVID cure, Will it be withheld?
Health and Nutrition
Jul 12, 2020 - Bible Experts Determine Goliath Died Of COVID-19
Political Information
Jul 12, 2020 - Who is Dr. Theresa Tam ?
Health and Nutrition
Jul 12, 2020 - Forced Vaccination Plan Unveiled
According to the Stanford report, only about half of the U.S. population plans to be vaccinated against COVID-19 coronavirus.  This is why hospitals are over-stating the deaths attributed to COVID-19 and why news agencies create continued fear over a common-cold virus that results in few if any symptoms upon infection and only kills a very few.  Our modern healthcare system is over-committed to vaccination.  The prospect of a vaccine is dimmed by the fact 90% of vaccines that enter human trials fail to make it to market. Given the remote possibility a safe and effective vaccine ever materializes, the nation may await an imagined vaccine at the expense of finding an effective treatment.  Despite the horridness of COVID-19 induced death (drowning in lung fluid), the accumulated mortality rate as of early July 2020 is still only 131,065 deaths, or 0.00039% deaths in the entire population.  Very few of these reported deaths are attribute to COVID-19 coronavirus alone.  Bill Sardi
Health and Nutrition
Jul 12, 2020 - The COVID-19 Testing Surge to Justify Lockdowns and Massive Payouts
Do not submit to nasal rape!
Health and Nutrition
Jul 12, 2020 - 'Hannibal Lecter or Darth Vader'? Trump wears mask in public for 1st time, providing meme fodder for critics
On his way to Walter Reed Army Medical Center outside Washington, the US leader explained why he finally decided to don a face covering, arguing that he's "never been against masks but I do believe they have a time and a place." R T
Health and Nutrition
Jul 11, 2020 - Busted: 11 COVID Assumptions Based on Fear not Fact
Political Information
Jul 11, 2020 - Mass-Tracking COVID-PASS Immunity Passports Slated to Roll Out in 15 Countries
COVI-PASS will determine whether you can go to a restaurant, if you need a medical test, or are due for a talking-to by authorities in a post-COVID world. Consent is voluntary, but enforcement will be compulsory...Gates begins to make his case for the adoption of mass tracking and surveillance technology in the U.S. by saying that "For now, the United States can follow Germany's example"; He then touts the advantages of the "voluntary adoption of digital tools" so we can "remember where [we] have been" and can "choose to share it with whoever comes to interview you about your contacts."
Ron: Gates is sooo smart arse! Either he's a FKN Talmudic operative or he's being excessively overt in the hope that the sheeple will wake up and smell the horsechit.
To be accurate it should be called the COVID-1984 PASS.
Health and Nutrition
Jul 11, 2020 - My Investigation Of the so-called COVID Deaths
True US History
Jul 11, 2020 - And The Nobel Prize For Medicine Goes To... Bill de Blasio, who has discovered Covid-19 spreads everywhere except at BLM protests
Political Information
Jul 11, 2020 - LancetGate: "Scientific Corona Lies" and Big Pharma Corruption. Hydroxychloroquine versus Gilead's Remdesivir
True US History
Jul 10, 2020 - New Docs: NIH Owns Half of Moderna Vaccine
Fauci painted lipstick on that lame donkey and now he's trying to convince everyone it's a thoroughbred. Moderna and NIH began manufacturing the first of 1 billion doses of the deadly vaccine this month. Fauci knows from experience that no matter how dangerous a vaccine, the easy part is convincing people to take it. Pharma, after all, controls the media. -  Robert Kennedy Jnr
True US History
Jul 9, 2020 - Having no symptoms , is one of the symptoms
This 9' 32" video was published by  Covid 911 TRUMP 2020 on Jul 9, 2020: https://youtu.be/c-a5IVMvDqc
IMAGINE A VIRUS SO DEADLY, YOU HAVE TO TAKE A TEST TO FIND OUT IF YOU HAVE IT!
Ron: Not only that, but its sooo deadly, you take a test to find out that you had it months ago and never had any symptoms...
BUT, make sure to wear a mask to prevent it anyway... and don't worry about breathing CO2 all day, 7 days a week... less oxygen and increased CO2 is recommended by Fauci, Birks, the CDC and the WHO. After all, feeling sick yourself is a small price to pay; you don't wanta kill Grandma doya? AND anyway Big Pharma has almost got a vaccine that might solve the problem until the virus mutates and we'll just do it all again. Though you'll need a test to see if you've got that as well...
All we know 'for sure' is that small businesses and churches are forced to shut down and people must be 'locked down' inside their homes unless the government approves of their activity.
I Wear My Face Mask in the Car - (4' 01" video) - https://youtu.be/2DDXG-dHugc
Health and Nutrition
Jul 8, 2020 - 'God Made You Impotent for a Reason': Viagra rises to Top Twitter Trend after SCOTUS Ruling on Birth Control Healthcare Mandate
Health and Nutrition
Jul 8, 2020 - Hydroxychloroquine and Fake News
For the media it seems to have been more about scoring political points and increasing their audience ratings rather than investigative reporting which uncovers the truth. For those who are dying and their families and friends as a result of this treatment not being used because of media misinformation it is lives tragically lost, and for the rest of us it is our economies sinking, businesses failing, and unemployment, poverty and suffering rising.  Hundreds of thousands of lives could be saved, and loss, ruin, suffering and devastation to our economies and societies avoided if we simply started using this safe, cheap and readily available treatment. It is a ludicrous and tragic farce that because of the massive misinformation on behalf of corporate greed and political point scoring that we are not.  Jeremy Gordon
Health and Nutrition
Jul 8, 2020 - We've been scammed – WHO now says "no evidence" of asymptomatic coronavirus transmission, no need for restrictions if you're not sick
Health and Nutrition
Jul 8, 2020 - SHOCKER: CDC admits COVID-19 'positive result' just means you've previously contracted the "common cold"
Health and Nutrition
Jul 8, 2020 - New England Journal of Medicine Suggests "employment suspension" for COVID vaccine Noncompliance
Political Information
Jul 8, 2020 - Western Liberal Media Attacks Tanzania's President John Magufuli for Exposing COVID-19 Tests and Population Control in Africa
Political Information
Jul 8, 2020 - Senator and Former Minnesota Family Doctor of the Year Being Investigated for Questioning Covid Death Certificates
In Jensen's recent video he goes on to quote statements by Fauci and other officials that are nearly identical to some of the things he is being investigated for, making the case that he is being targeted and singled out by someone.  And that's a big part of the issue here. In cancel culture, we never get to know who our accusers are. Anonymous statements can be made by anyone with or without a political agenda, and the result is typically devastating for good people. Vic Bishop
Health and Nutrition
Jul 8, 2020 - Masks Are Covid-19 'new normal' and Those Refusing Them Should be SHAMED like Drunk Drivers, says Royal Society chief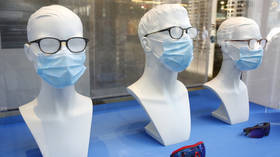 Human/Animal Rights
Jul 8, 2020 - South America's Covid-19 Crisis Has Exposed the Inequalities of the Region & the Lack of Real Progress Addressing Poverty
Health and Nutrition
Jul 7, 2020 - As Pandemic Continues, World Health Organization Struggles To Maintain Coherent Response
Health and Nutrition
Jul 6, 2020 - Dr. Fauci Is No Nostradamus: How COVID-19 Ran Amok Under His Watch
James Grundvig: Should we be collaborating with a communist-led country that has trampled human rights, has broken its 50-year treaty with Hong Kong three decades early, and has updated its 1999 "Unrestricted Warfare" doctrine, in which riots, pandemics, and economic warfare are fair game?
Ron: I disagree. This statement is inappropriate China bashing. Arguably President Xi Jinping's government is god-centric rather than Communist. China's socio-economic model appears to be a mix of centralised control with capitalist mechanisms. China has moved 800 million of its citizens OUT of poverty in the last 20 years while the US government has caused tens of millions of USans to become dependant on government welfare. US socialists calling China "Communist" is like the pot calling the kettle black. As regards Hong Kong, the US has been fomenting unrest and revolution there ever since its failure to spark a Chinese revolution in Tiananmen square in 1989. It has failed again and China is rightfully reaserting its control over Hong Kong which has been part of China for thousands of years and which was unlawfully removed from Chinese jurisdiction during the British instigated Opium Wars in the early 1840s.
James Grundvig: A full probe into the COVID-19 outbreak must be ordered immediately by the Trump Administration. It must include an in-depth look into the WHO's GPMB. It must interview Dr. Elias from the Gates Foundation. It must learn what information Dr. Fauci shared or gave to the CCP beyond grant money for virus research. The investigation must also determine whether the UN and WHO's new pandemic spearpoint in the GPMB plans to release another virus-for a second outbreak-this fall as its annual report states on pages 10 and 39.
Ron: I agree.
Health and Nutrition
Jul 4, 2020 - I've Lost All Trust in Medical Research – the financial muscle of Big Pharma has been busy distorting science during the pandemic
Dr Marcia Angell, who edited the New England Journal of Medicine for over 20 years, writing in 2009:
"It is simply no longer possible to believe much of the clinical research that is published, or to rely on the judgement of trusted physicians or authoritative medical guidelines. I take no pleasure in this conclusion, which I reached slowly and reluctantly over my two decades as editor."
Dr Malcolm Kendrick: In this world, cheap drugs such as hydroxychloroquine don't stand much chance. Neither do cheap vitamins, such as vitamin C and vitamin D. Do they have benefits for Covid-19 sufferers? I'm sure they do. Will such benefits be dismissed in studies that have been carefully manipulated to ensure they don't work? Of course. Remember these words: "Pharmaceutical companies are so financially powerful today, and are able to use such methodologies, as to have us accept papers which are apparently methodologically perfect, but which, in reality, manage to conclude what they want them to conclude."

Political Information
Jul 4, 2020 - Questions for lockdown apologists
Q: Why was there no significant increase in overall mortality, in any country we have good data for, before the start of lockdowns?
Q: Why does a precise and exact correlation exist between the start of lockdowns and significant rises in overall mortality?
Or:
Q: How is it that governments in every country imposed lockdowns at precisely the same time relative to the future precipitous rise in their populations' overall mortality rate?
And:
Q: How is it, moreover, that this moment in time happened to fall immediately before that precipitous rise?
Most attempts to answer these questions would probably involve the assertion that the authorities in every country had some notion of the true prevalence of the virus at the beginning of the pandemic. But we know now that that was not really the case. In the early weeks and months of 2020, testing was extremely limited. This was based, partly, on the assumption that the virus was not yet widespread. As testing was systematically expanded, the number of positive results increased, and this increase was generally believed to correspond to the actual spread of the virus.
Now, posthumous testing has shown that the virus was circulating — and killing — weeks, or even months before it was initially detected in many countries. Other researchers are coming to the same conclusion; the prevalence of the virus was vastly underestimated at the beginning of the pandemic.
Which leads us to our final question:
Q: If health authorities vastly underestimated the prevalence of the virus at the beginning of the pandemic, why did the virus nevertheless wait until lockdowns were imposed to suddenly start killing at levels which exceeded normal deaths?
John Pospichal
Health and Nutrition
Jul 4, 2020 - Huge COVID case-counting Deception at the CDC
Health and Nutrition
Jul 4, 2020 - "No One Has Died From The Coronavirus"
"COVID-19 is a fatal disease only in exceptional cases, but in most cases it is a predominantly harmless viral infection," Dr. Klaus Püschel told a German paper in April. Adding in another interview:  In quite a few cases, we have also found that the current corona infection has nothing whatsoever to do with the fatal outcome because other causes of death are present, for example, a brain hemorrhage or a heart attack [...] [COVID-19 is] not particularly dangerous viral disease [...] All speculation about individual deaths that have not been expertly examined only fuel anxiety."  Rosemary Frei
Human/Animal Rights
Jul 4, 2020 - Protests in Johannesburg as Oxford University Covid-19 Vaccine Trials Begin in Africa
Health and Nutrition
Jul 3, 2020 - Vindicated ? Trump-Touted COVID-19 Drug Hydroxychloroquine Works, New Study Funds
Human/Animal Rights
Jul 2, 2020 - Transgender Ideology Has 'Corrosive Impact' on Society, Claims Study
Political Information
Jul 1, 2020 - The Virulent 'Trump Derangement Syndrome' Is Back With A Vengeance
In other words, the first wave of Lockdowns created a huge backlog of demand for elective surgeries and other discretionary treatments, which were banned by state authorities. But once those bans were lifted and people got in the hospital for deferred treatments, they were tested for Covid and became the statistical gruel for the so-called second wave. ..........  In short, Texas had gone from virtually no Covid cases or deaths on March 18 to 131,917 cases and 2,296 deaths by June 25, but it actually had 56 percent more empty hospital beds on the latter date ! You can't make this stuff up. The MSM is so intoxicated by Orange Man Bad that it has essentially turned journalism into a kangaroo court of juvenile imprecations.   David Stockman
Political Information
Jul 1, 2020 - The Covid-BLM Diversion; "Shock Therapy" Behind a Smokescreen of Hysteria and Racial Incitement
Health and Nutrition
Jul 1, 2020 - The Media Sabotage of Hydroxychloroquine Use for COVID-19: Doctors Worldwide Protest the Disaster
Health and Nutrition
Jul 1, 2020 - With Brits Now Officially Fatter Than PIGS, it's time for BoJo to grab UK's killer obesity crisis by the love handles
Political Information
Jul 1, 2020 - Boris Johnson's Government Hides Covid-19 Data That Is Needed To Control New Local Outbreaks
True US History
Jul 1, 2020 - Forbes Caught in Blatant Censoring Act; Scrubs Article Highlighting COVID-19's Lab Origins
If SARS-CoV-2 is an engineered manmade virus, it is proof positive that gain-of-function research poses tremendous risks to humanity and that those risks far exceed any potential gain. Virtually all other threats to humanity - environmental toxins, pesticides, GMOs, pollution - pale in comparison to the danger posed by biodefense/bioweapons research.  Dr Joseph Mercola
True US History
Jul 1, 2020 - Now They're Trying To Tell Us COVID-19 Is "10 Times More Infectious" Than It Was At The Start Of The Pandemic
Political Information
Jun 30, 2020 - 2022: A Vaccination Passport. The EU Keeps Quiet Over Suspicious Documents