Political Information
Nov 29, 2020 - Experiment Demonstrates the Deadly Power of Social Compliance
In his 1974 book, Obedience to Authority: An Experimental View, Yale University psychologist Stanley Milgram discusses in detail the findings of his now famous experiment. Milgram demonstrated just how easy it is to convince an ordinary person to commit torture and murder under the instruction of an authority figure.
Ron: In assessing the accuracy of conclusions about 'an ordinary person' in relation to the Milgram experiment and discussions about its conclusions, we need to remember that not all people are truly human beings and that not all those who are, have similar inherent thinking ability and spirituality. In particular be aware that about half of the people on this planet are robotoids, ie  they have defective DNA which prevents them having a soul carrier body. These individuals lack the spiritual core we call 'soul' because of their defective DNA. Moreover human beings who do have soul carrier DNA have varying degrees of thinking and spiritual development because some are 'new souls' who have recently graduated from an animal soul existance to a human DNA soul carrier body structure. The result is that individual capacity to THINK rationally and make spiritual judgments about life the universe and everything varies greatly.
Because of defective DNA, robotoids do not have soul carrier bodies and hence they have virtually no inherent ability to think rationally and to make sound spiritual decisions. As a result they start life imitating the behaviour of others and their surroundings and seek to fit in to the society around them. Depending on the spiritual maturity of their social environment and their personal inclinations and decisions, robotoids can develop sufficient thought processes to grow a 'Mind' and evolve soul carrying DNA but until and unless they do that, they are very susceptable to external influences as evidenced by the Milgram experiment.
However, because their DNA allows their bodies to be soul carriers, the other half of humans here are ensouled humans, (ie HUmans - Higher Universal man) and from the moment they make their first moral decision they have the benefit of being indwelt by a God spark, a fragment of Creator consciousness which provides an inherent impulse towards rational thinking and spiritually motivated action. IF a soul carrier individual cultivates that impulse s/he is far less likely to succumb to negative external suggestions and manipulations as exampled in the Milgram experiment. However, HUmans can lose their God spark as a result of their own negative thinking and actions and they then become subject to the vagaries of life and prone to negative impulses similar to those experienced by robotoids. See eg: Everything You Wanted to Know About Robotoids And Clones - http://abundanthope.net/pages/Candace_7/Everything_You_Wanted_to_Know_About_Robotoids_And__864.shtm
Environment/Science
Nov 27, 2020 - Scientists: The Human Brain And the Entire Universe Have Odd Similarities
Environment/Science
Nov 24, 2020 - The Green Agenda IS the Great Reset
What you need to understand is that the supposed 'climate crisis' we've been hearing about ad nauseam since at least the 1992 Rio Earth Summit was really just a pretext for the kind of globalist takeover now being conducted by our governments in lockstep with the World Economic Forum's The Great Reset and the United Nations' parallel Agenda 2030 (an update of its notorious Agenda 21).   Man-made global warming was never a plausible threat (existing only in the computer modelled projections of parti-pris activist scientists. And we know all about them don't we, Neil Ferguson?). But it was, for decades, a handy pretext for concerted action by governments all over the world, under the auspices of organisations like the UN and its various COP climate summits, artificially to raise energy prices and increase state rules and regulations, and enrich crony corporatists, under the pretence that it was being done to save the planet.   James Delingpole
Environment/Science
Nov 20, 2020 - Israeli Company Wants To Play Music Inside Your Head With Directed Sound Technology Without Headphones
Although the technology is being heralded as "new," it's anything but new; Noveto is simply the first to launch the technology in a consumer sense and their SoundBeamer 1.0 desktop device will be the first branded product. However, the technology before being called "sound beaming" is known as "microwave hearing," which is documented with a former unclassified document from the U.S. Army Intelligence and Security Command received via a Freedom of  Information Act (FOIA) request back in 2006 entitled "Bioeffects of Selected Nonlethal Weapons."...
If you dig even deeper, there is an old reference on the Army's website for a technology called "Voice To Skull." (ARMY SITE YANKED WIRED REPORTED) [ARCHIVED COPY OF ARMY PAGE]
This technology is very similar to sound beaming.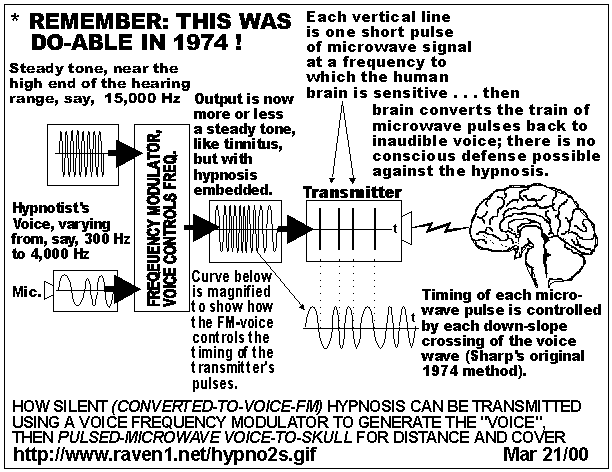 Environment/Science
Nov 19, 2020 - Science as God: Tech Hearing and COVID Show Us Exactly Where Censorship is Headed
Coons's comments are a good reminder that what is COVID today is climate tomorrow. Indeed, COVID policy has offered Americans a perfect preview of what will happen if climate alarmists get their way: Science not as method, but as god. And not the strong and mysterious God of the Jewish and Christian faiths, but a shifting one, whose every dictum and desire is whispered to the kings and enforced at their whims.    Do you have a problem with that ? You can take it up with The Science. And The Science is decided. Christopher Bedford
Political Information
Nov 19, 2020 - UN Announces Biometric Digital ID Wallet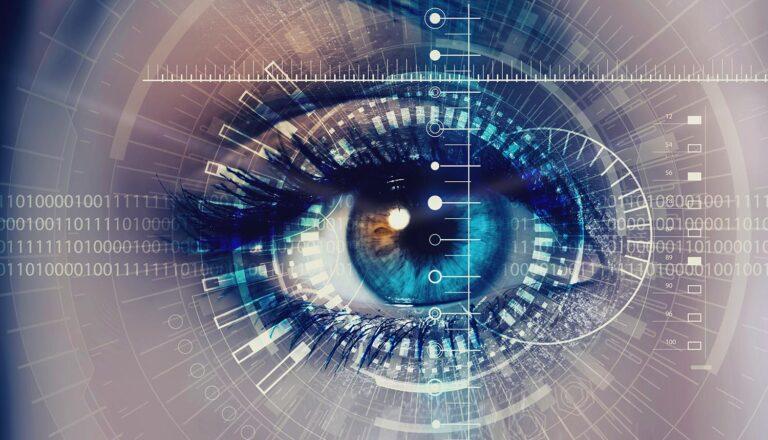 Environment/Science
Nov 18, 2020 - 'No Vaccine Against Climate Change': Red Cross Report Moves to Refocus Attention From Coronavirus
Chris Tomlinson: The IFRC has called for at least 50 billion dollars to be set aside to meet the adaption needs of 50 developing countries saying, "his amount is paltry in light of the global response to the economic impact of the pandemic."   The Red Cross statement comes just months after researchers at the Australian National University (ANU) suggested that climate change be listed as a cause of death on death certificates, arguing that deaths from climate change maybe 50 times larger than currently thought.
Ron: Our world is beginning to look like a gigantic Theatre of the Absurd. It is impossible to attribute with any certainty even extreme weather events to climate change. Not only is the climate always changing but extreme weather events have always occurred routinely around the planet. For instance what would the good doctors at the ANU make of the death rates attributable to the climatic changes caused by the eruption of Krakatoa on 1883. Apart from deaths due to malnutrition and starvation aused by crop loses occurring in many places in the ensuing global winter caused by volcanic dust in the atmosphere, should we count the estimated 36,000 deaths caused by thermal injury blasts and tsunamis resulting from the eruption? The mind boggles.

Weather changes have many causes. As is ostensibly done with COVID-19, should we attribute all deaths possibly associated with ANY weather change, eg  increasing and decreasing heat, cold, fire, floods and droughts, electrical storms and so on, AS DUE TO climate change? What about ignoring contributing human factors like failure to wear appropriate clothing or protective equipment, ignoring hazard warnings and so on? The list is long.
Environment/Science
Nov 15, 2020 - U.N. Chief Guterres Demands End to Coal-Fired Power in a Reset World
Simon Kent: Ulitmately Schwab says the trade, taxation, and competition rules that reflect decades of neoliberal influence are over.
Ron: How stupid does Schwab and the WEF think we are? The criminal "trade, taxation and competition rules" that have enslaved and impoverished our world for centuries have been created and maintained by Talmudic banksters and corporatists NOT by "neoliberal influences"which are merely the latest pseudo ideological gloss imposed on our world by JOO banksters and their goy enablers and useful idiots.
Health and Nutrition
Nov 14, 2020 - Dr Mike Yeardon: Coronavirus pandemic is 'fundamentally over in the UK'
Dr Mike Yeadon: 'Government are using a Covid-19 test with undeclared false positive rates.' https://www.youtube.com/watch?v=Ch7wze46md0
Former Chief Scientific Advisor with Pfizer Dr Mike Yeadon has claimed the Covid-19 pandemic is "fundamentally over" in the UK.
https://www.youtube.com/watch?v=4FQUmw5QljM&app=desktop
See also this 9'13" video published by Julia Hartley Brewer - Talk Radio on Nov 5, 2020: https://www.youtube.com/watch?v=4FQUmw5QljM&app=desktop
Ralph Lopez: In a stunning development, a former Chief Science Officer for the pharmaceutical giant Pfizer says "there is no science to suggest a second wave should happen." The "Big Pharma" insider asserts that false positive results from inherently unreliable COVID tests are being used to manufacture a "second wave" based on "new cases."
Political Information
Nov 9, 2020 - A Tax On Meat to Save The Planet ? British health experts call for new levies on food with heavy environmental impact
Another proposal says that all food producers should be targeted by a food carbon tax. The levy is set to be based on the carbon footprint of their products, and should be introduced in five years if the industry fails to take "voluntary action" on its climate impact. The group stressed that such fiscal measures have proven to be an effective tool, citing the so-called 'Sugar Tax' and levies on plastic bags as successful examples. R.T.
Political Information
Nov 7, 2020 - Australian Police Blow Whistle Spectacularly on Coronavirus Deception
Environment/Science
Nov 6, 2020 - Research: Cell Phone Use of Approximately 17 Minutes Per Day for 10 years Increases Tumor Risk
Environment/Science
Nov 6, 2020 - Walmart to Remove Robot Employees from U.S. Stores Instead of Adding More
Environment/Science
Nov 5, 2020 - Who Collects Biological Samples from Different Ethnic Groups, and for What Purposes ?
Environment/Science
Nov 5, 2020 - COVID testing: We've Been Duped
Environment/Science
Nov 5, 2020 - Exploding the Myth of Huawei's 5G Security Risk
Political Information
Nov 5, 2020 - Climate Change Panic is A Hard Sell. COVID Panic is Much Easier
Up until February, leftists never stopped talking about climate change. They claimed that it was and would be responsible for just about everything bad in the world. The following is a minute portion of climate change evils pulled from a list of hundreds of claimed climate horrors:
Acne, Longer plane flights, agricultural land increase, Afghan poppies destroyed, Africa devastated, Africa in conflict, African aid threatened, African summer frost, aggressive weeds, More Toxic Poison Ivy, air pressure changes, airport malaria, Agulhas current, Alaska reshaped, moves, allergy season longer, alligators in the Thames, Alps melting, Amazon a desert, American dream end, amphibians breeding earlier (or not), anaphylactic reactions to bee stings, ancient forests dramatically changed, animals head for the hills, animals shrink, Antarctic grass flourishes, Antarctic ice grows, Antarctic ice shrinks

- Andrea Widburg
Environment/Science
Nov 5, 2020 - Mountain Of Evidence Confirms Common Pesticide Hazardous To Children's Health
Environment/Science
Nov 3, 2020 - Stealing your future
Ron: Food for thought.
John Kamiski: "We do not catch diseases," Bechamp is said to have said. "We build them. We have to eat, drink, think, and feel them into existence. We work hard at developing our diseases. We must work just as hard at restoring health. The presence of germs does not constitute the presence of a disease." https://www.pacificnaturalmedicine.com/post/the-germ-vs-the-terrain
...  Tom Cowan writes:
It's important to understand the mind—what it is and how it works— because the mind has a large role to play in the experience of "contagion." In other words, if we don't explore the nature of the mind and come to a realistic understanding of how the mind operates, we will fail to understand the concept of contagion in general and the experience of Covid-19 in particular. This is because fear, hatred, and lies are key components of the phenomena we call "sickness"; these negative emotions and behaviors seem to be "contagious," and they are present in the world at almost unprecedented levels at this time. It's time to integrate the concept of the mind into a realistic framework for health and disease...
There is no body-mind duality; that is a superstition of materialistic scientists. There is a human being, divided up into various water compartments, each working together to create this experience we call life. The input to this experience, as in a radio, comes from the world—actually the universe—as a whole. Our bodies (with their respective minds) are the receivers for this input in the form of electromagnetic waves.
His quick take on the dance of life?
And, since we now know that every "substance" is also its own form of wave, there is a natural resonance created when the energy of the world meets the organized water crystal known as the human being. The result of this resonance is output, otherwise known as thoughts, feelings, and actions. The mind is simply a made-up concept for this dance of life—input from the world, received in the form of resonance by our organism, leading to the creation of output in the form of thoughts, feelings, and actions.
And commentary on our current predicament?
Clearly, if one can't prove that the coronavirus even exists and that the testing for this imaginary virus is bogus, then the world has been led wildly astray. If the test for the coronavirus is inaccurate and misleading, as is the case, then there are no grounds for believing the reports about the number of Covid-19 cases, the number of Covid-19 deaths, or any other statistics coming from the orthodox medical institutions. If the testing is bogus, then the coronavirus emperor has no clothes.
Political Information
Nov 1, 2020 - "The COVID-19 Genocide of 2020" by Claire Edwards, UN Editor (10/30/20)
"The COVID-19 Genocide of 2020 – by Claire Edwards, UN Editor Message From UN On The Covid-19 Genocide of 2020 https://newtube.app/user/TrueTube/2ocfxrR
Ron: The text is set out below. It is possible that some persons listed as perps may be agents covertly working for Christ Michael Aton (CM), President Trump and the Light. Also, the fear mongering about 5G appears to be misplaced. As I undestand it, this planet has been subjected to increasing doses of gamma radiation from the centre of the galaxy which can have adverse effects upon some people due to defective DNA and other factors. But the main thrust of this analysis seems reasonably accurate. Be aware though, that the Triodity of President Trump, Putin and Xi and their supporters have the situation under control and will positively resolve these issues after the coming US elections in order to assist CM to segue Gaia and her righteous inhabitants into his Millennial Reign.
Environment/Science
Oct 31, 2020 - Missing and unproven viruses: this is nothing new
Environment/Science
Oct 29, 2020 - Scientists Proved Viruses Are Not Contagious in 1918
Environment/Science
Oct 28, 2020 - HEALTH Scientists Genetically Engineer Meat With Plant Nutrients
Environment/Science
Oct 28, 2020 - Who Owns the Satellites Adding to Dangerous Levels of Space Junk and Other Catastrophic Risks?
Political Information
Oct 27, 2020 - Nuking Itself… How Russophobia Led the U.S. to Bomb its Own Citizens
Political Information
Oct 25, 2020 - Infodemiology: Resistance Grows But the Public Remains Dumbed Down
Environment/Science
Oct 24, 2020 - Study: 1,000 Potential Alien Star Systems Could Be Watching Us From Afar
Ron: Gee Whiz, aren't our scientists great! They are sooo knowledgable and informative. Never mind that millions of Space Fleet and other craft are here for the coming Magnetic Reversal, STAND STILL and stasis event.
Environment/Science
Oct 24, 2020 - These Are The World's 100 Smallest Countries
Environment/Science
Oct 23, 2020 - EPA Reapproves Dozens Of Pesticides, Despite Evidence Of Harm To People, Wildlife
Environment/Science
Oct 23, 2020 - Pope Francis in TED Talk: 'We only have a few years' to Fix Climate Change
The Pope is no stranger to promoting the climate change argument, and despite referring to scientists in his talk, has been corrected by scientists who say the "Pope is getting terrible advice from some exalted churchmen who are seriously deficient in scientific knowledge."  In 2017, Pope Francis appeared in a film warning of the dangers of climate change, and more recently encouraged climate change activist Greta Thunberg to continue her alarmist campaign for fighting climate change.  Michael Haynes
Environment/Science
Oct 20, 2020 - Dr. Christiane Northrup's SHOCKING vaccine disclosure
Ron: This scary outcome is not going to happen. See my comments in Whose Great Reset ? The Fight for Our Future – Technocracy vs. the Republic - http://abundanthope.net/pages/True_US_History_108/Whose-Great-Reset-The-Fight-for-Our-Future-Technocracy-vs-the-Republic.shtml].
Environment/Science
Oct 20, 2020 - Operation Coronavirus is Working Hand-in-Hand with the Nanotech Agenda
This is it ! It's game on ! All the things that many alternative researchers have been writing, talking and warning about for years are arriving. Operation Coronavirus is the gateway to bring in the New World Order. COVID has been the excuse offered by tyrants for just about every draconian restriction under the sun. Now, with the coming COVID vaccine, we know it will include some kind of nanotechnology, since as I have outlined above, there are a plethora of nanotechnology platforms being developed in addition to things like hydrogel. Various studies and the pharmaceutical companies themselves are openly stating that there will be nanotech COVID vaccines. With plans to make this vaccine widespread, administered by the military (as admitted in both the US and the UK) and "as mandatory as possible" (according to Aussie PM Scott Morrison), time is running out for people to wake up to the nanotech agenda - before it's too late.  Makia Freeman
Environment/Science
Oct 20, 2020 - Alarming Scientific Results SARS-COV 2
The shocking thing about the above quote is that using their own methods, the virologists found that solutions containing SARS-CoV-2 - even in high amounts - were NOT, I repeat NOT, infective to any of the three human tissue cultures they tested.
In plain English, this means they proved, on their terms, that this "new coronavirus" is not infectious to human beings. It is ONLY infective to monkey kidney cells, and only then when you add two potent drugs (gentamicin and amphotericin), known to be toxic to kidneys, to the mix.
My friends, read this again and again. These virologists, published by the CDC, performed a clear proof, on their terms, showing that the SARS-COV- 2 virus is harmless to human beings. That is the only possible conclusion, but, unfortunately, this result is not even mentioned in their conclusion. They simply say they can provide virus stocks cultured only on monkey Vero cells, thanks for coming. https://drtomcowan.com/only-poisoned-monkey-kidney-cells-grew-the-virus/ - Our Greater Destiny
Human/Animal Rights
Oct 19, 2020 - Video: "Crimes against Humanity": The German Corona Investigation. "The PCR Pandemic"
Environment/Science
Oct 19, 2020 - Pure Idiocy: UN Is Sure an Uninhabitable Hell Can Be Averted by Taxation
Environment/Science
Oct 19, 2020 - Fukushima To Dump 1 Million Tons Of Radioactive Water Into Pacific
Environment/Science
Oct 18, 2020 - Smoothie Robot In Walmart Signals Continued Rise Of Automated Fast Food Workers
Environment/Science
Oct 16, 2020 - Singapore to Plant One Million Trees by 2030 to Protect Its Future
Environment/Science
Oct 15, 2020 - Two Months After Pioneering 'Sputnik V' Launched, Putin Announces Registration of 2nd Russian Covid-19 Vaccine, says 3rd on way
Health and Nutrition
Oct 15, 2020 - Another COVID Vaccine Using Aborted Baby Cell Line Pauses Trials After Participant's 'unexplained illness'