https://www.breitbart.com/politics/2019/03/04/girl-scouts-partner-with-abortion-industry-anal-sex-tutorial-promoter-teen-vogue/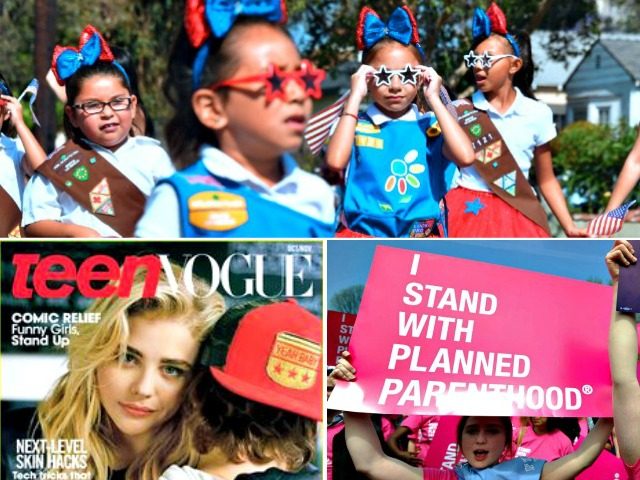 Two former participants in Girl Scouts say the organization enjoys a "cozy relationship" with the abortion industry, including Planned Parenthood, and now Teen Vogue, a magazine that promotes "reproductive justice" and has offered a tutorial on anal sex.
Ann Saladin, creator of MyGirlScoutCouncil.com, and co-editor Christy Volanski, have spent nearly a decade documenting Girl Scouts USA's relationships with the abortion industry, Planned Parenthood, and political leaders who support abortion and a left-wing agenda in general.
"At the very least, it's a cozy relationship," Volanski told Breitbart News as she described the ties between the Girl Scouts, the abortion industry and, specifically, Planned Parenthood.
On Friday, MyGirlScoutCouncil posted to Facebook that the Girl Scouts Gold Award - its highest honor - went to a "reproductive health justice" project to "educate people about and destigmatize access to women's healthcare":
app-facebookMy Girl Scout Councilon Friday
A project to "educate people about and destigmatize access to women's healthcare" earns Girl Scouts Gold Award, its highest award. Completing this Girl Scout project for "reproductive health justice" began by joining the Women's March. #nothankyou
Learn more about the Girl Scout concerns at mygirlscoutcouncil.com
In December, the Girl Scouts of the Central California Coast Instagram account featured a post celebrating alumna and former Supreme Court Justice Sandra Day O'Connor, specifically because "she was a key swing vote in many important cases, including the upholding of Roe v. Wade":
Conflicting information from the Girl Scouts and the organization's officials about its ties to the abortion industry has stirred up further controversy about these relationships.
The organization states on its website, regarding the issues of human sexuality, birth control, and abortion, it "does not take a position or develop materials on these issues." Similarly, Girl Scouts denies having "a relationship or partnership with Planned Parenthood."
Volanski noted, however, that local Girl Scout councils and individual troops are permitted to partner with Planned Parenthood.
In the video below from October 2004 - cited by PJ Media - former Girl Scouts USA CEO Kathy Cloninger confirmed a partnership between Girl Scouts and Planned Parenthood.
"We partner with many organizations," Cloninger said. "We have relationships with our church communities, with YWCAs, and with Planned Parenthood organizations across the country, to bring information-based sex education programs to girls."
The Girl Scouts also state that "[e]very Girl Scout and Girl Guide organization is a member of the World Association of Girl Guides and Girl Scouts-and each Member Organization, including Girl Scouts of the USA, pays dues."